The Greatest Baseball Fan That Ever Lived.
WHAT THE F*** JUST HAPPENED?!
What a turn of events. What an insane few weeks. What started as a troll, has completely taken over over a life of its own. I didn't expect it. I didn't understand it. All I know is since walking into the gambling cave on Wednesday October 19th 2022, shit was never the same. Barstool was never the same. Baseball was never the same. I, was never the same. I didn't know what the fuck I was doing when I walked into that stream, uninvited. I wasnt thinking of shaking things up. I wasnt thinking of taking over the baseball stream. I wasnt thinking of "What happens if we win it all." I was just proud of the Houston Astros, a team whose games I attended with my friends and family, and always cheered on. They were playing The New York Yankees. to see who would go to the World Series. I mean I know you guys think this shit is scripted but even the most perfect script could never have something this good. Okay I do have to say, although it definitely wasn't cool what he said about me in Game 2, I did genuinely get on Hubbs nerves. Ima girl. watching baseball. which I kinda know about, I kinda don't. and im crazy. loud. dramatic. and my team is absolutely annihilating his. It's a tough situation to be in. The live chat adored me mostly, hated me a bit, and but they overall couldn't get enough. I started gaining followers like crazy. This is by far my best week at in one year at Barstool, so far. Im getting posted to the main page constantly. Im going viral on TikTok. It was madness. The more the streams rolled out, the more into it I got. I missed birthdays, celebrations, and invites. Just to be there every night. I started learning baseball more, I started loving baseball more. I started understanding terms and plays. I started to get completely immersed in it. and I had 10000000% faith in the Astros.
The first live stream with Hubbs, Tommy, Marty, Ev, Spidey, TJ.. that shit was intense.
I honestly believe the Yankees fans knew all along that they were going to lose to us, and it was really fucking with their heads having me there gloating over their painful losses. A few of them tried to be cool but I could feel the tension like a knife, to the point that I was like shit, no games in this stream. no friends in this war. I completely balled up their dreams and threw it away in a trash can while laughing in a evil tone. I was the villain. From flicking off all of Yankee Stadium to that insane watch party stream, I've completely done the most, but ya know that's me. Ima really chill chick (I promise) but there is another side of me, and I completely shine in these type of situations. Is it my lack of fear? or of my self confidence? Im not sure but I do know that passion is my thing. It was always has been. I was a drama kid, for Christ's sake. Some people are scared of my passion, Some are annoyed, Some love it. The Yankees absolutely hated it. Within 4 games, they were completely swept. SWEPT. I drowned myself with champagne after gaining the satisfaction of seeing them get swept. Time for The World Series baby.
This World Series has been a clusterfuck of emotions, with Philly getting Game 1. We got Game 2. They got Game 3. We got Game 4. Philly was tough competition, with a lot of heart and the talent to match. They sure wasn't the Yankees, and they were fighting back against us, and strong. They was not letting the World Series go without a fight. The ping pong of it all was giving me crazy anxiety. but Game 4 is when I really 100% knew it was over. That "no hitter" game was going to be a blow to Philly's morale for Game 5, and it's high chance they don't survive it. Houston was playing damn good, and seemed so hungry for it. Thats when I knew we couldn't and wouldn't be stopped. Thats when I knew this series was ours. I wasn't too surprised when we took Game 5, tipping the Astros to lead the series 3-2.
Giphy Images.
It was stressful as I arrived to the office for Game 6. My celebration was going to be over the top, and all of my homies that were going to help were completely standing me up. I wasn't going to be able to do it by myself and y'all know I got too much pride to ask my coworkers, plus they were mostly all working, too. I gave up. Time to focus on the game. Valdez was absolutely a monster. As on point as we could ask from a starting Game 6 pitcher. Astros defense was absolutely crazy. DP's, out after out. Alvarez caught a nasty one deep by the wall. Wheeler was doing a damn job of trying to shut us down. 0-0 read the score for the 1st through 5th inning. Not much happened until the 6th inning. Shit started getting a lil hectic by then. Valdez although absolutely killing it, threw a mistake pitch and Schwarber scored the first HR of the game, giving the Phillies a 1-0 lead. Bergman was brilliant on defense, throwing out after out. Alvarez shot a slammer down deep center field, giving us a 3 run HR. All of Minute Maid park completely lit up in that moment, the scream was deafening. I got chills. I wished I was there so bad in that moment, to be able to share that moment with all of the fans in Houston. Christian Vázquez then hit in Alex Bregman who ran like hell to home from 2nd base, making the score. 4-1.Neris got some clutch stirkeouts. Bregman got a really great catch, almost seamlessly. then Bregman gets a incredible hit, and just barely by milli-seconds gets out while sliding into 2nd base. It goes to show you the variety of the super talented Bregman who brings it on the bat, or in the glove. Phillies couldn't get a run iin the 9th inning. Leaving the Houston Astros to go and win Game 6. I can't describe what I felt in that moment. like a little kid. like a champion. like a survivor. I had fought, clawed, and sacrificed to be here. all for this moment. My whole saga at Barstool was making clear sense to me. I belong here, with the fighters. with the cheerers. with the magic. Me and my taco hat had left a forever mark on not just the live stream, not just NY/Philly, but the world. I had no fear and it paid off for me. I was scared, but I had no fear, if that even makes sense. I didn't know if I'd be allowed at Game 2's watch stream. I didn't know if people weren't going to jump me at Yankee Stadium. I didn't know if it was going to all come crashing down. But I believed. I trusted in something bigger than me. and nobody not Hubbs, not Smitty, not Rone.. nobody can take it away from me. My hometown, Houston Astros, have taken it to the furthest extent. I am destined to do the same. I'll keep fighting.
When we won, I grabbed my winner sash, trophy and crown. I felt like I was being crowned, I even started tearing up. I was overcome with emotions and forget how to talk/breathe for a few moments. I could barely get out my speech, or even pronunciate proper English, truth be told. I was HAPPY AS SHIT. My one friend had made it to the stream, and I felt bad because she had to shoot the confetti and throw balloons all by herself. She was the only friend that came, but we still got it done. 
As for me, Im on a plane to Houston right now. Im tired, I drank last night to celebrate, and pretty much running off straight adrenaline. I feel so many emotions at once. but mainly Im wishing I could been in Houston last night. I unfortunately missed Game 6, but I can still catch the parade on Monday and see my hometown people that love and support, that's what it was really all about anyways. Repping my city, connecting with my tribe. and in the baseball fans.. I've somehow found exactly that.
Thank you to everyone involved in the stream. Smitty, Ev, Tommy, Kate, Marty, Philly Mays, Spider, TJ, Jake, Arya, Conner, Jason, Tech Guy Drew.. you guys were actually cool as shit. I'd like to think this crazy ass shit brought us closer, in some fucked up way. I think we finally got to see other in a real way. I think we finally got to connect. and I loved every minute with you. Whether it was the lil cute work-date with Tommy Smokes at Yankee Stadium, the endless drinks at the watch party where me & Zah got closer, JackMack having my back against the haters on Game 1, the loved Whiskey Pig shots that Kate did to turn up the vibe, DJ Rone, Tech Guy Drew reassuring me that I've blew up the stream, riding up to the arena with TJ, Tommy and Marty and everyone knowing us, or Smitty letting me slap him. I'll cherish these moments, they mean genuinely something to me.
As for the consistent doubters that talk shit about me being a fan of baseball, yes I coined the term "baseball fan" in 2015 as a jab to Kevin Clancy, but we can't pretend that mostly caucasians aren't the ones who mainly watch the sport. but once I started really watching, I saw how much of joy it is. that's always how it is, you talk shit until you try. just like many of y'all, you'll talk shit. until you try to see under the persona. until you try to see me as more than just ghetto. until you try to understand my background, my upbringing, my intellect, my ideals, my talent, my potential. 2 things for certain. 1) I am a star. and im here. and Im raw. and im me. 2) sports is something that brings us together. no matter the race, the sex, the gender, the stereotype.. we can relate to wanting your team to win. Needing your team to win. It makes you break TVs, walls, cups, phones.. It almost feels like life or death in these playoff and championship games, and whether you're a fan of baseball, football, soccer, basketball, golf, shit even tennis. when it gets down to that nitty gritty, I don't care if you don't usually watch the sport, it's exciting, it's thrilling, it's scary, it's let-downs, it's smiles, it's tears.. it's sports baby. it's sports.
In God we trust. In Dusty we trust. In Magic we trust. In Baseball, we trust.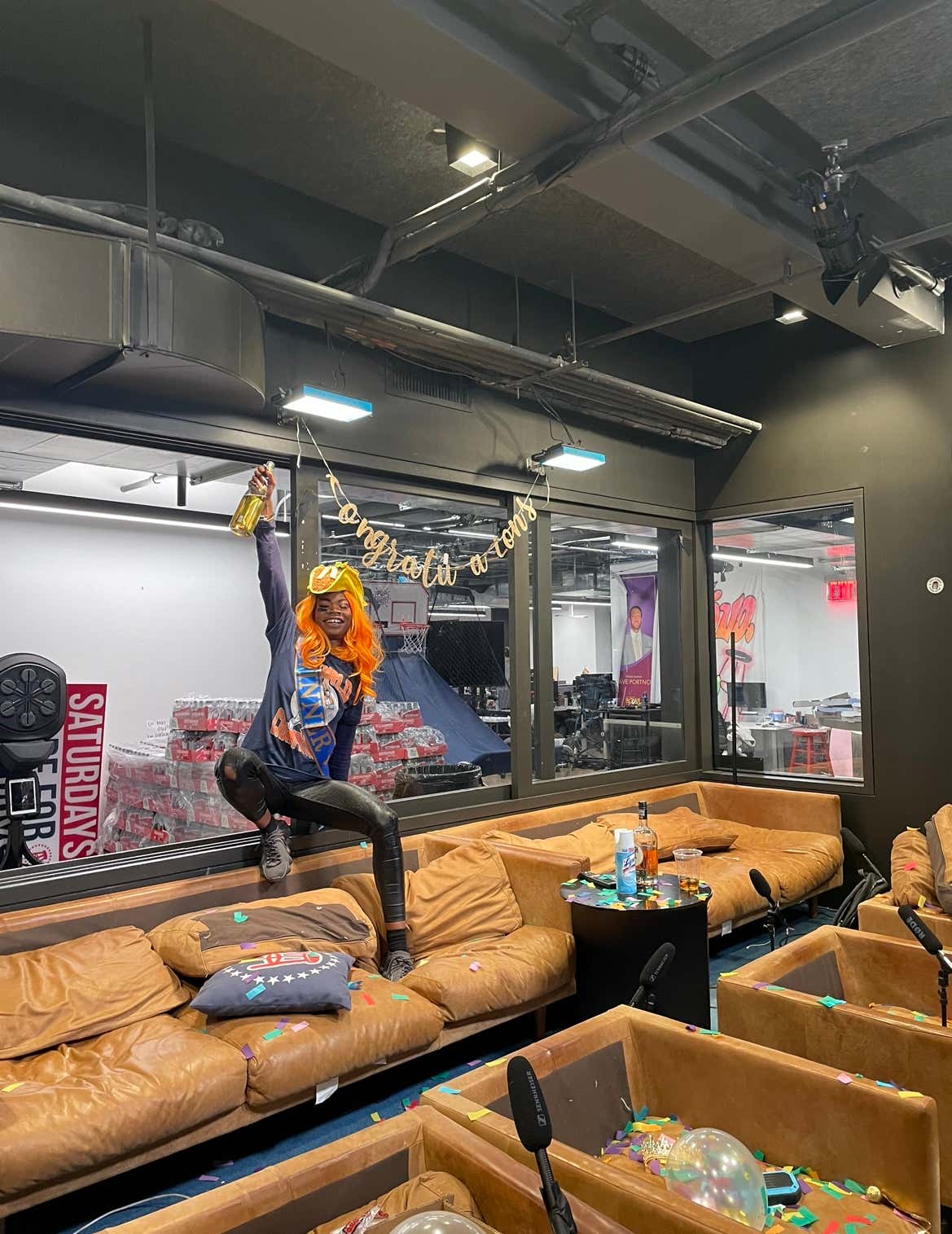 and just so you know, I helped clean all the confetti up, I was the last person to finish cleaning. I do got some Southern manners. ;)