My Top 5 Favorite Songs Of All-Time
Shutterstock Images.
I discuss music sparingly in my blogs. I don't consider myself knowledgeable on the topic. I listen to only a few people's albums, and because of that, there are only a few artists that I can single out and say are my favorites. It's part of the reason why in my adult life, I've never been to a concert. I have little interest. It would be way too loud, and I wouldn't enjoy it, but I could be wrong. I'll get to one someday. But there are a lot of songs that I adore, and considering there's no baseball tonight, I'd have a little fun and present to the world my five favorite songs of all time. When looking at my list, I realized something. My favorite songs are almost exclusively ballads about love, heartbreak, or both. Am I a hopeless romantic or an emo bitch? I'll let you decide, but the answer is "yes." It's all subjective. I will never claim to be a music expert; this is simply my list of all-time favorites. 
Number 5- "Death Of A Bachelor" by Panic! At The Disco
Brandon Urie should be more famous. Don't get me wrong, Panic! At The Disco ain't precisely slumming it, but he's such an insane talent and an incredible modern vocalist. "Death Of A Bachelor" is his shining achievement. I'm just going to go out on a limb here and say that this song was meant to be a tribute to his wife, and it's a beautiful tribute at that. I love the way it mixes genres. This is a throwback to Sinatra while simultaneously being a fantastic pop song in its own right. It's the song that made me appreciate this band. And while I only listen to a few albums a year, "Death Of A Bachelor" is one of my all-time favorites.
Number 4- "Lose Yourself" by Eminem
I know I shared some trepidation about ever going to a concert, but Eminem is the one artist I would pay to see live. 2002 was the year of Marshall Mathers. To this day, I still think he's the only man ever to have the number one song and the number one movie in the world, that movie, of course being "8 Mile." "Lose Yourself" is simply iconic. The second you hear that opening piano music, you know you're in for something unique. And that beat, that freaking beat! This is the ultimate pump-up anthem. But outside of simply being an exciting workout jam, the lyrics are compelling, and it showcases what Eminem can do best, and that's tell stories. He's my favorite artist of all time, and this will be the song that I'll remember him for.
Number 3- "Mr. Brightside" by The Killers
Before anyone says anything, this is not number three on my list simply because it gets played at The Big House every Saturday in Ann Arbor. I loved this song well before it became a stadium anthem. I think "Mr. Brightside" is on the verge of becoming the "Don't Stop Believin'" of the 2000s. It's a powerful anthem that, at some point, will get a lot of backlash from people who claim that it's overplayed. I have to disagree. This is one of the most beautiful songs ever written. All three of my top three have the same thing in common: they work as songs that are both incredibly happy but also incredibly sad, depending on the point of view you see it from. It works in so many ways, and its opening guitar riff is as recognizable as any of its era. While the song was a success upon its release, the fact it has endured as long as it has is a testament to its sustainability. This song sounded great in 2004 and 2022, and I'm willing to venture that it will sound great in any era. It is what we call "a timeless classic."
Number 2- "Good Things Fall Apart" by ILLENIUM ft. Jon Bellion
I wrote a whole blog about this song over a year ago. Look, I only know a little about this genre of music, and I only knew about ILLENIUM after I heard this song. But the first time I heard it, it shook me to my core, and every time I listen to it, I'm reminded of a time in my life that wasn't that long ago but felt like an eternity. Much like "Mr. Brightside," this song features an opening guitar riff that draws you in from the very first second. And while it's a masterfully put-together song from a production standpoint, the hero of this single is Jon Bellion. His vocals hit you like a tidal wave. There is so much passion behind his voice. There's something about this song I relate to so much. It seems like something written by someone incredibly in love yet desperately trying to come to terms with their flaws. It's so hard to be loved when you don't love yourself. 
Tell me what you hate about me

Whatever it is, I'm sorry
Like I said about "Mr. Brightside" garnering a more significant following after its release, it would not surprise me if this song ends up seeing some resurgence in the next five years. There is a magic to this tune that's hard to even put into words. 
Number 1- "Iris" by The Goo Goo Dolls
If you know me at all, you knew this was coming. This is the only song whose lyrics are tattooed on my body. It is the definitive song of my lifetime, and I will never get tired of hearing it. From a production standpoint, this is flawless. It's as if a choir of Angels learned how to play music. But I don't know (and keep in mind, I'm not a music expert) if any song has featured a better blend of moving lyrics and even more moving vocals. John Rzeznik attacks this thing, and the writing is as good as it gets. This was written for the film "City Of Angels" starring Nicolas Cage and Meg Ryan. It feels like a song that's meant to be sung to the most beautiful person in the world, whoever that may be. On a personal level, it means everything to me. I've carried this song with me like a memento my whole life. I remember listening to it when I was happy and remembering the overwhelming sense of joy that I felt, and I remember listening to this song in my college dorm room when I was at my most suicidal. It works either way. It's a flawless reflection of everything right with music. I will never stop loving it.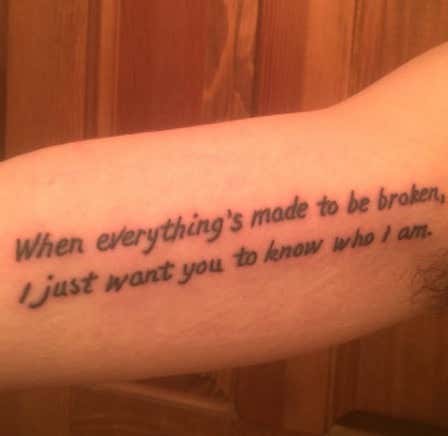 So that's my list. I'm sure I'll get railroaded for it. What's yours?