What In The Fuck Was Up With Elon Musk's BDSM Halloween Costume Last Night?
Fox Business - Tesla and SpaceX founder Elon Musk attended a Halloween party Monday night thrown by Heidi Klum in New York with his mother Maye, and shared their costumes with his followers on Twitter.

Musk and his mother attended Heidi Klum's party in New York City. The billionaire walked the red carpet in a red armored costume with a hefty price tag.

The "Devil's Champion – Leather Armor Set" costume is listed on the costume store Abracadabra NYC's website for $7,500.

The costume can also be rented for $1,000, according to the retailer's website.
I can't figure this guy out. It's like the Al Pacino Godfather III scene, but the exact opposite. 
"Just when I think I'm in, he pushes me back out."
I've been a big supporter of Elon, but shit like this just makes me scratch my head and ask "why?"
I get that he loves trolling people. Even more than White Sox Dave does. But a $7,500 BDSM leather costume emblazoned with the mark of the beast on the chest is a little overboard no? 
Or maybe its not a troll at all. Maybe after acquiring twitter, announcing he's going to relaunch Vine, and pretty much guaranteeing the end of the human species via his army of robots and the neuralink, he's just throwing it all in our faces now that he's the anti-christ?
For those unaware, that symbol on the chest of the costume is "Baphomet".
Wiki - Baphomet is a deity allegedly worshipped by the Knights Templar that subsequently became incorporated into various occult and Western esoteric traditions. The name Baphomet appeared in trial transcripts for the Inquisition of the Knights Templar starting in 1307. It first came into popular English usage in the 19th century during debate and speculation on the reasons for the suppression of the Templar order. Baphomet is a symbol of balance in various occult and mystical traditions, the origin of which some occultists have attempted to link with the Gnostics and Templars, although occasionally purported to be a deity or a demon. Since 1856 the name Baphomet has been associated with the "Sabbatic Goat" image drawn by Éliphas Lévi, composed of binary elements representing the "symbolization of the equilibrium of opposites": half-human and half-animal, male and female, good and evil, etc. Lévi's intention was to symbolize his concept of balance, with Baphomet representing the goal of perfect social order.
I don't even know where to begin with this. Maybe I'm just an idiot who can't comprehend the symbolism of the baby goat man and it's "true meaning of balance" or whatever it is. All I know is its creepy as fuck and I don't think we need one of the most powerful men in the world, who's responsible for a lot of the change in it, rocking occult images like its the newest Balls Beachwear drop from the Barstool Store.
Taylor Hill. Getty Images.
p.s. - I was hoping to save this blog with some pics of Heidi Klum from this party (it was her Halloween party after all…), but what she wore may be even worse.
Stephen Lovekin. Shutterstock Images.
Stephen Lovekin. Shutterstock Images.
Stephen Lovekin. Shutterstock Images.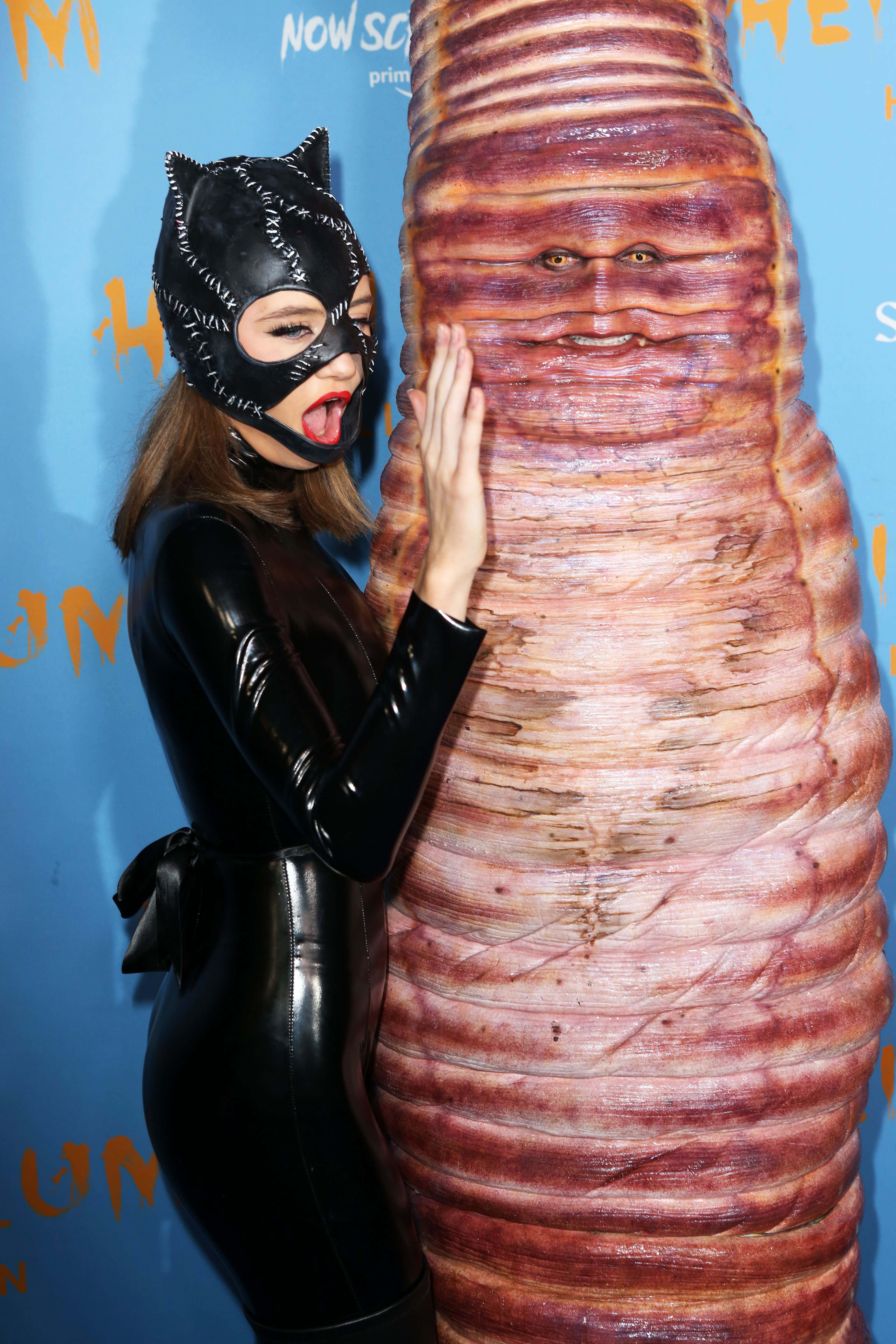 Richie Buxo. Shutterstock Images.
yes that's really her in that worm costume.