Buffalo Fans Thought Josh Allen's Hurdle Against Kansas City Was So Awesome They Went Ahead And Renamed A Street After It
I've started thinking about this - does any fanbase love an individual player like Buffalo does Josh Allen? If so, who? Because he's on the shortlist for sure. I can't think of anyone else where fans go so nuts for one of their own. 
Now listen, I get that it's a regular season game and Bills fans will always get roasted for going crazy over a win there, but this is what they are. They are one of the best fanbases in sports. They've suffered through 4 Super Bowl losses in a row. They've suffered through the Music City Miracle and being bad. Now they have this elite quarterback and good team so they are going to go crazy every week. It's why I have a soft spot for them. 
Remember here's the play: 
Filthy for sure. Street name worthy? Ehh. Not until Pennsylvania Ave. is renamed for Vince Carter dunking over Frederic Weis. That's America, baby. 
Back to Josh Allen real quick - uhh, I don't think this is the threat they make it out to be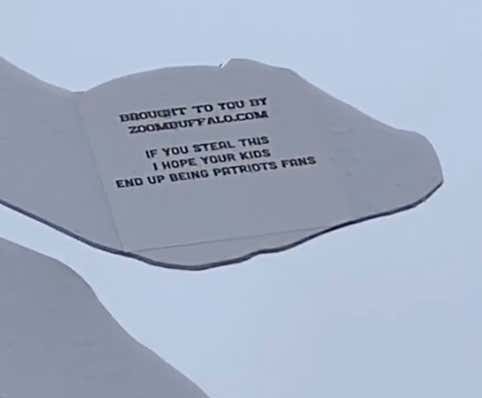 Being a Patriots fan has been pretty fucking awesome the last two decades - and I say that as a Giants fan. At least go with the Jets so it's a real threat. Maybe even the Dolphins. But you can't threaten them by being Pats fans. I get it's a rival and you don't want to deal with that in your house, but it's not intimidating here. 
Can't imagine what will happen if Josh Allen gets them to a Super Bowl. City might just change its entire name.