This Video Of Georgetown Players Having No Clue Who Patrick Ewing's Teammates On The 90s Knicks Were Makes Me More Depressed Than I Usually Am As A Knicks Fan
What the hell man? Usually this is the one time of the year where I can get excited as a Knicks fan. Maybe they win a few games, get off to a hot start, and at least make it to the Christmas Day game before everything goes to shit. We don't even get to enjoy draft night or any days in the offseason since the other fanbases will always clown every move our front office does no matter what it is. 
But these college kids straight up being clueless about the players that actually made being a Knicks fan fun once upon a time was such an unnecessary kick in the dick since it made me sad as a Knicks fan and older than my washed ass usually feels. Those Knicks may not have won a title, but they were always contenders, played tough, and made you proud to be a fan. I know this sounds crazy to anybody born before the year 2000 but it's true!
Now I can live with everyone somehow knowing Doc Rivers despite him only being a Knick for a short time since he's been a coach forever, wouldn't fault anyone for forgetting Gerald Wilkins, and am even a little grateful that some people don't know John Starks since the 2-for-18 Game 7 would likely be the first thing they referenced if they did know him (shout out the kid that said he was the guy that dunked on Jordan who is now my favorite Georgetown player).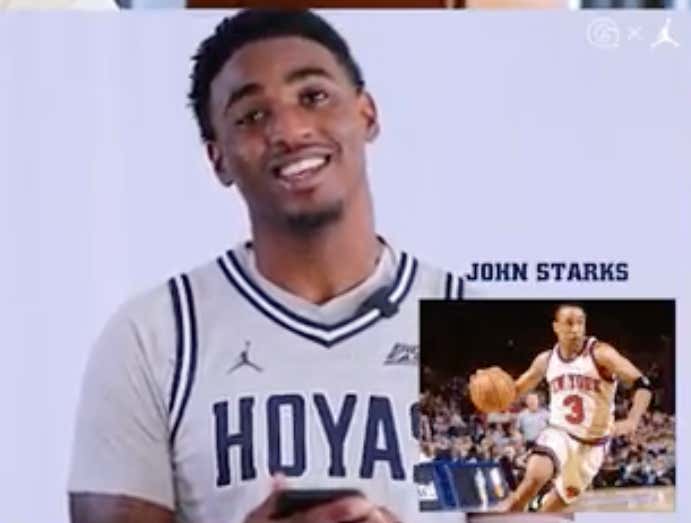 However, these kids not knowing Charles Oakley is an affront to the Knicks if not the sport of basketball as a whole. He was their coach's on-court bodyguard during his playing days, the subject of 1000 basketball urban legends, and the right hand man for the inspiration for the Jumpman on their shoes. Every single one of these kids should be given the Scottie Pippen treatment for not knowing what Basketball's Boogeyman looks like.
Also I know it's a minor thing and just the realities of the sponsorship world we live in. But the Jordan Brand logo hovering above all this was the perfect metaphor for Patrick Ewing's career. I love that man with all my heart, but the shadow of MJ loomed over everything Patrick Ewing did from that last shot in the National Championship Game vs. UNC to countless Eastern Conference playoff games.
Luckily the Knicks have a center that will eclipse anything Ewing, Reed, or any other big man to play the pivot at The Garden ever did.
Put the Hartenstein jersey in the rafters now alongside Big Pat's since nobody will wear 55 in orange and blue once he is done.