The Ten Greatest Red Sox Pitchers Of This Century
Billie Weiss/Boston Red Sox. Getty Images.
The Boston Red Sox are a mess. They have had an entirely mediocre season and could lose potential American League batting title champion Xander Bogaerts as a free agent. Their ace Chris Sale has made 11 starts since the pandemic started and all of this comes in the shadow of trading away generational talent Mookie Betts a couple of years ago. They seem like a team with no clear direction with ownership that has their eye on other interests. 
With all that being said, the Red Sox have been the best team in baseball since this century started. They are the only team to win four titles in that time period and that has been with eight different managers in a sports landscape where they have also ceased being the most important sports team in town.
When you think of those great teams, the first name that comes to mind is David Ortiz but they've had a number of great pitchers come through Fenway since 2000. Also, I am counting the century as starting in the year 2000. I know some people consider it to begin in 2001 but those people are wrong.
Here are the greatest pitchers for the Boston Red Sox in the 21st century according to WAR.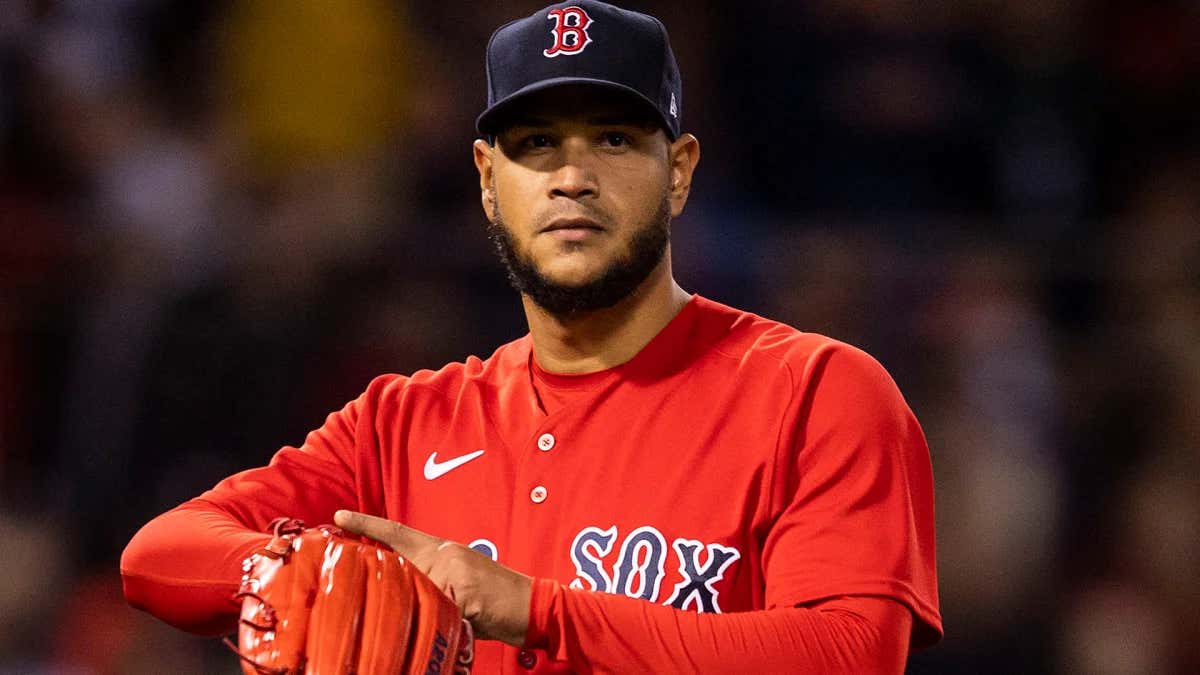 Billie Weiss/Boston Red Sox. Getty Images.
10. Eduardo Rodriguez 
Red Sox: 2015-19, 21 (WAR: 14.4)
Consistently good but never great, it feels like Rodriguez was never as loved by Red Sox fans as he may have been if he won a title in a different city. Maybe it's title fatigue but even when he left for Detroit, that news seemed to be met with a shrug. Maybe the most interesting thing about his tenure was that he came over in absolute heist by then-GM Ben Cherington. Andrew Miller was traded to the Orioles for Rodriguez. Miller only threw less than 28 innings (and that counts the playoffs) for the O's while Rodriguez made over 150 starts and was on the 2018 championship team.
9. Derek Lowe
Red Sox: 1997-2004 (WAR from 2000-on: 15.0)
If I included his stats from the 90's as well, he'd be 5th on this list. Lowe had a bizarrely successful run with the Red Sox. He led the American League in saves with 42 in 2000 and two years later had 21 wins. Lowe had a very nice career. His glory days were with Boston but he pitched eight season after leaving the Red Sox and finished with 176 wins even though he wasn't a starter until he was 29. That's more career wins than Fernando Valenzuela, Felix Hernandez and Bret Saberhagen.
8. Clay Buchholz
Red Sox: 2007-16 (WAR: 15.1)
Not many players were two time All-Stars who have pitched a no-hitter and have two World Series rings yet only have 90 career wins. I'm sure some people can look at Buchholz's career and see it as a disappointment. He came to the majors so highly touted and would show brief glimmers of greatness yet only really put it all together in the 2010 season. In 2013 and 2018, he would find success and then immediately get hurt. Other years like 2012 and 2014, he'd just be average and you'd wonder why there was ever any hype surrounding him at all.
I see Buchholz as being successful. I'd rather have his career than someone like Brad Radke who was more consistent and probably a better pitcher than Buchholz but didn't check off nearly as many boxes like winning a title.
7. Chris Sale
Red Sox: 2017-present (WAR: 15.5)
The only current member of the Red Sox on this list, it's been awhile since he was elite. I wrote about him in the blog below but he's only had 3.1 WAR over the past four seasons combined.
Jim Rogash. Getty Images.
6. Jonathan Papelbon
Red Sox 2005-11 (WAR: 16.2)
The lone reliever in this group, his annoying antics makes it easy to look past how great he was. He saved three games in the 2007 World Series against the Rockies and made four All-Star Games in a row with the Red Sox. He's also the all-time leader in saves with the Red Sox with 219 and it's not even close. Bob Stanley is 2nd with 139.
He was even a quality free agent signing for the Philadelphia Phillies when he signed there before the 2012 season. He actually had a lower ERA with the Phillies than he had with the Red Sox. The problem is there is nothing more useless on a bad team than a great closer (ask the 1993 Marlins) and Papelbon signed there right when the Phillies great players all got old at once.
5. Curt Schilling 
Red Sox: 2004-07 (WAR: 17.7)
Imagine if the Red Sox never traded Schilling (and Brady Anderson) during the 1988 season and Schilling had pitched his whole career in Boston? Would he and Clemens formed a formidable 1-2 punch in the early 90's? I don't think so because the offense on those teams were so bad and by the time Schilling started to become a very good pitcher, Clemens started to decline. 
He obviously would have made those Pedro Martinez-led teams better but was anyone catching the late 90's Yankees dynasty? This also assumes the Red Sox still make the trade for Pedro if they already had Schilling. What if's like that do deteriorate pretty quickly because of the butterfly effect but they are still fun to think about. The other element in all of this? Mike Boddicker (who the Red Sox got for Schilling and Anderson) was really good for the Red Sox and helped led them to two AL East titles.
4. Josh Beckett
Red Sox: 2006-12 (WAR: 22.3)
Beckett is sort of a forgotten ace. When he came to Boston, he was in Schilling's shadow and for a short time, he was even in Diasuke Matsuzuka's. Beckett's inconsistency also made it difficult for fans to embrace him. He'd mix in very good seasons with some average, injury plagued or just plain lousy ones. Beckett never had that one great year his entire career. The closest he came was the 2007 season. He did come close to winning the Cy Young that year but it was a strange year where no AL pitcher was elite and John Lackey led the league with a 3.01 ERA.
Josh Beckett is a better version of Clay Buchholz. He checked off a ton of the same boxes like winning two titles and pitching a no-hitter but also never came close from a career perspective of living up to the expectations that he originally came to the major leagues with.
3. Tim Wakefield
Red Sox: 1995-2011 (WAR from 2000-on: 22.8)
Wakefield joined the Red Sox when he was 28 years. Then he pitched 17 seasons for them. The Red Sox have been a franchise for over 120 years and have had Cy Young, Roger Clemens and Pedro Martinez pitch for them. Yet, Tim Wakefield is the franchise leader in games started and innings pitched. He's the only Red Sox pitcher to throw 3000 innings for the team. He was a teammate of Barry Bonds on the Pirates and pitched long enough to outlast Bonds' career by four seasons. Tim Wakefield is what I love about baseball. He had this long and bizarre career and there is so much weird trivia around him just because he lasted so long.
Jared Wickerham. Getty Images.
2. Jon Lester
Red Sox: 2006-14 (WAR: 30.0)
Lester never should have been traded. He was the first great player this ownership let go. Looking back, that trade was the precursor that something like the Mookie Betts deal could even take place. It's wild that Lester went to the Cubs and led them to a World Series title and had the exact same ERA for the Cubs (3.64) as he had for the Red Sox. I hope he makes the Hall of Fame. His greatness stretch was short (2014-16) but he was very good for a very long time. 
1. Pedro Martinez
Red Sox 1998-2004 (WAR from 2000-on: 36.8)
It speaks to Pedro Martinez's dominance that he tops this list despite only pitching for the Red Sox for 5 years in the 2000's. He'll be on top of this list for a long time too. Who's going to catch him? Chris Sale is over 20 WAR behind and can't stay on the field. No one else even had 10 WAR for the Red Sox currently. He's the best pitcher I've ever seen, his 2000 may be the greatest season by a pitcher and he's my favorite athlete in any sport. 
You can make a strong case the Red Sox trading for Pedro was the greatest deal made in baseball since the Ruth deal. The Braves trading for John Smoltz made more dividends over a longer period of time but when you factor in what Pedro meant for the Red Sox and how it led to their first title in 86 years, it stands alone.