Trevor Lawrence And James Robinson Might Be Legit - What Fantasy Lessons We Learned After Week 3
Peter Joneleit. Shutterstock Images.
*The following is based off 4-point passing TDs and 0.5 points per reception.
Quarterbacks
Lamar Jackson finished QB1 in Week 3 and is QB1 for the season. He put up an insane 218 yards passing with 4 TDs to just 1 TD and added on 11 carries for 107 yards and 1 TD. He is playing at an MVP level and could be a league winner at the position.
Jalen Hurts only carried in 9 times for 20 times and didn't score, but he got it done through the air! He threw for 340 yards with 3 TDs and 0 INTs and is rewarding fantasy managers that took him highly.
Trevor Lawrence seems like the real deal. He threw for 262 yards for 3 TDs with 0 INTs. He didn't offer much on the ground with only 7 yards rushing, but he really stuck in to the Chargers and improved his performance each week (13.40, 18.50, and 25.18 points). He finished as QB4 in Week 3 and is QB10 overall.
Runningbacks
Herbert stepped in for the injured David Montgomery and had himself a day vs. the Texans with 20 carries for 157 yards and 2 TDs. He also caught both of his targets for 12 yards. Montgomery is being called day-to-day with an ankle/knee injury, but Herbert is a must add this week on waivers.
Jamaal Williams finished the Week 3 as fantasy's RB2 and is now RB7 on the season. With D'Andre Swift potentially missing some time, Williams would be my top add of the week if he's somehow still available in your league. 
Travis Etienne was billed as the headliner with James Robinson coming off an achillies injury, but Robinson has been incredible so far this season. He's RB3 overall on the season and finished Week 3 as RB7 with 17 carries for 100 yards and 1 TD along with 3 catches for 16 yards.
Wide Receivers
DeVonta Smith stepped up big time for the greatest show on Fed Ex's turf with 8 catches for 169 yards and 1 TD. He was fantasy's WR1 for Week 3 and moved up to WR19 for the season. I think that's pretty appropriate. He is a solid WR2 on a fantasy team at this point, but in the right matchup is absolutely capable of going nuts.
WR2 for Week 3 was Mack Hollins?! Stepping in for an injured Hunter Renfrow he put together a line of 8 catches 158 yards and 1 TD. He's WR20 on the season and available in 97% of leagues and has led the Raiders in receiving yardage for two straight weeks. He may be worth a speculative add even with Renfrow likely to return.
Romeo Doubs is for real. He caught all 8 of his targets for 73 yards and 1 TD. Allen Lazard played, but Sammy Watkins is on IR and rookie WR Christian Watson is hurt. It may just be a matter of time before he's the Packers WR1. Definitely worth an add on waivers this week.
Tight Ends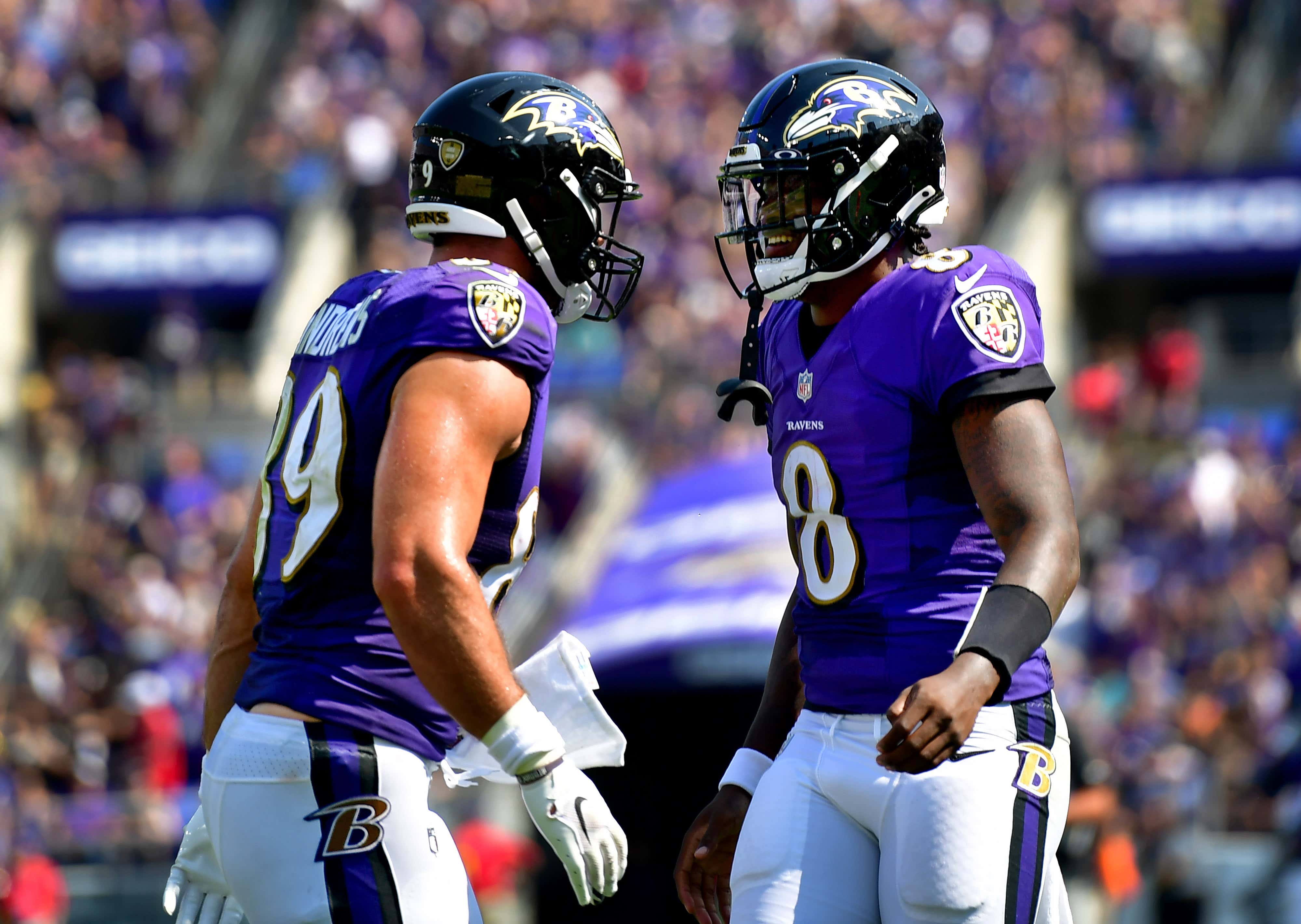 David Tulis. Shutterstock Images.
Mark Andrews put up 8 catches for 89 yards and 2 TDs and is firmly TE1 on the season with 53.80 points. He also leads all TEs in targets with 31. He may have actually passed Travis Kelce as fantasy's TE1.
Travis Kelce had a nice bounceback game with 4 grabs for 58 yards and 1 TD and is firmly the TE2 with 46.60 points on the year, 7.2 points behind Andrews, so is by no means over the hill.
Pitts finally showed up! 5 catches for 87 yards finishing as TE6 on the week. But he's still TE15 on the year. He had such high hopes, can this type of production we saw in Week 3 continue? It should, so it may be a good opportunity to buy low on Pitts.