There's Nothing Better In Golf Than Sunday Singles: Here's How To Bet It At The Presidents Cup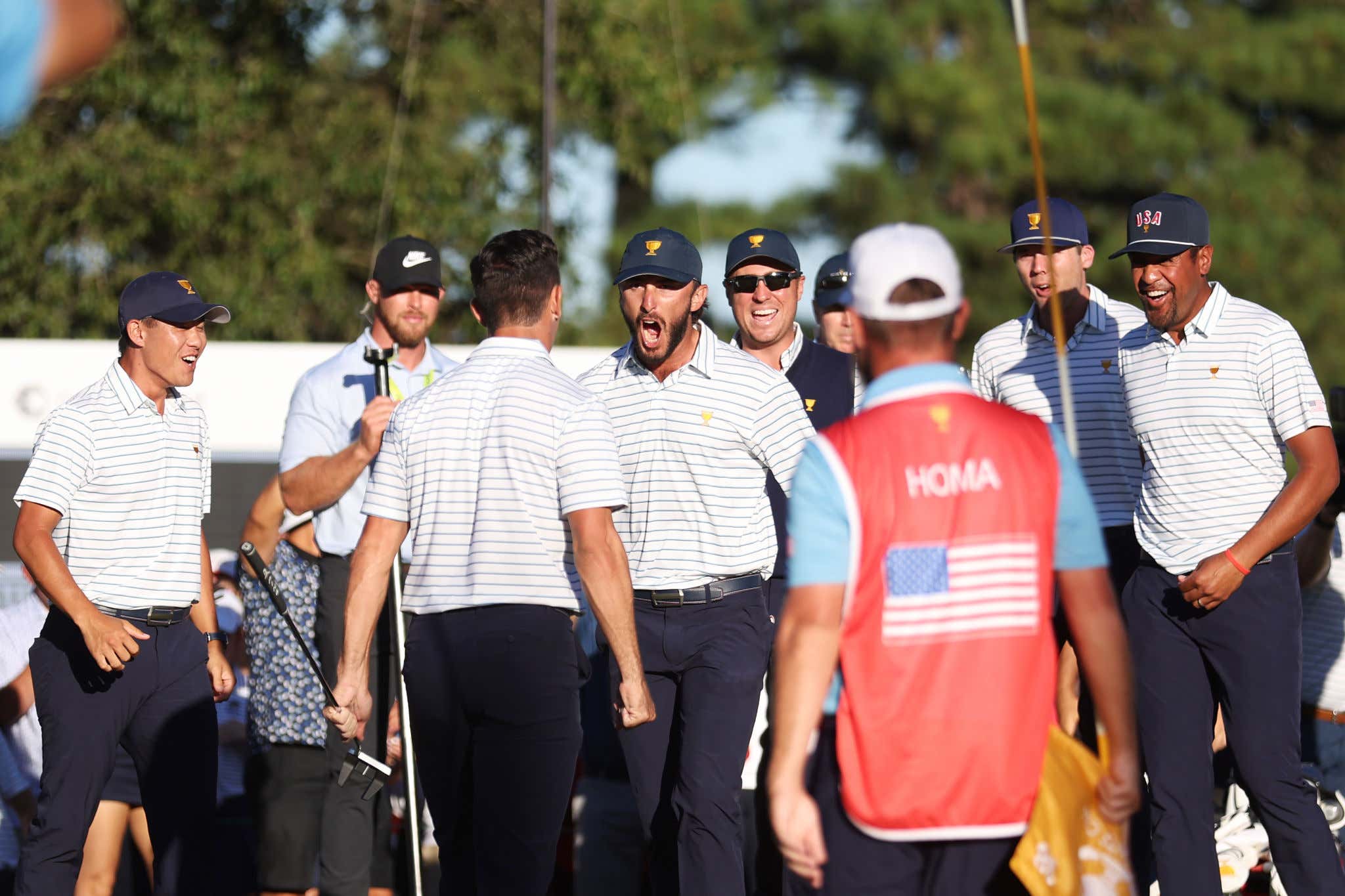 Warren Little. Getty Images.
Wooo baby!!! Sunday singles time at the Presidents Cup. What looked like a rout after two days is suddenly… a little bit of a ballgame after the Internationals took 5 of 8 points Saturday to cut the Americans' lead to 11-7. USA remains well in control and only needs 4.5 of today's 12 points to clinch the Cup, and their current odds at -2500 to finish the job reflect that. But the point remains that there's still work to be done.
Anything can happen with Sunday singles. It's one of the best days in golf. 12 games within a game makes for an AWESOME viewing experience at home. It's like watching red zone channel for golf. Broadcast is going to be jumping all over the place trying to keep up with all the action. If you don't have 2+ TV's cooking today, figure it out man.
Regardless, there's money to be won today (responsibly). Get yourself over to the Barstool Sportsbook and make it happen. Here's a quick rundown of all 12 matches and some picks to go with it. As an FYI, all these odds are "tie no bet". There is always the option to bet the tie (usually somewhere in the +650 range) but this gives a better indication of how handicappers view these matches
Match 1: Justin Thomas (-230) vs. Si Woo Kim (+175)
USA putting their best guy out there first to make a statement. Tiger did this in 2019 with himself and he infamously beat down Abe Ancer to set the tone for a big comeback win for USA. Davis Love III doesn't need the same kind of performance down the board, but the calculus is a lot easier when you go out and get that first match. JT will do it, but I don't love how steep the juice is here on the "tie no bet" option. Bet JT -177 to win the match outright (tie is +800 in this circumstance btw)
Match 2: Jordan Spieth (-152) vs. Cameron Davis (+120)
Jordan has paired up with JT to steamroll the Internationals, with the two of them going 4-0 and proving to be the difference between these two teams. They've each contributed in their own ways, but I think JT has carried the bigger load. Meanwhile Cam Davis has been an absolute dog for those guys, and has length that benefits him over Spieth on this course. I'm laying off this match and will be rooting for Spieth to do his job.
Match 3: Sam Burns (-114) vs. Hideki Matsuyama (-114)
Been tough sledding for Burns thus far and he played every single session this week. Matsuyama hasn't exactly thrived this week either, and he hasn't sat any sessions either. Ultimately I think the Internationals are leaning heavily on Hideki to come through here and I think he does. Matsuyama -114.
Match 4: Patrick Cantlay (-167) vs. Adam Scott (+130)
Cantlay is an assassin. Adam Scott is plenty experienced and teamed up well with Cam Davis earlier this week, but there's not many guys I'd want more than Cantlay with a putter in his hand in a match play format. Cantlay -167 it is.
Match 5: Scottie Scheffler (-195) vs. Sebastian Munoz (+150)
I can't make heads or tails of Scottie Scheffler right now. Obviously had an awesome year with tons of big time moments, but he had the meltdown on Sunday at East Lake and then went 0-2-1 in team play before getting benched for yesterdays afternoon session. But I'm also not high on Munoz at this course. He's a ball striker if anything and doesn't have the length to keep up with Scottie. Scottie took down big bad Rahm at last years Ryder Cup and I think this proves to be a far easier task. Scottie -195 it is.
Match 6: Tony Finau (-167) vs. Taylor Pendrith (+130)
BOMBERS. That's what this one is all about. Pendrith has been a nice story and all but he's out of his element here. I'm a Tony guy and I ride or die with my guys. Tony -167 is the pick.
Match 7: Xander Schauffele (-230) vs. Corey Conners (+185)
This is easily the most shocking line on the board. X is great and should be a clear favorite but this totally disrespectful to Corey Conners. Guy is a top 10 ball striker on Tour. Love Conners +185 here as a value.
Match 8: Cameron Young (-105) vs. Sungjae Im (-122)
This is the only match (at the moment) where the Internationals have a betting favorite and it should be a tight match. I think Cameron Young is a talented dude who showed some big balls in his rookie year, so I'm going to take Young -105 given that he's a slight underdog here, but wouldn't fault anyone for laying off this match.
Match 9: Billy Horschel (-152) vs. K.H. Lee (+120)
Horschel is a wild man. He's also a dog in match play. Won the WGC Match Play and has been electric this week. KH Lee is mostly here on the merit of winning the same tournament two years in a row and not much else. I'm all over Horschel -152 and I'm kinda hoping he's the guy who earns the clinching point because his celly would be elite.
Match 10: Max Homa (-148) vs. Tom Kim (+116)
This is a tough one. Both of these guys have balled out this week and both are the darlings on twitter right now. I also think both have a ton of pride and will play this match out to the death even if the Cup is clinched in the early going. I'm going to lean Tom Kim +116 here, as I'm already in his corner for my Top International points scorer bet this week (+650).
Match 11: Collin Morikawa (-167) vs. Mito Pereira (+130)
Morikawa has been a mixed bag this week and has been all year, but I think he's drawn himself a timid cat here in Pereira. I simply cannot get the image of him on the 72nd tee at Southern Hills looking like he got electrocuted. If the Cup somehow ends up close down the stretch, I would feel great about Morikawa doing his job against those type of nerves. I have to take Morikawa -167.
Match 12: Kevin Kisner (-114) vs. Christiaan Bezuidenhout (-114)
Kisner as a pick em against anyone is tempting. I want to shit on C-Bez here and say Kisner is going to eat his soul 6 & 5 but I have to pay my respects. Guy has taken down Tiger Woods in a match play format and is totally capable of making this a battle. Chances are good that the Cup is in the bag by the time this match hits the turn and I'm really not sure what that scenario would look like for kiz. Dude might knock back a beer a hole if that's the case. Might benefit him might not. Either way I can't quit the Kiz. He's the pick -114.
Awesome, awesome day we have in front of us. USA is gonna get the job done, but a sprinkle on the Internationals +1800 to score a huge upset is also not a bad play. That's a juicy payout I could live with. Sue me. Here's hoping I don't have to though.
Enjoy Sunday at the Presidents Cup.