The Show Fantasy League: Mike Trout Leaves Tua On His Bench Which Proves Costly Vs. Manny Machado's Up And Coming Squad
Kevin Dietsch. Shutterstock Images.
Week 2 of The Show Fantasy league just wrapped up and we had some wild finishes with two Monday Night games. But we also had the battle of two 0-1 squads needing a win in Cono Squad managed by Manny Machado vs. The Kid managed by The Kid, Mike Trout.
Trout needed a quiet night from A.J. Brown and for Derrick Henry to go off. After an early TD for Henry, things were looking up. Unfortunately for him, that didn't continue and he finished with four of his guys underperforming their projections. To make matters worse, he sat Tua Tagovailoa who put up 50.86 points on his bench, which would have flipped the result. But hard to argue with his decision making leading into the matchup as Tua hadn't shown enough Week 1 to garner the start against a turnover hungry Ravens D/ST. Machado had some HUGE performances out of his TE, FLEX, and D/ST as Mark Andrews, Drake London, and the Buccaneers put up a combined 75.3 points which was the difference in the game. 
Upstart Jake Marisnick could be a worst to first story as he's now 2-0 after two weeks after finishing dead last in 2021. Josh Allen made up for his workhorse backfield's underwhelming day as he eeked out a win vs. the Guardians combo of Shane Bieber and Austin Hedges. Starting Hollywood Brown for Mike Evans could have flipped the result, but going into the game nobody would be lobbying for that move. Marisnick also had both Tony Pollard and Amari Cooper on his bench, so he's got a deep squad.
It may just be Mike Moustakas' league to lose. He had down games from Javonte Williams and Justin Jefferson and it didn't even matter. Moose has scored 163 points for the second straight week and his team has no holes outside of D/ST which is mainly streamable. He is the clear frontrunner in the league and the combo of Christian Yelich and Jace Peterson weren't able to muster a fight with only two guys scoring in double digits. 
The demise of Mike Napoli may have been greatly exaggerated. Jalen Hurts showed out on Monday night en route to 35.02 points and Aaron Jones had a Sunday Night almost as big with 32.0 points. Christian Kirk has also emerged as a deadly FLEX play with his second straight big game. Wil Myers had a rough go with only two of his players outscoring their projections.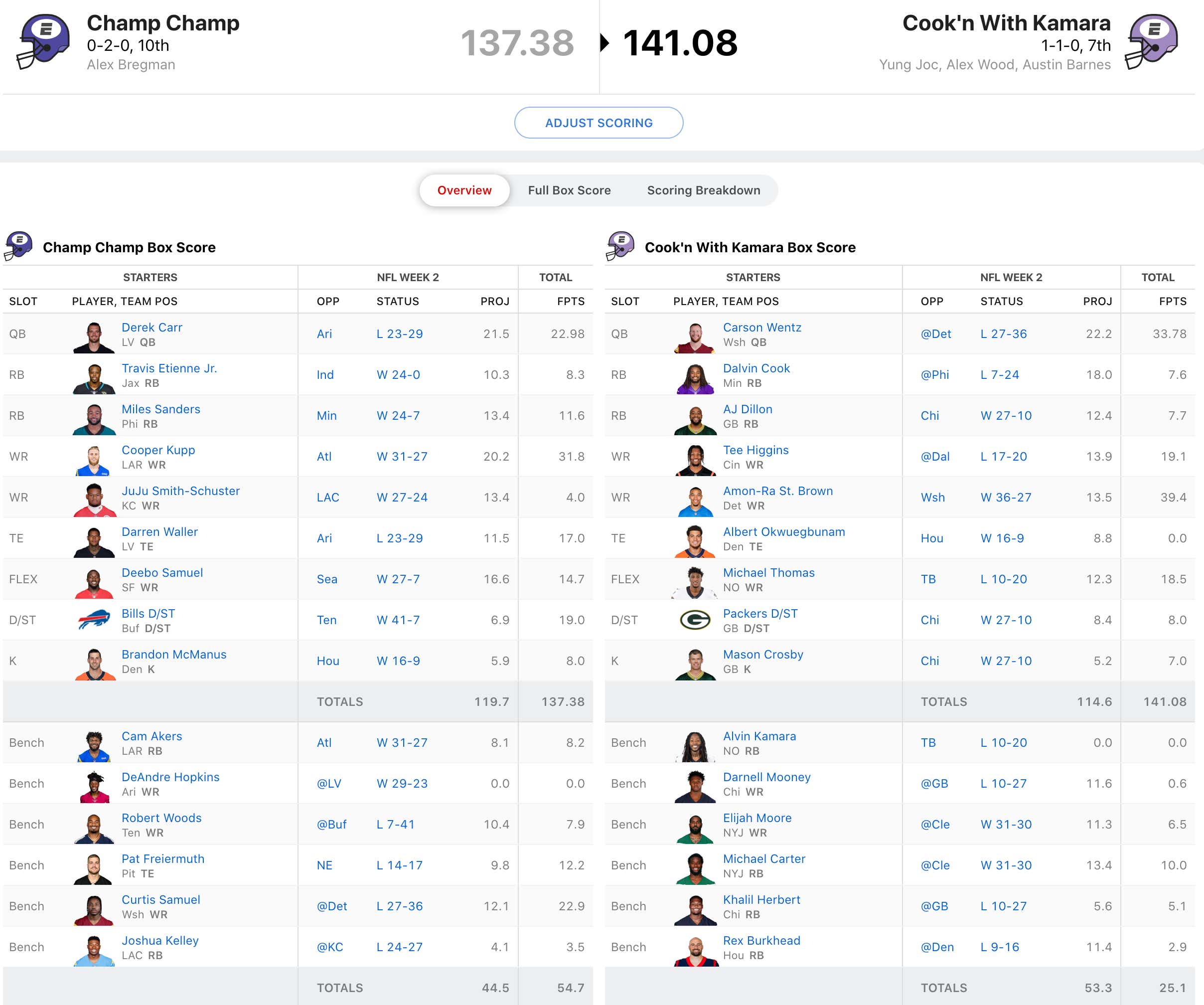 A huge comeback on Monday night by the defending champion, Alex Bregman fell short. In hindsight, Curtis Samuel would've won him the game, but JuJu Smith-Schuster against the Chargers was an understandable play. The triad of Joc Pederson, Alex Wood, and Austin Barnes overcame their namesake's absence and got a big game from Carson Wentz, who filling in admirably for the injured Dak Prescott. Amon-Ra St. Brown also blew up just as I had forecasted. Overcoming a donut from Albert O to even their record to 1-1, team Cook'n with Kamara has their arrow pointed up.
Don't look now, but Dave Portnoy's team is also a wagon. After Diggs' 3rd TD on Monday Night, Dave texted the group "I got 40 pt. receivers coming out of my asshole". Hard to disagree as he's overcome sub-par QB play to win both his matchups so far. Eric Hosmer had a decent showing, but was in a lot of trouble after his ace, Travis Kelce underperformed his projection by 5.9 points on Thursday Night. 
Here's where we stand after two weeks:
It should be an interesting Week 3 with a lot of managers looking to wheel and deal in order to bolster their squads. If you have any last minute fantasy questions, be sure to tune into Dear Mr. Fantasy on the Barstool Sportsbook YouTube on Sundays at 11:30am eastern/8:30am pacific