Jets Rookie Phenom WR Garrett Wilson Highlights Week 2 Fantasy Adds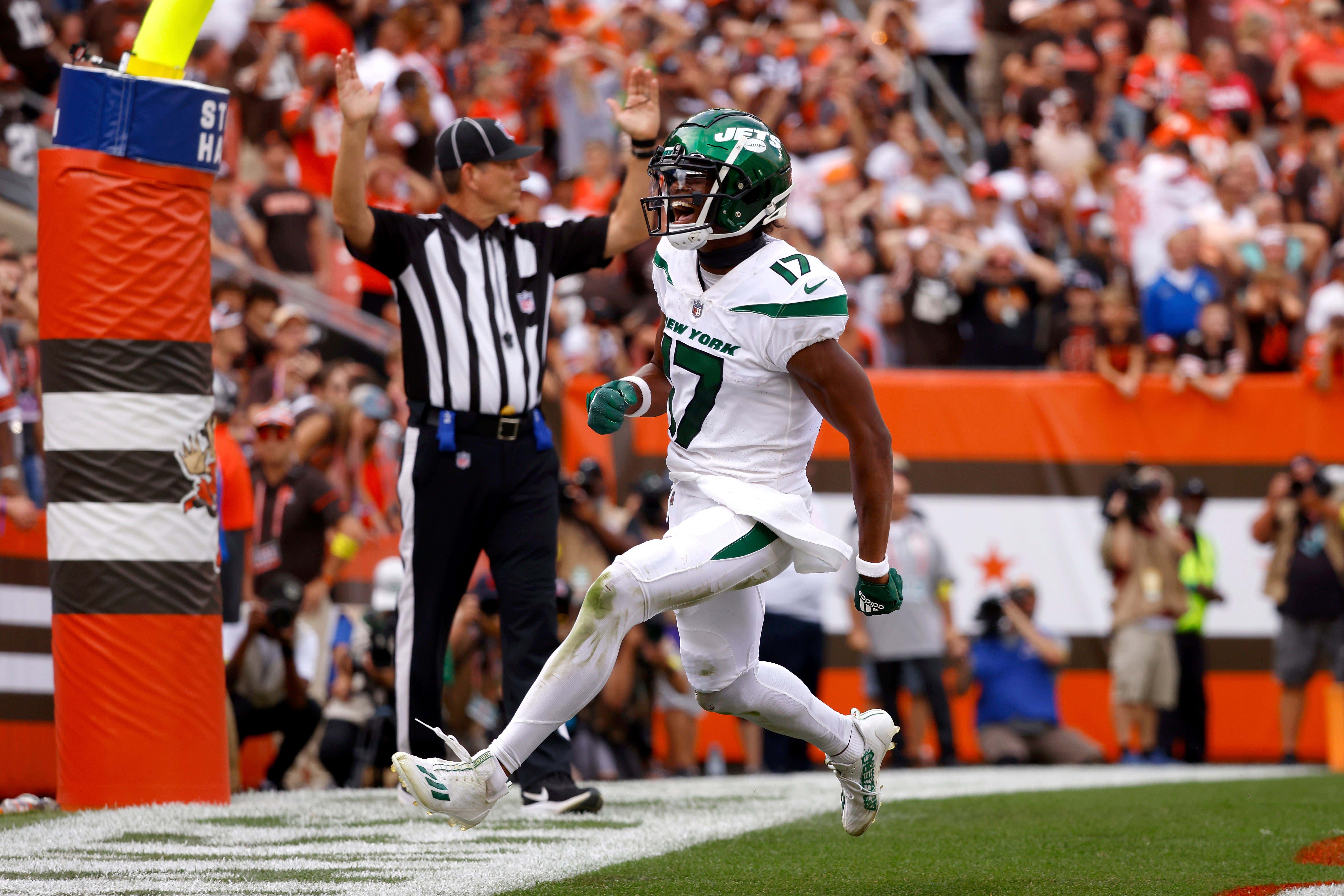 Kirk Irwin. Shutterstock Images.
New York Jets Rookie WR Garrett Wilson put on a show Sunday in Cleveland with a spectacular 8 catch 102 yard and 2 TD effort in the crazy 31-30 Jets comeback win. He is the crown jewel of the Week 2 fantasy adds and seems to have a budding chemistry with QB Joe Flacco who will start the next couple of games. 
Here is my list of Week 2 Adds…
1) WR Garrett Wilson NYJ
2) QB Jimmy Garoppolo SF (2 QB League)
Trey Lance broke his ankle early in Week 2 and is out for the season. Jimmy G stepped in with a solid but unspectacular performance passing for 159 yards a TD and running for a TD as well. Will Jimmy set the world on fire? Not likely. But he can be a solid #2 or #3 QB in leagues that start two QBs. SF has one of the best play callers in the game in Kyle Shanahan with weapons Deebo Samuel, Brandon Aiyuk and TE George Kittle. I have seen far worse situations.
3) TE Gerald Everett LAC
Despite the miscommunication on the Pick 6 in KC, Everett looks to have a solid role catching passes from Justin Herbert in the Chargers offense. He had 10 targets in week 2 and 71 yards receiving. The Chargers are going to score a lot of points too so the end zone trips are coming. He also has even more value while star WR Keenan Allen is on the sideline with a hamstring injury.
4) RB Raheem Mostert MIA
This is for the Zero RB believers. I do not think Mostert is a long term solution at RB. Miami has a muddled platoon with RB Chase Edmonds too. However, in the short run he can be a solid fill in. Mostert can fly and this team is scoring a ton of points. I question his durability but he will give you some points the next few weeks if you are desperate at RB.
5) QB Cooper Rush (2 QBs)
Rush is 2-0 as a starter for the Cowboys and the team seems to be rallying around him. He had a solid game with 235 yards passing and a TD in the upset over the Bengals. He is not going to be an elite top QB but he is a solid sub for all the owners who lost Dak Prescott in Week 1. He has a solid command of OC Kellen Moore's offense and the Cowboys will be getting WR Michael Gallup back soon to go along with CeeDee Lamb, Dalton Schultz and their RB combo of Zeke Elliot and Tony Pollard.
Please follow @FFFpod on Twitter and Instagram.
And prank the idiots in your league by making them wear this shirt!