Dave Portnoy Made A Galaxy Brain Move And Sat Tom Brady In His Fantasy League
Jeff Bottari. Getty Images.
We'll get to Dave, but the story of the week is can anybody stop Mike Moustakas?!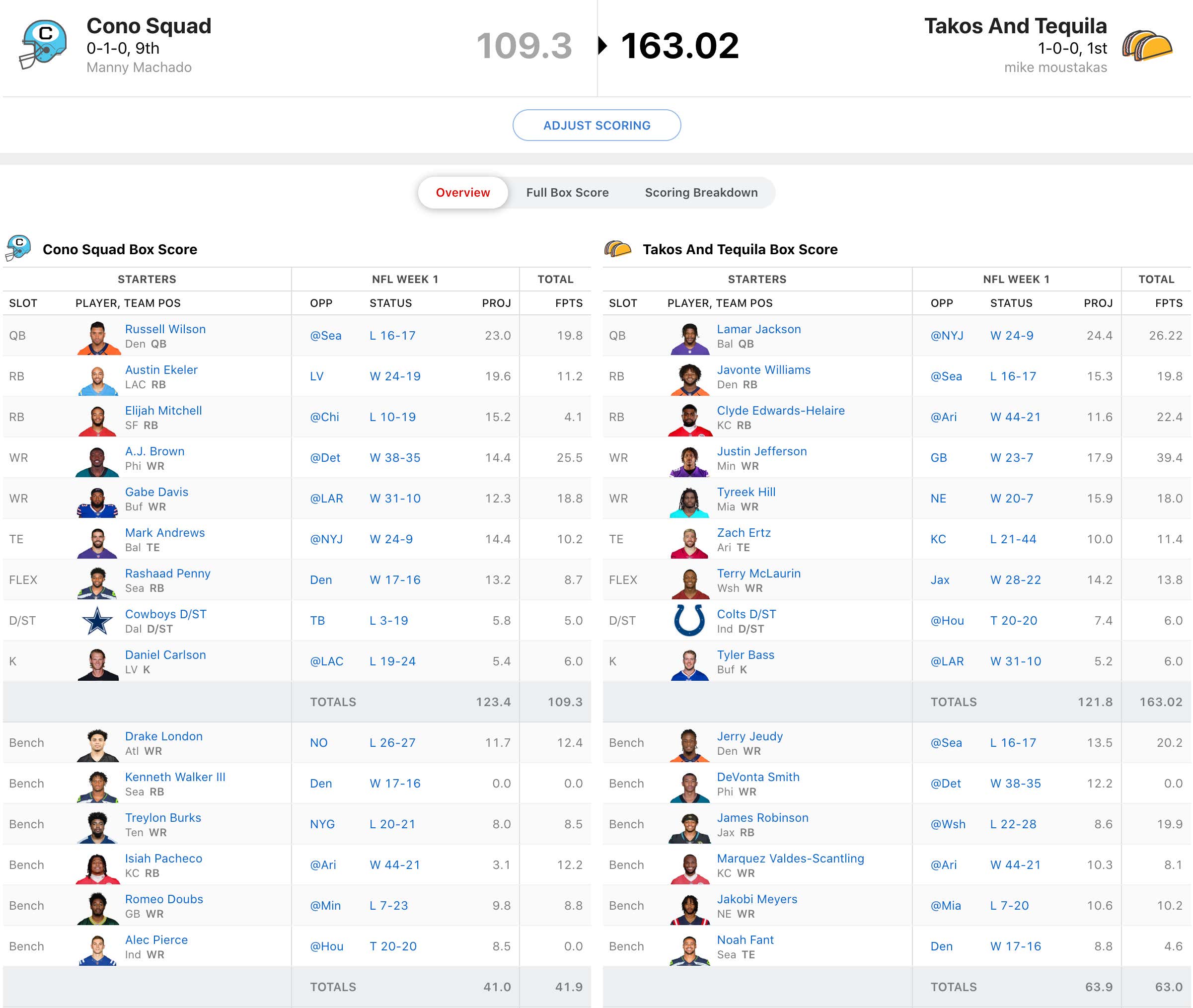 163.02 points Week 1 - my goodness! The Justin Jefferson pick Round 1 clearly paid off early as he led all non-QB fantasy scorers with 39.4 points (full point PPR). But he also made calculated gambles on Lamar Jackson in a contract year, Tyreek Hill with a new team and got an average of 21.2 points from both of his RBs (Javonte Williams and Clyde Edwards-Helaire). What's maybe the most impressive part of his team is his bench which had Jerry Jeudy (20.2 points), James Robinson (19.9 points) and Jakobi Meyers (10.2 points) not dressed for fantasy action.
Manny Machado got a tough break with Elijah Mitchell being sidelined up to 8 weeks. Russell Wilson also disappointed in his homecoming to Seattle and Austin Ekeler was held under wraps. He's far from done as his Wide Receivers are elite with A.J. Brown (25.5 points) and Gabe Davis (18.8 points) both having great showings Week 1.
Wil Myers had a monster Week 1 with 138.3 points defeating the defending Champ Alex Bregman handily behind Patrick Mahomes 5 TDs (44.9 points). His RBs left a lot out on the field and Najee Harris missed a bunch of game action, but his starting WRs averaged 28.6 points with Davante Adams (30.1 points) and Michael Pittman Jr. (27.1 points). If they continue to put up 55+ points per game, Wil will be a tough out.
Bregman's team is loaded from a personnel perspective, but caught some tough breaks starting with Cam Akers putting up a doughnut (0.0 points). He also saw a monsoon in Chicago limit Deebo Samuel's production. But His team will have weeks like this with both Derek Carr and Darren Waller on the team. If Carr has a bad game and Waller doesn't dominate, Bregman's team will struggle.
We may have a worst - first situation with Jake Marisnick trotting out a QB/RB trio of Josh Allen (37.48 points), D'Andre Swift (26.5 points), and Saquon Barkley (33.4 points). Depth is a concern and DK Metcalf (8.6 points) and Amari Cooper (4.7 points) ain't getting it done. And one injury to one of his big RBs get hurt he's got to move Zeke Elliott from FLEX (5.9 points) and that ain't good.
Mike Trout broke had a rough Week 1 headlined by Joe Burrow's 4 INTs. I was worried about his RB situation, despite having big names like Derrick Henry (8.2 points) and Nick Chubb (15.3 points) due to the scoring format (full point PPR) and it proved true early as both backs getting 1 target each turning them into a combined 1 catch for 2 yards. He does have Cordarrelle Patterson on his bench that can move into his FLEX to give him a scary 3-headed backfield with wildly high weekly upside.
Speaking of another Runningback heavy team, Sunday Funday managed by Christian Yelich and Jace Peterson put up 128.76 points in a close win over the Guardians Shane Bieber and Austin Hedges. Jonathan Taylor and James Conner will be a dangerous duo and coupled with Justin Herbert they have a scary 3 up top. Unfortunately, Keenan Allen who now has a hammy and Chris Olave leave a lot to be desired at WR. Julio Jones may be starting for them this Sunday.
Ja'Marr Ja'Merrier had some lost, but they'll be ok. Starting Rhamondre Stevenson over Kareem Hunt, Darrell Henderson Jr. and Kenneth Gainwell proved fatal for this Week 1 matchup, but their depth is really impressive and I think they could be in it in the end. Ja'Marr Chase and Mike Evans are an elite 1-2 WR combo and Hollywood Brown was right at his projection at FLEX for Week 1. If Kyler to Hollywood can become a dynamic connection, this will be a contender around Christmas.
Incredible move by Dave, manager of Dumb Joc benching Tom Brady (12.38 points) Week 1. That could end up being the difference if there is a stay correction of any kind. Had Dave started Brady, he would've put up 111.48 and one by literally a single yard (0.1). Pending any type of stat correction the result could be changed, but starting Ryan gave him more than enough cushion against any stat correction to keep the W. Breece Hall (10.1 points) disappointed in his RB1 role, but also led all NFL RBs in targets, which is big for a PPR league. Antonio Gibson (20.0 points) also was a tremendous Receiver catching 7 of 8 targets for 72 yards. 
The Miami ThunderCox had a well balanced attack led by Jalen Hurts (24.72 points), but were let down by Kyle Pitts (3.9 points) and their star studded RBs Christian McCaffrey (15.7 points) and Aaron Jones (10.6 points) who finished 10.4 points below their projection. Christian Kirk though was quite a nice pick and play with 17.7 points in the FLEX spot, 4.9 points over projection.
Eric Hosmer eeked out a Week 1 victory despite starting Aaron Rodgers (3.7 points), Dameon Pierce (4.9 points), Allen Robinson (2.2 points), Adam Thielen (6.6 points) and combining for 42.8 points under their projections. Travis Kelce (26.1 points) and Joe Mixon (21.5 points) led the way. Nyheim Hines and Jahan Dotson on the bench are good options and having Stafford in case Aaron Rodgers really goes in the dumps should level this teamout.
A very tough week for Cook'n With Kamara. It'll be a juggling act with Dalvin Cook, Alvin Kamara, and AJ Dillon moving forward, but that's a good problem to have. They could always look to deal one with Dak Prescott being out 6-8 weeks with a hand injury. Amon-Ra St. Brown was as good as I had advertised, shoutout to me. 
Isaiah Likely didn't produce in Week 1 so is a potential cut candidate, but Michael Thomas appears to be back, so that's very good news for this squad. Michael Carter Jr. also appears to be valuable in PPR, so that's a valuable depth piece.
After Week 1, here's how we stand.
What team do you like the most moving forward? And what managers should be wearing this shirt?
Drop your thoughts in the comments and looking forward to Week 2! And if you have any last minute questions, tune into Dear Mr. Fantasy at 11:30am eastern on the Barstool Sportsbook YouTube and Mintzy & I will answer your questions!