Woke Liberal Cowboys Owner Jerry Jones Considering Signing Colin Kaepernick?
Welcome back to the Monday Morning Bowel Movement- THE MMBM. This year due to constipated schedules the MMBM will be appearing on Tuesdays which will allow me to include coverage of MNF and stuff like RG3 beating a bird in a footrace. There are all new segments to debut, things to rank, and takes to crank. Word of warning your probably not mentally capable of reading and absorbing these takes so if its all the same to you please leave. Its good to be back
With Sundays season opening loss to the Tampa Bay Buccaneers the Dallas Cowboys acomplished a seasons worth of headlines in a couple hours. You had:
-A demoralizing loss 
-A injury to their starting quarterback
-A drunken HIPPA violation from their owner describing in detail the location, severity, and timetable for recovery of said season-destroying injury.
So what is Jerry Jones to do? No worries because his head coach is armed with all the data necessary:
Say what you want about Mike McCarthy but the man knows how to create a word doc. And in true McCarthy fashion he has created a list of players who have been blackballed so lets evaluate the possibilitys of potential Free Agent impact signings to immediately improve the Dallas Cowboys:
-Philip Rivers
Phil has been home for a year with like eleven kids I think hes due for a well earned break of coming back to play in the NFL. The problem is that with his 5-7 playoff record, Rivers might be too successfull to want to lower himself to play in Dallas.
-Brett Favre
Kind of the last guy youd expect to be assciated with Big D, but always fun to just say his name. No state income tax which is a plus, but also unfortunately for Brett means theres less money to embezzle. Hes a gunslinger thats already under investigation by the federal goverment so putting him in a enviroment in north texas where theres a convertable roof and telling him to take some shots would line up quite well with our nations history.
-Big Ben
The game of football misses big ben and if my own personal experience holds true, the fact that hes doing a podcast and watching football every week means that hes in the best shape of his life. Ben fits what the Cowboys are looking for- Big, constantly injured, good enough to disappoint your fanbase, and Ben and Dak have nearly identical injury historys except Ben doesnt realize that he should ever consider sitting out with his bumps, bruises, HPVs, and fractures. Also both quarterbacks are inextricably linked to the color grey. If Bens foot had been turned backwards a couple years ago he would of simply stopped looking at it and used the new angle to backpedal out of a oncoming rush more effeciently. McCarthy is a Pittsburgh guy through and through so they will be able to bond over their shared love of carbohydrates and coal. 
-Colin Kapernick
This one makes the most sense. Jerry Jones was a early supporter of Colin Kapernick's protests of whatever Jerry Jones believed Colin Kapernick was protesting, and now hes probably dying to bring this guy in so he can virtue signal to all the other liberal elite owners how cool he is- something hes been missing since cutting Weeden and not being able to root for Brandon. Dallas voted overwheling for Biden in the last election so it would make sense I guess. Perhaps Jerry will allow Colin to work remotely you have to imagine a zoom call would be specially productive on that giant jumbotron. Jerry spends alot of time around college aged women, probly deep in discussions about gender studies, and this would be a perfect way for him to continue his mission of virtue signaling to his lib fan base that hes still cool.
You know Jerry is about 5 cups deep in Johnny Walker BLUE, not RED,  so that obamaphones burning a hole in his pocket and hes looking to send a "you up" text to his marxist buddy CNN contributor Chris Cristie. He also knows he has to get someone who knows his rights during a traffic stop before ezekial elliot gets pulled over by Goodell for that window tent on his helmet. 
Yes, its time for a facelift for the franchise as well, and Jerry Jones and George Soros might as well be two peas in a pod going back to the 80s when Jerry traded away Republican senatorial candidate Herschel Walker to get his hands on woke ESPN/disney employee Troy Aikman. Jerry has also been the loudest voice in the unionized group of leftist NFL owners, going on strike from hosting football games in the month of January for almost 30 years now, as well as threatening to go on strike from paying players during CBA negotiations in 2011 and 2021.
As I explored on PMT, the Dallas Cowboys are the Clinton Family. Prominent Arkansas ties. Was very successful back in the 90s. Never won anything in the 2000s depsite being repeatedly annointed by the media. Makes people close to them want to k*ll themselves. Heavily intertwined with pizza. And now lets not forget they are doing their best do bury a guy named Rush 6 feet under the depth chart.
These days comprimise is dead, but the best option for Jerry Jones at this point is to consider a two headed monster of Kapernick and Tebow to unite America on a bipartisan ticket. Tebow would be the prefect fit in Dallas- a ton of hype, no real production, and yes known to be a little awkward left wing. Will Jerry do it? Unlikley, especially since he plays in the NFC Beast and in true lib fashion he knows how to stoke that division.
Now weve reached a all too familiar impasse with the Cowboys. They are boring and bad and they need a old school backup QB. True they move the needle but then again so did Janis Joplin and we know how that turned out. Freedoms just another word for nothing left to lose- and me and my Stephen McGees not walking through that door. 
Current Head Coaches who were Assistant Coaches on the mid-2010s Washington Redskins Powerankings:
1. Mike McDaniel
Wilfredo Lee. Shutterstock Images.
Mike knew he was up against a team that has been tied to illegal surveillance of their opponents so it was no small feat in shutting down the Patriot act on 9/11. Although he seems like a guy who has learned about due process by listening to 311 lyrics, McDaniels proved that the best way to stop a Bill from passing is actually through rocket science no offense to Matt Patricia.  And although his coaching style and personality appeals mostly to stoners on their couch eating munchies and laughing at each others jokes, I think we all know who won this Mike/Judge show.
2. Kevin O'Connell
Bruce Kluckhohn. Shutterstock Images.
ALERT ALERT ALERT: Kirk Cousins has been activated. 
O'Connels entire assignment this season was to make activate Kirk Cousins. After week 1 I would say consider this old janky bitch unlocked. By activating of course I mean he has to make him slightly less risk averse.  Kirks the kind of guy who wears a helmet to sleep or a mouthpiece to brush his teeth, so Kevin O'Connell needs to convince him to take a chance throwing 50/50 balls to Justin Jefferson which is basicaly like encouraging someone to take a second card in blackjack. Kirks been getting dealt Kings and staying his entire career, now in keeping w the real TB12 method (whose wife loves him) its finally time to hit on a 10
3. Kyle Shanahan
Charles Rex Arbogast. Shutterstock Images.
If the Revenant taught us anything, its that your going to want to send your most attractive star to go fuck up Bears in inclement weather, so in retrospect it should of been obvious that starting Jimmy G week 1 was the move. But instead Kyle himself decided to play the part of Leonardo DiCaprio and spent all week thinking up different ways to make his new 22 year old toy wet.
4. Matt LaFleur
Dylan Buell. Getty Images.
Amongst the rest of these former co-workers who sound like extras from The Wire named O'Connell, McVay, Shanahan, and McDaniel, you always need one french weirdo to change the vibe up. LaFleur had a pretty bad week one, and in true French tradition ceded a enormous amount of territory to Jefferson.
5. Sean McVay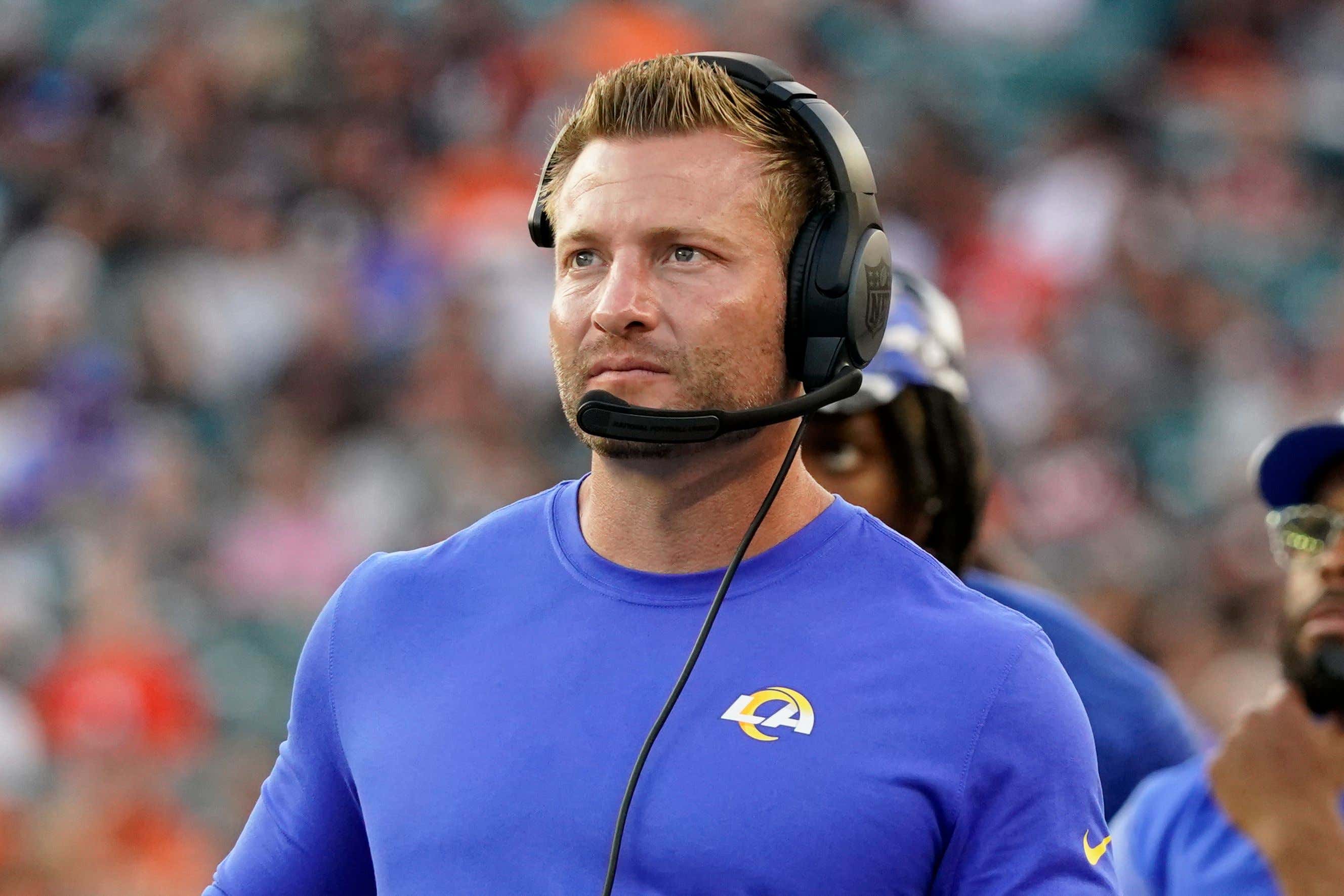 Joshua A Bickel. Shutterstock Images.
Much like Jason Whitlock, Sean McVay got deseperate and was willing to do anything once bills started overwhelming him. And also much like Jason Whitlock, for the first time in his life he is below 500. Sean had no asnwer for Buffalos pass rush and lost the battle of the two best head coaches whose names start with Sean Mc. I expect McVay to figure things out before too long but his feckless offense reminded me so much of what we saw out of pathetic Baylor on Saturday night and its always dangerous anytime McVay takes inspiration from Waco.
10 Things I Know I Know
1. Things very quickly spiraled out of hand (no offense to Christian Watson) on todays Pardon My Take as we walked through scenarios of what wed do to guarentee a super bowl. In honor of Bryan Robinson somehow missing only 4 weeks (gunshot wounds, multiple) I volunteered to get shot in the ass if the Commanders won a superbowl. 
Any true fan will admit that catching a forrest gump is worth a title except for Jake who is obviously just not as big a fan as the rest of us. Getting shot in the ass would probably be a sweet deal.
PROS: Dont have to sit up or walk. 
No need to wear pants. 
CONS: Tough to have a more hardcore celebration after any further superbowls. 
Cant get congratulated by a first base coach after getting a base hit. 
2. This is a next level mental rep:
Russell practicing high-fives with invisible fans is a move you can either pull off if your a genius or criminally insane. Wilson lives inside a simulation of his very own creation and as mister unlimited it seems he wants everything everywhere all at once. 
3. The Seahawks are better without Russell Wilson. Aside from decimating their electric grid when he plugs himself in to charge overnight, its got to be a relief to not have to pretend to like him anymore. I totally understand the allure of pretending to like someone that you work with even though theyre the most annoying person in the history of planet earth- Im on a trivia team with Brandon Walker. But at the same time its got to be so nice to not walk into that lockeroom and not have to worry about Russell Wilson putting you on facetime with Tony Robbins so he can yell at you about not being passionate enough about details.
Very happy for Metcalf not having to be in that room anymore. Kind of ironic that Wilsons absence is giving a second life to a guy literaly named decay.
4. Credit to Brian Daboll for going for two instead of being happy with a tie but Im not happy that the NFL has another MisterAnalytics in its midst. Ok I understand that two points is more than one and that if you score more points than your opponent you win the game, but what about the league sponsors who would get more commercials if the game went to overtime? I guess analytics is just another way to use numbers to be selfish. 
So while Brian Daballs put his scrotum on the goaline stretched thin like his WR corps, Tyreek Hill was making bold claims regarding his coaches sack too. Were having a good old fashioned nuts-off between Daboll and Mike McDaniel though. Between the Steelers verse Bengals Michael Scott snip snap snip snap and the Randy Marsh wheelburrow testicle meme its a big day for peoples whose main strength in life is making mid 2000s mainstream comedy refrences. Sick reference bros. Your references are out of control everyone knows that..
5. Dude of the week:
All this guy has in the world is his bottle of liquor and a stolen car part and yet I envy his freedom. Juggalos are underated human beings. They're kind of like if you built a wall around the entire city of philadelphia, made them subsist on only the food they currently had for 6 years, and came back to check on them. 
6. Ive said a few mean things about Geno Smith that I dont regret because they were funny, but this is a very cool line:
I never wrote Geno Smith off because I never wrote him on to begin with so checkmate Geno.
7. Hot seat: throats. Robert Saleh is saving all the receipts from people who doubt Joe Flacco and the Jets. A good joke to make here would of been to say "well its gona be longer than a CVS receipt" but zoomers might not understand that because you dont know what a paper receipt is because we destroyed the economy so you dont have money to buy anything. The concept of a reciept is so weird to begin with. I'm gona give you money then your going to give me the product that I have to have,  but also I have to take on a piece of trash that I dont want or need- its actually very similar to spending significant money on a old backup quarterback.
8. RGIII is faster then a bird. 
Folk's stop me if youve heard this one before but a Falcon lost a early lead. I would actually watch a man vs beast with RGIII taking on whatever wildlife he encountered in different sports. He races birds, and throws footballs at various plants.
To this day I still laugh out loud regarding the football at trees video. Its legitimately impressive but also such a smooth way to impress your girlfriend. "Hey babe pick out a tree. Cool. Watch this." Still think RG3 could make a NFL roster right if his WRs were made out of plants I'm looking at you texans.
If Patrick Mahomes Does This The Media Goes Nuts:
Pretty cool. Never understood why Armadillos arent included in more cartoons. Big miss by everyone.
Recommended activity for Deshaun Watson to avoid committing sexual assaults this week: 
David Richard. Shutterstock Images.
Thinking About Baseball
Congrats to baseball for voting to make some highly anticipated rule changes like making the bases 3 inches bigger, putting in a shot clock, and banning the shift. And just because its easier to reach second base dosent mean you necessarily should unless you get a very clear sign Deshaun.
As a expert in not being horny I'd like to let Deshaun Watson know that a fun helpful way to avoid finding yourself in a situation like this is to 1. pop on a baseball game, and 2. simply constantly have diarreah so you're too embarassed of pooping everywhere all over yourself, and too busy to get bored and accidentally schedule a massage with sixty strangers on instagram and ejaculate on them.
Jameis Attempts THE BIRD GUANTLET
Jameis Winston is attempting to do something that has never been done in the history of NFLFootball- defeat every single bird team in a season. 
Dallas Cowboys head coach in waiting in waiting Sean Payton had to be smiling as Taysom Hill lead Jameis Winston to leading the Saints to a comeback victory and filled the Falcons with 100% pain from their shotgun attack. Jameis continues to lead the league in joy. Jameis has resting ayahuasca brain and its a pleasure to watch him exist.
Unlocked Athletic Premium Plus Content for TMBM Subscribers:
Alot of you guys dont have the credit necesary to unlock all of the content that the Athletic has to offer. For instance after passing their credit check to achienve double diamond level, I get Andy Staples to write me handwritten blogs on the strengths and weaknesses of my various sun belt opponents. In this weeks column available only at the country club tier we take a look behind the scenes at Russell Wilsons post game recovery: