An Inside Look At Dave Portnoy And The MLB Stars Matchups: This Is The Show - Week 1
Dave had a monster Thursday behind his 1st round pick, Stefon Diggs who outperformed his projection by 9.5 points. Matt Ryan is an interesting decision as a surprise starter over Tom Brady. Will it be the right move? Let's find out as he needs a big game from his Quarterback position. Going against a healthy Christian McCaffrey in a PPR league is also terrifying.
Commissioner Cheah's pick: Miami ThunderCox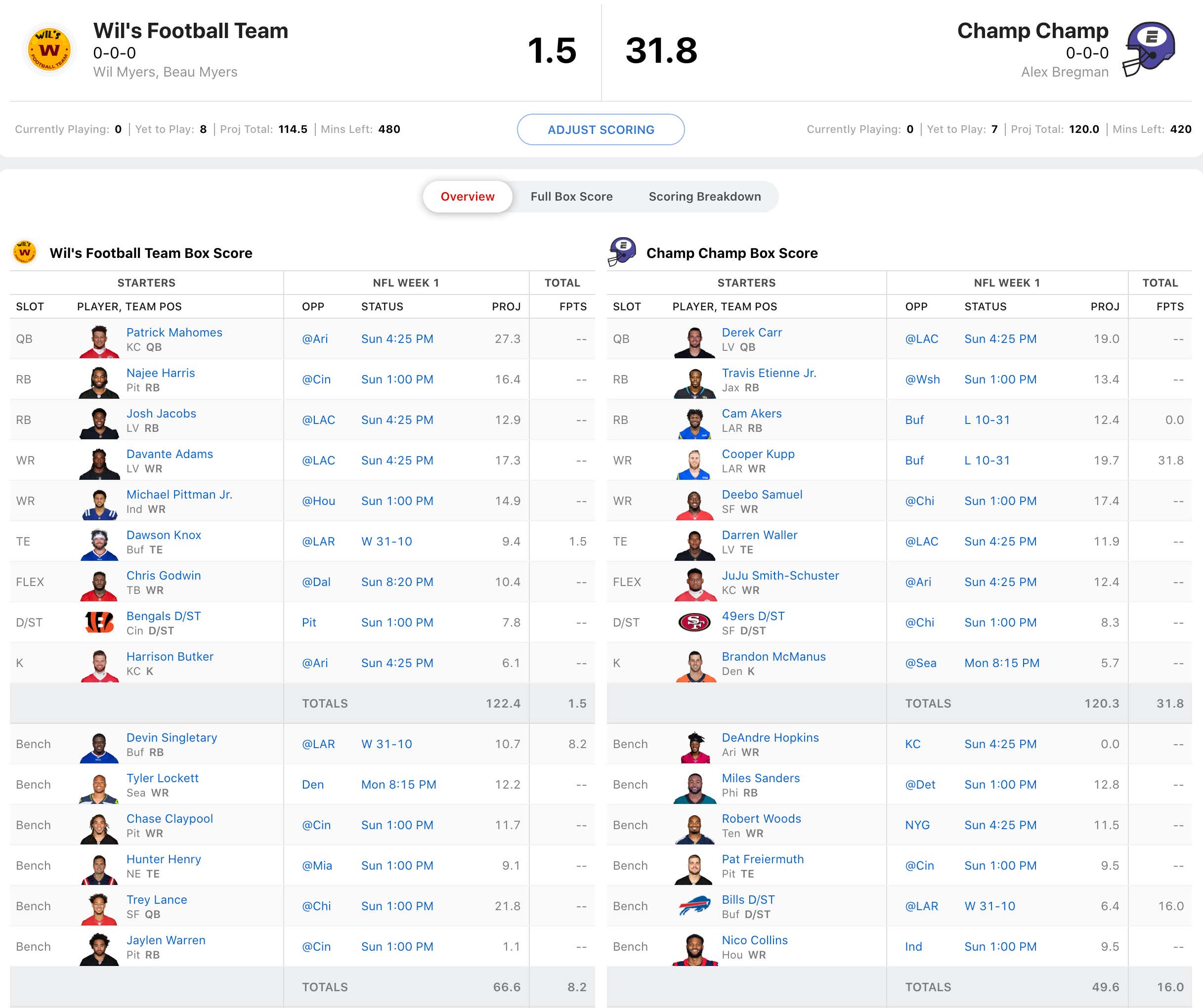 Wil Myers' squad had a rough opening with Dawson Knox putting up a 1 catch game. That being said, the league's defending champ, Alex Bregman had Cam Akers starting. So I guess it evens out. Luckily for Bregman, he had Cooper Kupp going and he had a monster game. While Bregman had a great draft, he's got a lot riding on the Derek Carr/Darren Waller combo. Let's see how it works out for him vs. Wil who has Davante Adams and Josh Jacobs going in what should be a high scoring Raiders vs. Chargers matchup.
Commissioner Cheah's pick: Champ Champ
Eric Hosmer is already using that 2 QB rotation to perfection having sat Matthew Stafford on Thursday night. Unfortunately, he didn't sit Allen Robinson who was held to one catch. Joc Pederson & co. could surprise in this one, but they'll need the unproven Isaiah Likely to step up.
Commissioner Cheah's Pick: Team Blood, Sweat, and Beers
Tough start to the week for Mike Trout who was a 15 point underdog before Josh Allen went off on Thursday night. But I would never count a team with Derrick Henry out. He can legitimately win a game by himself. The Courtland Sutton vs. Hunter Renfrow decision is tough for Trout. I'm higher on Renfrow, but I actually like the Sutton decision with Russell Wilson going back to Seattle on Monday Night as he should be primed for a TD catch.
Commissioner Cheah's Pick: We Are Phamily
Both Manny Machado and Mike Moustakas had guys going on Thursday that outperformed their projections. You love to see that. This should a close matchup that gets decided on Monday Night, I could see Russ going off and sticking it to the Seahawks.
Commissioner Cheah's Pick: Cono Squad
This is a matchup of the Guardians vs. the Brewers but it's hard not to like the explosiveness off the Justin Herbert/Keenan Allen stack in what should be a high scoring affair mixed with two RBs that are synonymous with multi-TD games in Jonathan Taylor and James Conner.
Commissioner Cheah's Pick: Sunday Funday