It's Data Day - My Official Game By Game Prediction Of The 2022 NFL Season
There are 272 games in the new-ish 17 game NFL season. I predicted no ties this year, so we've got 272 wins and 272 losses. Let's go down the line division by division.
I think Buffalo is clearly the class of this division. I like them to be the #1 seed in the AFC overall and get the bye. From there, I think this is a pretty even division. I know Zach Wilson is out at least the first three weeks, but I still the Jets are frisky. I like Mike McDaniel and a lot of the additions the Dolphins made this off-season, so I think they can challenge for a playoff spot. I don't like New England's off-season much and I think the loss of Josh McDaniels will hurt Mac Jones, but with a Bill Belichick coached squad, they'll never be far out of the mix.
In the AFC North I like the Ravens, but also foresee this as a closely played division. I like new TE Isaiah Likely and his presence in addition to Mark Andrews can really allow Baltimore to do a lot of different things on Offense. They'll also be much healthier than last year and Lamar Jackson, at least of time of publishing this, is in a contract year (he set a deadline for Friday to get a deal done for this season). The Bengals are so good, but I could see them taking a small step back despite improving their Offensive Line which was the downfall of their season last year. The Browns I think will get off to a slower start but ramp up when Deshaun Watson returns from his long suspension. The Steelers are so dang frisky and Mike Tomlin has never finished below .500, but it's hard to imagine them not being in the basement of the division this year given their Offensive Personnel.
This is where things get a little nuts. I think the Texans win the AFC South. Why? I am not sold on the Colts after losing their Defensive Coordinator, Matt Eberflus who has moved on to coach the Bears. While Matt Ryan over Carson Wentz is seemingly a big upgrade, Wentz was 27 TDs to just 7 INTs last year, so while his INTs were very ugly, he was efficient. The Titans I just can't see staying on top. Derrick Henry is 28 years old coming off an injury and they dealt their best Receiver. They did get a much younger version of him, but Treylon Burks will take some seasoning. Robert Woods is a nice pickup but also coming off an injury. Jacksonville I think will be better, but they're still in full rebuild mode and Trevor Lawrence has to unlearn a lot of stuff from Urban Meyer. I think the Texans have done a really nice job rebuilding under GM Nick Caserio. I think Davis Mills will end the year being an average starting QB which is a big win for the franchise. RB Dameon Pierce is set to start and they've done a nice job in the trenches having previously traded for Laremy Tunsil and now drafting Guard Kenyon Green in the 1st round out of Texas A&M. They had another 1st Rounder in CB Derek Stingley who has a chance to light it up in his first year just like he did at LSU. While I think this division is clearly the worst in the NFL, I think Houston is the best team in it. Turn $4 into $100 or $40 into $1,000 if it hits. Ride with me here:
The AFC West is a damn good division. I think all the teams will be above .500 but ultimately, I think the Chiefs are the ones left without a dance partner and I have them finishing in 4th place at a respectable 9-8. The loss of Tyreek Hill on Offense and Tyrann Mathieu on Defense will be felt. The Chargers have gone all in with the trade for Khalil Mack who forms the most terrifying duo in the league with Joey Bosa. The addition of CB JC Jackson will also be huge. They'll need Derwin James healthy to make a serious run, but I like them as the class of the division. I do have faith in the Raiders. I know they have Offensive Line issues, but there are just so many dang weapons and I believe in Josh McDaniels who not so long ago, started off 6-0 with Kyle Orton as his Quarterback in the AFC West. The Broncos will also be much improved with Mr. Unlimited under Center. They have a lot of great pieces on Defense with Bradley Chubb, Patrick Surtain II, and Justin Simmons so I think they're good enough to be a playoff team. Look for them to ride Javonte Williams and 'Let Russ Cook' to double digit wins.
The NFC East was another tough division to sort out. I think the Giants could make some noise under new HC Brian Daboll and I like Daniel Jones to become a decent enough Quarterback that the team re-signs him. Dallas just has so many injuries and I'm worried about they reaching their sky high expectations because of it. The Commanders I think can be sneaky good under Ron Rivera who always seems to have his team in the mix every other year. This would be that year, so I think Carson Wentz, Terry McLaurin, and breakout rookie WR Jahan Dotson lead this team to the playoffs. I don't love the Eagles as much as everybody else, but I still think they're talented enough to win the division led by their Defense which will have two lights out CBs in Darius Slay and James Bradberry.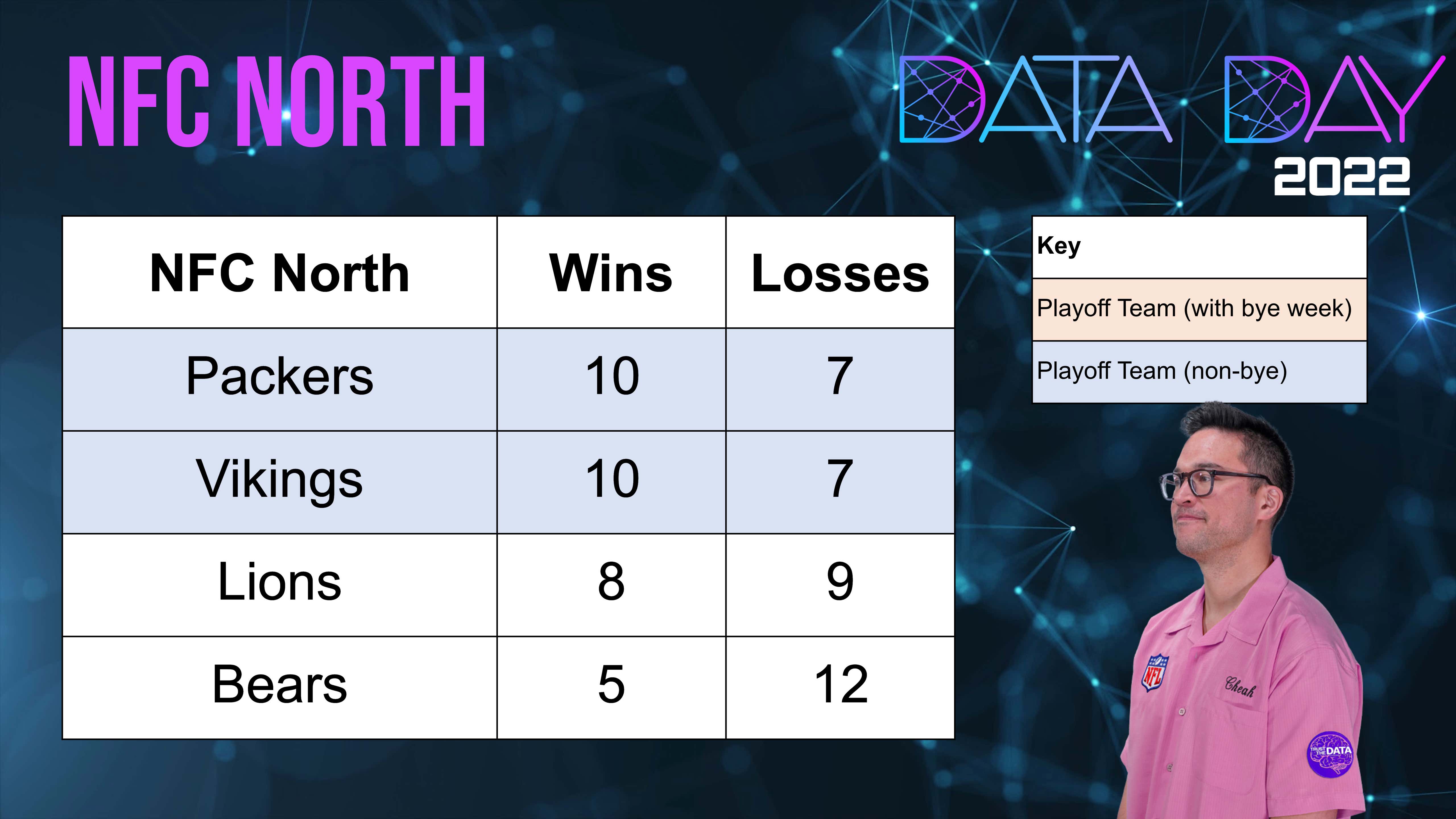 I have the Packers taking a slight step back in the regular season and finishing 10-7. They did lose Davante Adams, but I think this will be a heavy ground and pound team with A.J. Dillon and Aaron Jones. Their Defense is also an outstanding unit with Jaire Alexander, Kenny Clark, Rashan Gary, and Preston Smith. The Vikings I think can be a scary team down the stretch with Justin Jefferson continuing to build on his record setting first two years and Kirk Cousins finally playing for a coach who appreciates him. I like Dan Campbell's Lions to be a solid squad and build on last year's 3-3 finish. The Bears are in flux right now and I pretty clear last place for me, sorry Big Cat.
I think the Panthers and Falcons are both very bad teams. 5-12 may be generous. The Saints can be frisky and have a good defense, but will they really make the playoffs behind Jameis Winston? I can't see it and I have them finishing at 9-8 under new HC Dennis Allen. The Bucs are clearly the class of the division and while I have them continuing to have trouble with the Saints, they still win the NFC South going away at 11-6 and getting the NFC's #2 seed.
Sadly, I think the defending champ LA Rams get the #1 seed in the NFC via a head-to-head tiebreaker over the Bucs. They are just so loaded with a lot of guys at their peak and are able to plug holes with cheaper options that end up working out, it's an impressive operation. I am curious how Cam Akers will look after missing most of last season to a torn achillies and then not looking very explosive when he returned. How will the extra time to heal do on his body? Also Allen Robinson is due for a rebirth withMatthew Stafford. The 49ers are a well rounded team that should be pounding the rock with Trey Lance, Elijah Mitchell, and Deebo Samuel. Behind that Offensive Line with that Defense, they will give a lot of teams problems. I think the Cardinals just aren't there yet. DeAndre Hopkins' suspension is a tough blow for the team and they lost Chandler Jones off the EDGE. The Seahawks have Geno Smith at QB and will be bad. That is all.
Here's how I think the Playoff Seeding will work out:
So the matchups would look like this:
The playoffs should be wild and I like the Chargers to come out of a rough and tumble AFC West. In the NFC, I think the Rams stumble to Sean McVay's former apprentice Kevin O'Connell, but Aaron Rodgers avenges all his prior losses to the Bucs and bests them in the Divisional Round. I like the Packers to ride that momentum all the way to Arizona for Super Bowl LVII.
I think Super Bowl LVII will be a tightly contested game with the Chargers prevailing and winning 27-23 behind that outstanding pass rush and Justin Herbert's heroics. Matt LaFluer plays it conservative again going for a FG down by 7 with 2:34 left on the clock and the Packers never get the ball back.
As for the the Honors…
Tom Brady in what most people anticipate is his final season, get the MVP.
Raiders EDGE Maxx Crosby takes home the DPOY with 18.5 sacks.
Justin Jefferson wins Offensive Player of the Year putting up 1,842 yards and 11 TDs
And Josh McDaniels wins Head Coach of the Year after leading the Raiders to the playoffs in his first season with the team.
Thanks for reading and let's have a great season! Be sure to follow @TrustTheData for all my gambling picks all season long!
Now it's time to talk Data Day on The Yak!