Saturday Night Live's Greatest Cast In A Season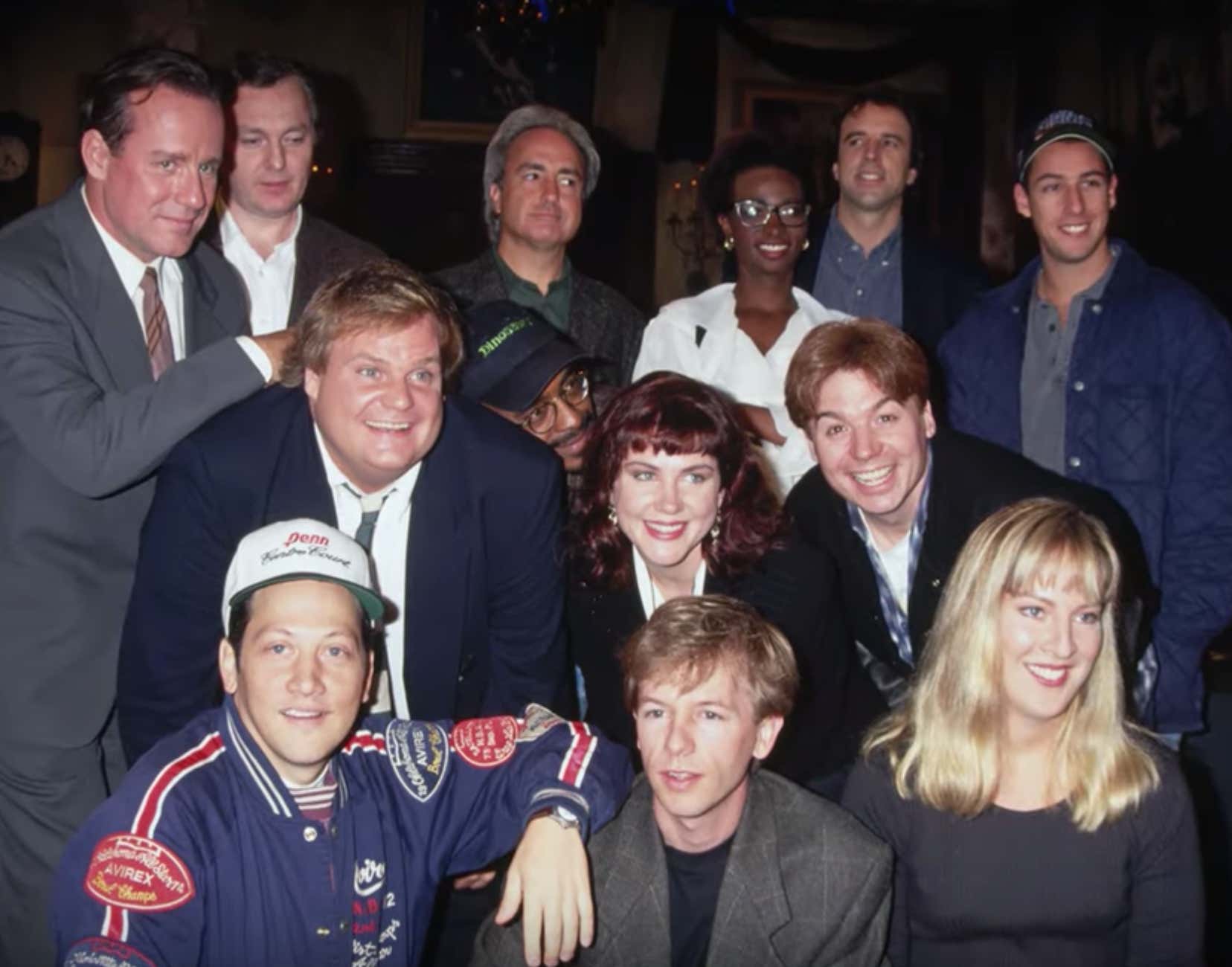 After a lackluster season, there is a mass exodus of cast members leaving Saturday Night Live. Before last season ended, we knew that show veterans Kate McKinnon, Pete Davidson, Aidy Bryant and Kyle Mooney were leaving the show. Last week, numerous reports had lesser known players Melissa Villasenor, Alex Moffat and Aristotle Athari out the door. For a show that has had bloated casts the last few seasons, this has the current cast at a more manageable 14 unless new members are announced before the likely debut in October.
Lorne Michaels said that everyone's favorite cast of SNL is when they were in high school. It's a pretty astute comment. People are more open to comedy when they are younger and add that with the thrill of staying up late and it's going to leave an impression for a lot of kids waiting for their drivers licenses. I'm not much different. In my opinion, the best cast ever was during Season 17 of SNL (1991-92) when I was in Jr. High. It had an incredible mix of the old guard mastering what they have been doing for the past few seasons with younger comedians bringing in an entirely different brand of comedy and it somehow really worked.
Veterans:

Dana Carvey
Al Franken
Phil Hartman
Victoria Jackson
Mike Myers
Kevin Nealon
This was Carvey's last full season with the show. He was never bigger than he was at this moment in time. His Church Lady character and President Bush impression were both fan favorites and it was during this season (February 1992) that Wayne's World came out in movie theaters. To this date, no movie based on an Saturday Night Live sketch has made more money at the box office.
By this point, Franken was more focused on writing than performing but his Stuart Smalley sketch with Michael Jordan in the season premiere still gets played on "Best of" highlight reels for the show. Phil Hartman is the greatest performer in SNL history. Just look at the characters you saw this in this season. Unfrozen Caveman Lawyer. The beginning of his Clinton impression with him at the McDonald's. Ed McMahon. He was the absolute best
This was Victoria Jackson's final season. I always felt like the show never really knew what to do with her. She had even less luck after SNL finding a project that fit her. It's a shame because she certainly was talented but it's very specific and unique. I wonder if she would have worked better on MADtv.
Mike Myers was much closer in age to younger people on the show like Adam Sandler and Chris Farley but by the time they all got there, Myers had been on the show for awhile and had established himself. He's the middle child of this time in SNL history. Was there a little too late and too young to be close with the Carvey/Hartman/Jan Hooks group but had been there too long and had a different comedic sensibility than the Sandler/Farley/David Spade generation. But it also may have helped him because he was in neither group, his stuff on the show always felt so unique
I liked Dennis Miller quite a bit more than Kevin Nealon behind the Weekend Update desk but I thought Nealon was better in sketches .Miller and Hooks had both left the show the season before but this was the first full season for some of the newer performers I'll talk about in a second so that's why I chose this particular season. But, both of them are among my all-time favorite people on the show. There is no five year span better for the show than 1989-93.
Newer Cast:
Chris Farley
Tim Meadows
Chris Rock
Adam Sandler
Rob Schneider
David Spade
Julia Sweeney
Beth Cahill
Ellen Cleghorne
Siobhan Fallon
Melanie Hutsell
This was Farley's 2nd season on SNL and he and Rock were the first members of this group to get elevated to "Repertory Players" which is the main cast of the show. One of the best biographies I've ever read is The Chris Farley Show which is an oral history of Farley's life put together by Tanner Colby and Tom Farley. I thought because his brother was involved, it might tiptoe around some of the darker parts of Chris' life but it does not. Great book.
This was the 2nd of 10 seasons for Tim Meadows. He was also a writer and never a star but he was a perfect spare part to make any sketch better. He spanned a few incarnations of the cast but he never fit in better than with this crew.
You can make an argument that along with Dave Chappelle, Chris Rock might be the best stand-up comic since Eddie Murphy. Despite that, Rock could never quite make it work on SNL. His Nat X character was often a throw in at the end of episodes but those sketches were great and would be a highlight on the SNL of today. Beyond that character, I don't know if it was a case of bad timing in relation to too much talent on the show for Rock to stand out or if he was just always better suited to do stand-up than sketch.
Adam Sandler is probably the most successful comedian of the last 30 years and Farley is the most iconic. It's hard to believe they were fired from SNL on the same day and didn't leave on their own terms. This was Sandler's first full season on the show and the debut of Opera Man.
Schneider and Spade were both pretty new in this season but Schneider was the first to make an impact with his Richmeister copy guy character. Of course, Spade would have the bigger impact on the show long-term and would be the last one of this group (besides Meadows) to leave the show. He admitted this season was a struggle for him and it would be the next year that he would break out with Hollywood Minute. With this much talent on the roster, it must have been really hard to distinguish yourself.
If there is one criticism of this season of SNL is that they really underutilized or just didn't properly cast the women on the show. Julia Sweeney had her Pat character but other than that, no one from that group really stood out. Fallon and Cahill were only on the show this one season. Cleghorne and Hutsell had longer runs but neither are close to the first people you remember from this run. I don't entirely agree with the thought process that SNL was only a place that only men could succeed in during the 20th century. Gilda Radner, Jane Curtain and Jan Hooks stack up with Kristen Wiig, Amy Poehler and Tina Fey. It also may have just been a coincidence that they had on some of the greatest men to ever be on this show at the same time like just like in Season 31 (2005-06), you had Wiig, Poehler, Fey and Rachel Dratch in the same season.
Season 17 of Saturday Night Live had incredible writers like Franken, Tom Davis, Robert Smigel and Jack Handey. Lorne picked some fantastic newer hosts who really worked like Michael Jordan, Jerry Seinfeld and Macauley Culkin mixed with favorites like Steve Martin, Tom Hanks and Chevy Chase. But the music that season may never be topped. Nirvana, Pearl Jam, Bruce Springsteen, Red Hot Chili Peppers and Tom Petty were all musical guests. It was a great combination of classic rockers who weren't quite classic yet and new alternative bands. It was kind of like the cast of the show. It was the best of both worlds.