Your Complete 2022 NFL Revenge Game Guide
NFL Sunday is just around the corner and that means one thing. Revenge. 
I did the work to pull together all the big revenge games this year so you'll know when to get the popcorn ready for the NFL Sunday daytime soaps. I counted over 900 total – including 53 quarterbacks on tap after final cuts for 2022. All in a post Ryan Fitzpatrick world. These numbers are a bit misleading though because most are backups that teams have waived or traded more than Rams future first round draft picks. And while I'll stick mostly to notable names, I do need to shout out Ravens guard Kevin Zeitler who will play five total revenge games this year - leading the league. This includes all three of his past teams (Cincinnati X2, Cleveland X2, and NYG) as he has more bones to pick this year than the Count of Monte Cristo himself. 
But let's be real. Quarterbacks are the marquee revenge draw. And you never know what can happen in the NFL so here are all 53 as it stands right now - starting, backup, or practice squad:
Week 1 comes in hot as Joe Flacco finally gets his chance to get revenge on the Ravens after winning them a Super Bowl basically all by himself with a little bit of help from one of the best defenses of all time. This is bad news for Baltimore as Elite Joe Flacco holds the best career QB revenge game completion percentage at 100% (2/2 in Week 4, 2020 vs. the Broncos). But I think we can all agree the most bitter revenge game of the opening week will be down in Carolina where Baker Mayfield seeks to make the Browns pay for making a deal perhaps literally with the devil in acquiring Deshaun Watson. When asked about the matchup, Baker gave some indication that the split might have been slightly less than amicable:
We're not even done with Week 1, because Baker Mayfield isn't the only starting gunslinger seeking revenge in his first post-breakup game as Russell Wilson gallops into Seattle for Monday Night Football. The real tragedy here though is that we are being robbed of the ever so rare Swinger's Revenge game in which both quarterbacks seek revenge vs each other's ex-team. Instead, Drew Lock can only hope for sloppy seconds as he watches Geno Smith throw his balls against his ex. 
Fun fact: the only time two quarterbacks faced off the year after swapping teams was actually just last year when Jared Goff tried crawling back to LA only to get the door shut in his face by Rams new bae Matt Stafford. 
Week 1 has a couple additional honorary revenge games as well as Carson Wentz squares off against his old coach Doug Pederson and Justin fields faces a team that drafted a quarterback ahead of him in the San Francisco 49ers. If you think Justin isn't looking to make a statement, think again:
Not a shabby start for Week 1. To keep things moving, here's just a few cliff notes for some other notable starters on this list after Week 1:
- Jameis Winston gets Week 2 to make the Buccaneers rue only winning one Super Bowl and making another deep playoff run in the two years since leaving him for the timeless Kate Beckinsale of quarterbacks, Tom Brady.  
- Carson Wentz gets his first of two shots against the Eagles in Week 3. He ties Geno Smith for most starter revenge games (3) this year and holds the tie breaker for his aforementioned coach revenge game.
- Deshaun Watson returns to Houston in Week 13 fresh off suspension as Roger Goodell realized during discipline negotiations that there are some things bigger than sports. There are sports revenge games. 
The real question though is: do quarterbacks play better or worse in revenge games? To my knowledge, this has yet to be researched. So, I dug into the numbers myself and found 154 games since 1999 in which a quarterback played a revenge game and compared the total production of various stats vs how well the same quarterbacks played in non-revenge games:
To sum this up - our avengers performed basically the same in revenge games vs non revenge games in the highlighted stats except EPA in which they flopped harder than End Game. But perhaps there is a spiteful grudge holding revenge king hiding in this data after all. Let's take a closer look at individual quarterbacks in order of revenge games played (min 3 games) and tag the difference in yards per attempt from revenge games vs non-revenge games in the boxes on the bars. The higher that number in these boxes, the more yards gained per pass attempt in revenge games vs. non:
Shoutout Ryan Fitzpatrick for literally playing a full season's worth of revenge games (18) in his career. But the real winner here is the last guy on the list: Gustave Frerotte. You might remember him as Gus Frerotte, but for some reason the source I pulled this from went with Gustave. And you know what, when you throw 2.5 yards per attempt more in revenge games vs non-revenge games, you've earned the name upgrade. Gustave is our official revenge quarterback king!
Quarterbacks are far from the only position that get's salty when ditched, so let's cover some of the other bigger offensive names from the list below: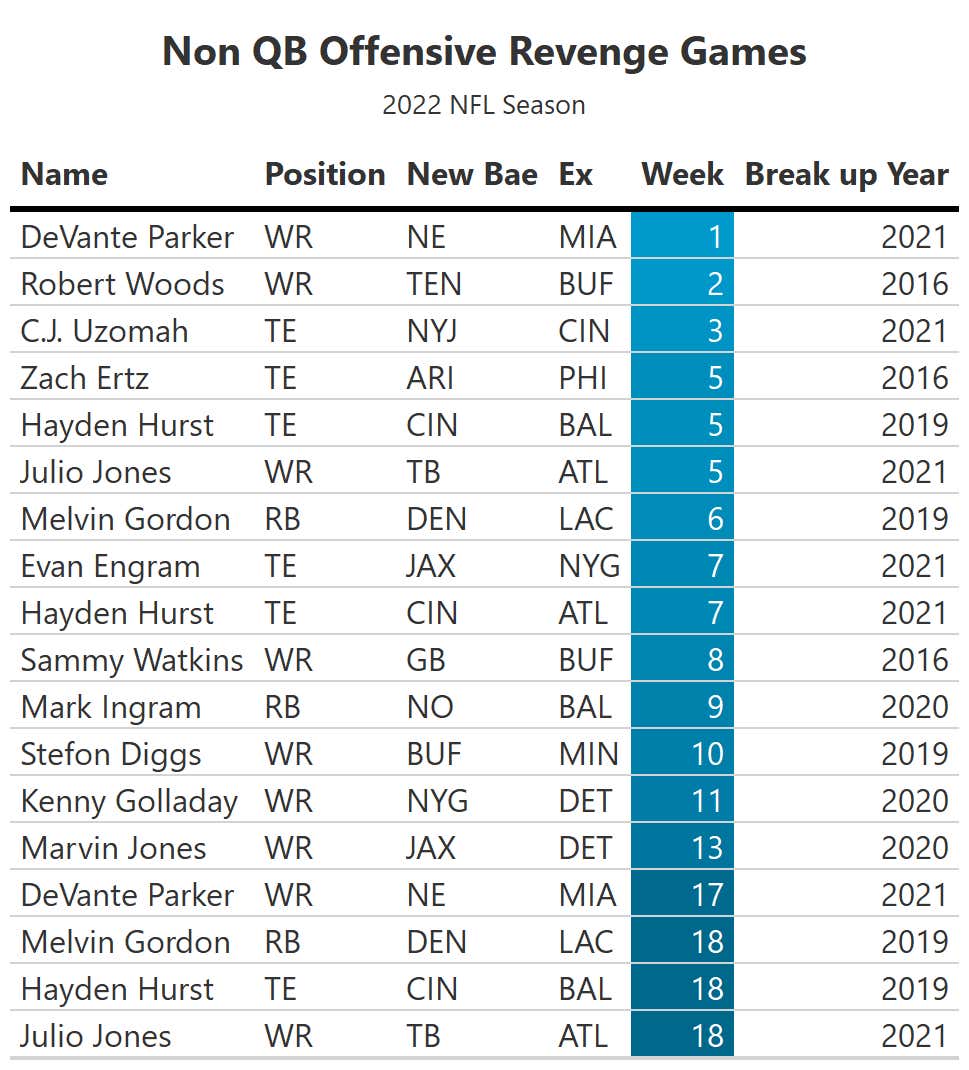 Julio Jones and Stefon Diggs are the obvious headliners here. I'll take the over on whatever Julio's touchdown prop is in Week 5 vs the Falcons. You just know Tom Brady will make sure this happens. And I look forward to Julio's end zone celebration of him pretending to be confused, as if he has no idea what happens next when you score a touchdown. Don't let me down Julio. Plenty other notables on this list but I almost didn't count Marvin Jones as a revenge game and I'll tell you why. I see through him. This guy has made a career as a seemingly above average receiver who seeks out employment from the trashiest team possible in order to make him look good. Whether it's the Urban Meyer era Jaguars, pre-Burrow era Bengals, or the any era Lions, Marvin knows which teams will keep him employed in the NFL. I'm going to officially say this is not a revenge game – but I respect the hell out of his career path. May as well scratch off Kenny Golladay while we're at it. No way in hell his body makes it to Week 11. And Evan Engram walking in Week 7? I'll take the under. 
Finally, no revenge game analysis is complete without checking in on the kickers kicked to the curb. As they say, hell hath no fury like a kicker scorned:
Graham Gano leads the way with three revenge opportunities, but Robbie Gould's return to Chicago will be a full-on celebration of Gould winning the Chicago Bears' Super Bowl last season vs the Packers. And anyone that wants to fact check me on that clearly isn't a Bears fan. 
If this preview doesn't get you pumped for revenge season, then you are definitely a Gus and not a Gustave. We're in for a hell of a ride in Week 1 and have many more spicy run ins afterwards. So, pop in some Orville Redenbacher, kick up those feet, and watch the petty drama, back stabbing, and pure hatred. And that's just Baker Mayfield. So much potential this year. Watch and witness revenge stars be born. Watch to answer the question: who will be… the next Gustave Frerrote?
- Jeffro