It's The Year Of Our Lord Two Thousand And Twenty-Two And The Fighting Irish Of Notre Dame Are About To Go uNDefeated Again
hit play and let the positive vibes make your hair stand up
Dearly Beloved, we are on the eve of yet another College Football season and I would like to welcome back to the Church of Chief for our TENTH year. 10 years of writing this blog. My first ever blog on this website was telling the people that Notre Dame would go uNDefeated and we are still here. It's been a decade filled with 10 win seasons, playoff appearances and THREE undefeated regular seasons. An incredible run that is now over and truthfully it wasn't enough. Now it's about finishing the job. We are on to a new era. The Freeman Era.
I've seen this narrative around the internet that Notre Dame is rebuilding this year. I've said it before, but people never seem to listen. This team doesn't rebuild. It is a program that RELOADS. College Football fans and bookmakers across the country are once again disrespecting Notre Dame. 17 point dogs and a Vegas projected win total line of 8.5. New year, same tune. SP+ had ND going 7-5 last year so apparently even computers are capable of disrespecting Notre Dame. Most pundits said they lose four. The Irish just kept rolling. 11-1 with their only loss coming against a playoff team and ND ended up in a NY6 bowl because of course they did. This isn't Charlie Weis anymore. It's not Willingham losing to Oregon State in the Fiesta Bowl. It's not a team. It's a factory that churns out NFL talent and 10 win seasons. 
How is it a rebuild with 5 returning starters on the offseason line along with the return of the greatest line coach in the game, a 5-star QB in his second year ready to take the reigns, the best TE in America, a nasty front 7, continuity on offense with one of the best young coordinators in football, and a "new" head coach who was greeted like this when the team gave him the job
The haters who are allowed to click on this blog will be in the comment section talking about how I am homer and how all of you are self-important. Meanwhile, Ohio State tried to trademark the word "The". 
People hate Notre Dame, but they can't stop staring. Maybe they're blinded by the sun reflecting off of the Irish helmets so they can't read the results that are always right in front of them every September. The Irish are back, but they aren't done building. Freeman Era has new goals and it starts in Columbus on Saturday night. 
Week 1: At #2 Ohio State
All anyone can talk about is CJ Stroud, Marvin Harrison Jr, and their next 1st round draft pick at WR, JSN. No doubt, an explosive offense. The entire internet is calling for a blowout and it's like they have collective amnesia about what Ohio State was last year.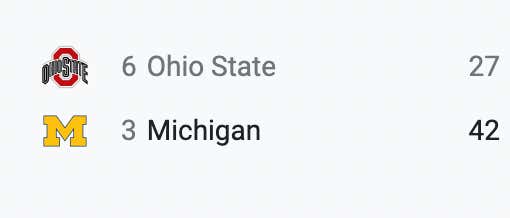 Ohio State played 3 physical football teams all year and they all put up 35 points. Don't try to tell me that ND can't push people around up front when they have probably 4 NFL lineman on the team, explosive runningbacks, a truly elite TE, and this guy at fullback
Ohio State is a wagon, but wagons get knocked over all the time when the road gets bumpy. ND is going to punch them in the mouth and compete all night long. They'll take the air out of the ball and make Ohio State stand and fight. I think ND in a fight with anyone. 1-0
Week 2: Marshall
I am embarrassed that Marshall is on the schedule. Sure, Alabama plays UL-Monroe and Austin Peay, Clemson plays LA-Tech and Furman. I don't care. I want Notre Dame to be playing the academies and power 5 teams exclusively. You play who is on your schedule and this schedule was made by that coward with the southern drawl down at LSU. Marshall gets paid for showing up, ND gets an easy W. 2-0
Week 3: Cal
I don't know much of anything about Cal and I refuse to look. The one thing I know for sure about Cal is that they are in trouble. W. 3-0
Week 4: At North Carolina
Life comes at you fast. Remember this time last year? UNC was on the come up. They had a Heisman contender at QB. They had all the hype in the world. This is what I wrote last year
"UNC always sort of does this. They build something in year one of a coach. Get the hype going in year 2. Backslide to mediocrity in year 3. Hire a new coach after year 4. This cycle is more predictable than the Mayan calendar."
Nobody has ever been more right about UNC than me. UNC went 6-7 and their "Heisman QB" who was going to be the top QB in the NFL draft was drafted in the 5th round by Washington. Notre Dame will roll them again. W. 4-0
Week 5: BYU in Las Vegas
A good ole fashioned God-off in the desert. I feel like this will have a real bowl game vibe with all the mormons out there. A bowl game where one team isn't quite ready for the bright lights. I like BYU. Good program. They might win 9 games this year. This isn't one of them. Fly in. Place a responsible wager. Clean up. Use that money to buy playoff tickets because that is where ND is heading. W. 5-0
Week 6: Stanford
I am sad to report that Stanford is dead. I like David Shaw, but his time is running out and if I am being honest he might have been fired after last year. Similar to Cal, Stanford is not worth my time to look up even the most basic fact like who their HC is. That's what they've become. It's sad. Might be time to ND to consider removing them from the schedule. W. 6-0
Week 7: UNLV
What the fuck, Brian Kelly? ND always plays a tough schedule and there are some very tough spots on the schedule, but blowouts every week aren't fun. If we are going to blow someone out at least make it someone like Purdue. W. 7-0
Week 8: Syracuse
This ACC agreement suddenly isn't that cool when a lot of that league is in the shitter. While I am always right about Notre Dame, I can admit that I was VERY wrong about Syracuse. I loved Dino Babers and I thought he'd get Syracuse going. Save for one good year in 2018 that saw them win 10 games while also getting their doors blown off by ND, Babers hasn't worked out. His clock is ticking because 15-35 in the ACC isn't going to cut it. W. 8-0
Week 9: Clemson 
Another preseason top 5 team on the schedule for the Irish. Another team I am not scared of. Now that Clemson can't just out spend everyone in college football and they don't have a truly elite QB they're turning into just another program. Another program with a bad track record at Notre Dame stadium.
Pool. Getty Images.
That was the scene when ND upset Clemson in 2020 and it'll look exactly the same this time only without covid masks. W. 9-0
Week 10: Navy
I like the Navy game. I appreciate the Navy football program. I respect the troops. I respect the midshipmen. The triple option is a tough look to get ready for. Ultimately though…this is about athletes and Navy doesn't have them. W. 10-0
Week 11: Boston College
I think BC is heading in the right direction. I think they're a bowl team. Revenge game for Phil Jurkovec who fucking HATES Brian Kelly by the sound of it
"Kelly basically lied to their faces about what he would do, how he would talk to me and explain things about the future," Jurkovec said. "He basically lied to my parents, so after that, they were done with him."
Kelly isn't here though, but unfortunately for Phil…Foskey, Mills, and Cam Hart are. The Notre Dame defense is getting slept on nationally. They have athletes at every level. If this game was in BC it'd smell like a trap, but because it's senior day the Irish should be able to give the WOPU seniors a lot of snaps in the 4th quarter. Snaps they earned. W. 11-0
Week 12: At USC
Stop me if you've heard this before, but USC is "back". They recruited well. They have a QB with all the hype in the world. Blah blah. Lincoln Riley this. Transfer portal that. New sames, same story. I actually LOVE that USC is filled with transfer portal guys. It's so LA of them. Everyone going out to USC to boost their stock and get noticed before the draft. They're auditioning. They're playing for themselves while Notre Dame guys play for each other. The Colliseum is in ruins and has been ever since the NCAA stole Reggie Bush's Heisman and Jim Harbaugh killed Pete Carroll. I'd love it if USC became a real program again because college football is more fun when they're good, but even in the transfer portal era and NIL deals secured down the street at CAA, you can't make a culture overnight. You can't make guys want to run through a wall for their school when the whole reason they went to SC was a business decision. Notre Dame wins convincingly and punches a ticket to the playoff. W. 12-0.
Sometimes it is just that easy. 12-0. A plausible path to 12-0 and +2400. If you've come this far, you should go just a little further and get on board with this pick. 
I'll see you all at SoFi for the Natty. Go Irish. I love all y'all (Brian Kelly voice).