IF There's A Team That COULD Be This Year's Version Of The 2021 Bengals, It's The Carolina Panthers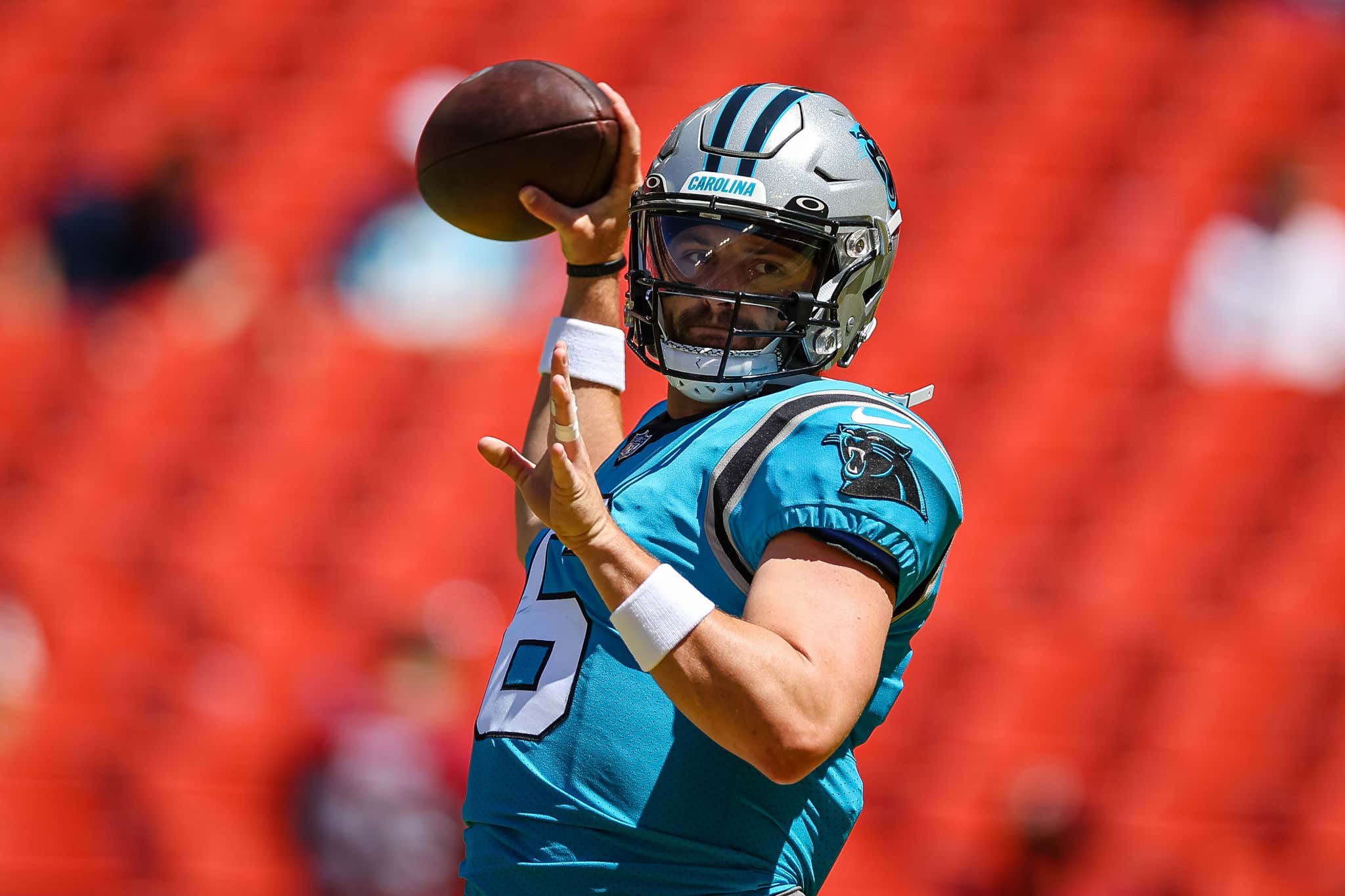 Scott Taetsch. Getty Images.
Let's just cut right to this. We're getting near the regular season, and now is the time to get maximum value on your NFL futures bets.
I recognize that the Bengals' run through the AFC and to the Super Bowl was an extreme outlier. Not sure we'll see anything like that again, or at least for a number of years. HOWEVER, the Carolina Panthers are a great value play to win the NFC at comparably long +5000 odds. I understand this will be met with skepticism and outright laughter in many cases. 
Cincinnati had a consensus Over/Under win total at 6.5 last year, with plus money available on the Over at most major books. I only use this vague sort of language because I can't speak for the lines at our own book, since I was not employed here at the time.
Right now at Barstool Sportsbook, that 6.5 is the main line for the Carolina Panthers, with Over/Under splits of -106/-115.  can get Over 7.5 at +175, or if you were sharp as a tack, you got that number at better than 2-to-1 odds a while back. That's what I did, and I provided an explanation after throwing that bet down:
Lots of information in a short space. I think you can understand what I'm getting at. Here's a quick rundown: Turnovers are a highly variable stat year-over-year. I'd expect Carolina to experience an uptick in takeaways given how stout their defense is, and suffer from fewer giveaways due to an improved quarterback situation with Baker Mayfield. Half of their losses were by one possession despite how much of an eyesore their offense was.
Banking on All-World tailback Christian McCaffrey to make it through the season healthy seems ambitious, yet I think of it as a Law of Averages sort of situation. Coming off bad injury luck for two straight years, I'm making the leap that CMac will stay on the field.
Also look how phenomenal the Panthers were on the other side of the ball. Defensive coordinator Phil Snow is a master of exotic schemes, simulated pressures and fooling QBs post-snap. I'd be more worried about losing a double-digit sack guy like Haason Reddick if Carolina was depending on only him to generate a pass rush. Snow brings it from all angles. You never know what's coming. The Panthers have defenders like Shaq Thompson and Jeremy Chinn who are so versatile that they can basically line up everywhere but outside cornerback and hold their own.
Bear in mind, too, that Jaycee Horn is returning to the secondary. He was a high draft pick who played a big role last year before a foot injury cut his rookie season way short. Donte Jackson is already entrenched as a starter at cornerback, and CJ Henderson is an ascending young player who was a top-10 pick like Horn. Carolina has real talent on the back end with that trio and Chinn.
Circling back to the offense: We all know where this is going. I can hear y'all haters now. I must be taking crazy pills if I'm backing an offense with Ben McAdoo calling the plays and Baker Mayfield playing quarterback. Allow me to explain.
By all accounts, McAdoo's playbook is dense and complicated. WR1 DJ Moore deemed it "long and treacherous". McAdoo hasn't called plays since 2017 with the Giants, as Eli Manning was on the decline and the G-Men's antiquated organization was really starting to crack. 
Baker is a former No. 1 overall pick. He changed coaches literally every year in Cleveland until last year. Despite adjusting on the fly during COVID to Kevin Stefanski's offense — a variation of the Mike Shanahan outside zone running scheme — and learning entirely new footwork, Mayfield put up 15 TDs to only two INTs in his final eight games of 2020/that postseason.
It didn't take Baker long to make a strong impression with his new Panthers teammates.
Mayfield had to suffer under Hue Jackson and Freddie Kitchens in his second year. Even under Stefanski, his average intended air yards ranked top five in the NFL over the past two seasons. In other words, there weren't a lot of built-in, easy completions, and the man who was supposed to be his top receiver, Odell Beckham Jr., could never get on the same page. The narrative sparked by OBJ's father was that Baker couldn't see the field and get him the ball. The following report from Albert Breer about Mayfield seems to run contrary to that notion.
The crazy amount of turnover in Cleveland actually prepared Baker to pick up McAdoo's complex playbook in short order. There's zero chance Darnold beats out Baker at this point unless the Panthers are complete morons.
You may be thinking by this point, "Yeah but the whole premise of this blog falls apart because Baker is nowhere NEAR Joe Burrow's level!" Remember what was going down prior to Week 1 of 2021? Joey B. was coming off a brutal knee injury and very few expected him to even be recovered to play by then, much less make it through the season behind his awful offensive line — much less suddenly transform into a top-five QB and spark a Super Bowl run! So yeah, Burrow is better than Baker, but that doesn't render this entire, larger narrative irrelevant. The Panthers have different team strengths than the Bengals did, namely an outstanding defense.
Some unique elements should give Carolina an edge offensively, at least early in the 2022 season. McAdoo has had some time to reset, evolve his offensive philosophy and add new wrinkles to his call sheet. The Giants relied on much more of a short passing game under McAdoo, which let's be honest, was never really Eli's forte (60.3% career completion rate). Opponents won't really know what to expect from McAdoo. That ought to be a tactical advantage.
Although I have my doubts about McAdoo and Panthers head coach Matt Rhule, it's not like at this time last year I was ALL-IN on Cincinnati's Zac Taylor. Stumbled upon the following intel from Yahoo Sports insider Charles Robinson that makes me feel better about Carolina's move from Joe Brady to McAdoo (h/t Panthers Wire):
"I think he [Brady] was overwhelmed and I think what happened was Matt Rhule ended up micromanaging a lot of other situations on offense," he said. "Like, a ton. And it was really, really, not good. […] When the switch came with McAdoo—from what I understand inside the organization, it's been fantastic…Because McAdoo—he's a really good coordinator. Not a good head coach. But he's a really good offensive coordinator. He can handle everything. It's like, now there is a real divide between the head coach and the OC because the OC can handle everything and Rhule's not dabbling or having to deal with 28 other things. So I hear, even coaching wise, that they feel a lot better about where things have been going on."
McCaffrey and Mayfield didn't have to go out of their way to gas up McAdoo, but they did anyway. First, from McCaffrey, via SI.com, and below that, Baker at a presser earlier this month:
"It's been amazing. I think everyone on the offense has just been a sponge. He's somebody who's had a lot of experience at the highest level and he's coached different positions, so he has such a plethora of knowledge when it comes to coaching offensive football. […] Whether it's line up at X, F, Z, or H, I'll be ready for it. I'm just trying to perfect this playbook and go out there and be mentally 100%, physically 100% and be ready to roll."
Baker has been stretching the field and attacking vertically more than most of his counterparts. Accuracy has always been touted as a big strength of his. He's just never been in great position to show that off. I'm not saying Baker will develop an allergy to ball deeps in Carolina, it's just that I'd expect him to have a career-best completion percentage right out of the gates. 
Carolina has a potential 100-catch back in McCaffrey — who, like he said, can line up literally anywhere — a legit WR1 in Moore who can win on any route, and a solid cast of other wideouts including Robbie Anderson, Mayfield's ex-Browns teammate Rashard Higgins and, hopefully, they'll get something out of second-year second-rounder Terrace Marshall Jr. The guy was a touchdown machine at LSU but has been hobbled throughout camp. Shi Smith is killing it and may be the breakout stud of training camp, too.
As long as McCaffrey can keep defenses honest in the running game behind an improved o-line, led by highly-touted, mauling left tackle Ikem Ekwonu, I'd expect Carolina to at least ascend to an NFL-average offense. Combine that with what's expected to be an elite defense once again, and the Panthers could really take a huge step forward in 2022.
I recognize how far-fetched it is to suggest Carolina will come out of the NFC, even as top-heavy as the conference is. At the very least, you can see why it's a strong value bet to ride their Over 7.5 wins. They're at +400 to make the playoffs. Doubt a back-against-the-wall Baker Mayfield at your own peril — especially with all these weapons and a sick defense to support him!!
Gambling problem? Call 1-800-GAMBLER