An NBA Executive Believes It's More Likely That Kevin Durant Straight Up Retires Than Play Another Second For The Brooklyn Nets
Maddie Meyer. Getty Images.
Alright, I think we've started to take things a little too far when it comes to the KD situation in Brooklyn. It took us 46 days to get here, but we've officially arrived. Since June 30th we've pretty much gone through every potential ending to this fiasco. There's a world where the Nets actually pull off a trade, there's a world where KD decides to suck it up and just play in BKN, there's a world where maybe he holds out until the team moves him and refuses to play. All of those seem somewhat plausible that wouldn't really shock me.
But this? KD is going to straight up retire than play for the Nets again?
No chance. 0.0%. I'm not sure what this NBA team executive is smoking but I feel like they should share. This person thinks KD is going to forfeit his entire $194M extension? Because that's what happens if he retires right now. On what planet would any rational person do that? The only way a player gets his money upon retirement is if they suffer a career ending injury. 
Where this gets interesting is that a player could return after one year to continue playing. They just wouldn't be on their current deal. I guess when you look at it like that, maybe this isn't so crazy? His money would still stay on the Nets books so it would truly be a real "fuck you" to the Nets. While KD may not sign for $192M once he comes back if he goes this route, he's still going to command a pretty hefty contract. Plus he's made like $306M in basketball contract money alone, so I doubt he's too stressed about it if this is actually something that could be on the table.
Can you imagine if this happened? Talk about setting a precedent. Are you unhappy with your current team? Did you demand a trade and the team still won't move you because you have 4 years left? Just retire! Sure you give up hundreds of millions of dollars, but you get a year off to rest and then can come back and join whatever team you want. Here's some additional language to help explain this situation
There's nothing binding about a player announcing his retirement. The player can still sign a new contract and continue playing (if he's not under contract), or return to his team (if he is still under contract) and resume his career.

The only exception to this is when a player is still under contract, wants to quit, and his team doesn't want to let him out of his contract. Under these circumstances the player can file for retirement with the league. The player is placed on the league's Voluntarily Retired list (see question number 79), forgoes his remaining salary, and cannot return to the league for one year. The latter requirement prevents players from using retirement as an underhanded way to change teams, and can be overridden with unanimous approval from all 30 teams. For example, guard Jason Williams signed with the LA Clippers in August 2008, then changed his mind the following month, announcing his retirement. He applied for reinstatement in early 2009, but his request was denied by a vote of 24-6. Williams later signed with the Orlando Magic once the one-year anniversary of his retirement announcement had passed.

Any money paid to a player is included in team salary, even if the player is no longer playing or has retired.
Given that Durant is 34, I just cannot see him going this route. Especially with all the time he's had to miss due to injury. Things in Brooklyn cannot be that bad to the point where he would pull a move like this. You want to talk about chaos though, that is what we would get if Durant pulls this move, sits out a year and then comes back to the market next summer. Think of how that would impact the decision making of teams throughout the league when it comes to opening up cap space for the summer of 2023. I could understand not wanting to gut your team for a 34 year old Durant, but who cares if you could bring in a 35 year old Durant for nothing but money? His market would look MUCH different in that regard I would imagine. Here's a quick look at how the projected salary cap situation is looking like across the league next year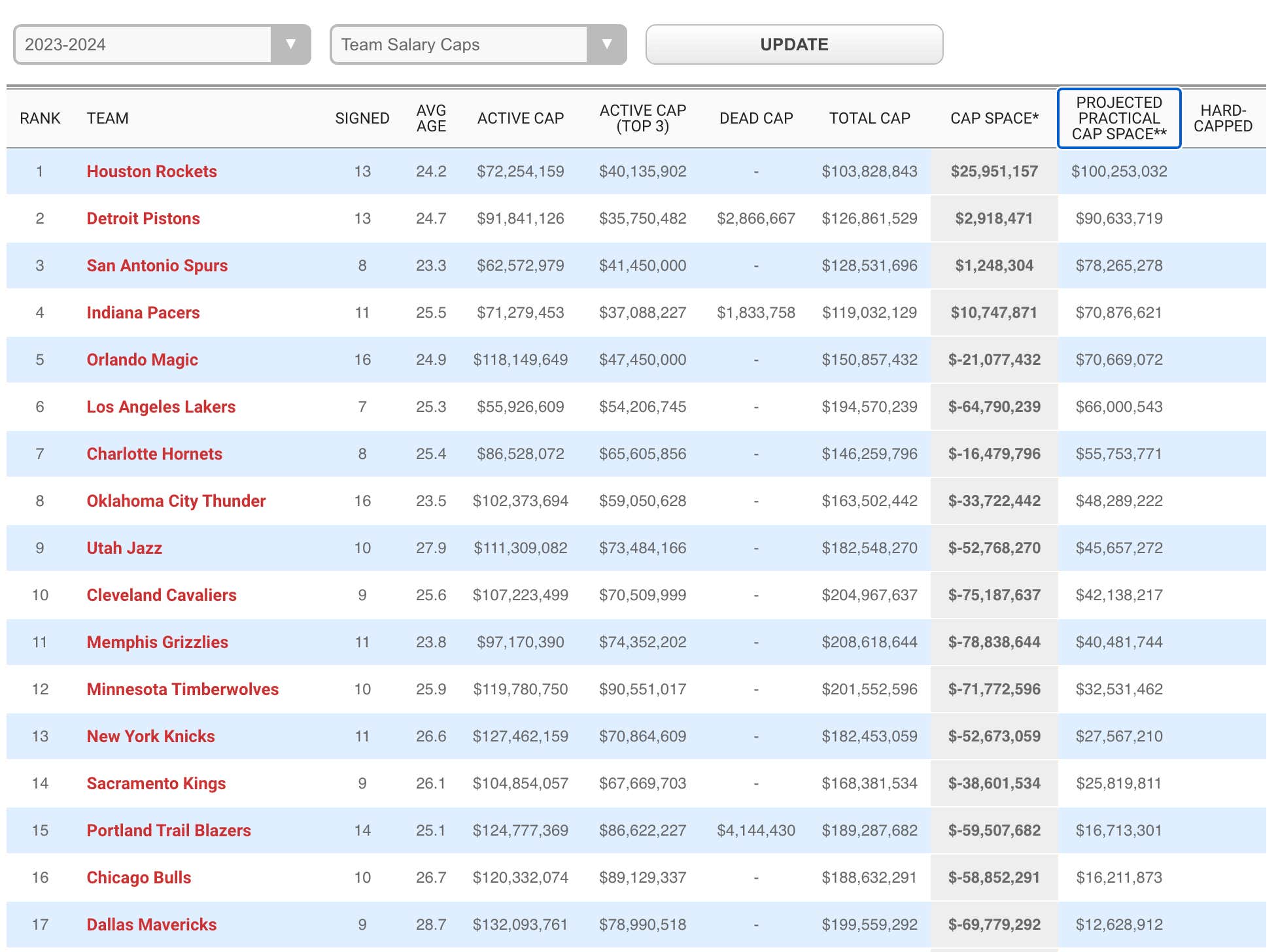 There are some interesting teams on that list if you ask me. 
Even still, there's no way Durant does this. Who gives up $194M at his age/with his injury history? But hey, KD might not care that much about money at this point and he's someone who thinks his legacy is only getting stronger through all this
so who the hell knows. This entire situation is so bizarre I guess everything should be on the table, no matter how unlikely it seems on the surface.