How About The Balls On Sean Marks To Reportedly Ask For BOTH Jayson Tatum And Jaylen Brown In A Trade For Kevin Durant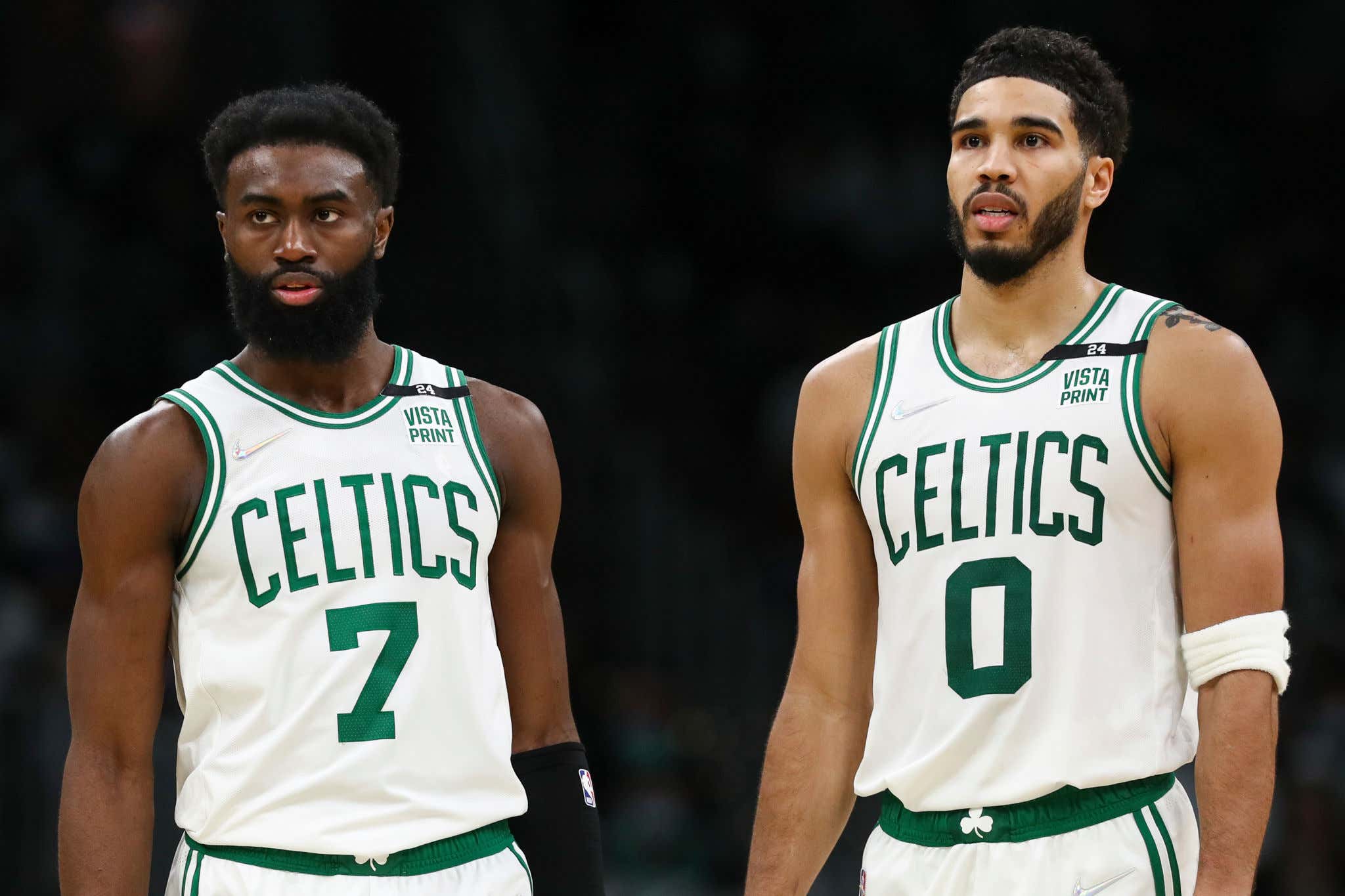 Adam Glanzman. Getty Images.
(Boston Globe) - Emptying out the notebook as the start of Celtics training camp is somehow just six weeks away …
▪ A league source said there has not been any real traction on a deal that would send Kevin Durant from the Nets to the Celtics. It's no surprise that the sides have had some discussions, of course.
Durant is one of the best players of all-time, and when one of the best players of all-time could be available, other teams should feel obligated to inquire. The Athletic recently reported that all 29 other teams have been in touch with Brooklyn about Durant.
Boston has been considered a potential landing spot in large part because the Celtics are better positioned than most to offer an enticing package. But there are limits.
According to the source, Brooklyn initially tried to pry both Jayson Tatum and Jaylen Brown from Boston. That proposal went nowhere, of course. The source confirmed recent reports that Brooklyn later shifted its focus to a deal centered on Brown, Marcus Smart, and a massive haul of future first-round draft picks. But the Celtics were not interested.
There is usually posturing in trade discussions, and demands tend to soften. But as of this week, when Durant reportedly reiterated his desire to be traded during a meeting with team owner Joe Tsai, the Celtics and Nets were not close to a deal.

▪ When Brown's name first appeared in Durant trade rumors a couple of weeks ago, the Celtics star tweeted "smh" (shaking my head), an apparent sign of frustration.
But a league source said Celtics president of basketball operations Brad Stevens and coach Ime Udoka communicate with Brown "all the time" and have kept him in the loop, adding that Brown seems to understand the situation.
And there it is. Ever since the Sham/Woj reporting broke a few weeks ago, I had been waiting for Himmelsbach to chime in with the Celts response. Make no mistake, when the Celts want to get something out, they go to Adam. It's why in the middle of all the initial chaos, I sent out this tweet
It took a little while but it's clear that Brad had enough of all the BKN leaks and decided it was time for him to do some leaking of his own. Let's be very clear about this. That is what this latest story/update is. It's Brad and the Celts punching back. Where I think people are still getting caught up is whether or not the idea that the Jaylen package was offered actually happened. Of course it did! I'm pretty sure that's how preliminary discussions go with these things. The way more important piece has always been the timing aspect. A ton has happened with this roster since the initial KD trade when it's been reported Brad did his due diligence. I think it's silly to pretend those packages weren't discussed but what I care about is how likely are they to actually happening, and the most recent reporting suggests the two are nowhere close on a deal.
But let's move on from that for a second and focus on the Nets' initial ask. If I could go back in time and experience one thing, it might be the conversation where Sean Marks uttered the words "We want Tatum AND Brown". Did he say it without laughing? Was he serious? I'm pretty sure this was Brad's immediate response
I understand that you can't get what you don't ask for and you may as well start as high as possible, but that's such an outrageous request I'm almost not sure I buy it. Is KD 24 or 34? You most likely can't get one of Brown or Tatum, and you're asking for both. No wonder KD is still a Net. Nobody in the market wants to give up their best players right now, and yet the Nets were asking for both franchise cornerstones for an aging player who has legit injury concerns? That's incredible. I also love how when they came back and said OK, no Tatum but throw in Smart that Brad still stood Marks to kick rocks. Sucks not operating from a position where you have any leverage, but that's not Brad's problem. Plus if you believe the most recent reporting coming out of New York, Durant wants to play with Smart in Boston. That's an interesting nugget for all the anti-Smart people who think he stinks.
The thing that confuses me is does BKN have a destination for Ben Simmons? Because they cannot trade for Jayson Tatum unless they get Simmons off their roster. I'd love to know who that team is. Would the Nets take like 30 cents on the dollar if another Designated Rookie Extension candidate is actually on the table? Or did Sean Marks know the Celts would say no to that outrageous ask so he never even really looked around for a Simmons partner? I guess we'll never know.
So how is this Brad punching back? Well, remember, all these leaks about potential packages that were very clearly coming from the Nets side are to potentially raise KD's market. It happened with the Celts/Heat/Raptors etc. We just got another one with the Pelicans where they talked about Ingram/Herb Jones and other shit. By leaking that not only were Tatum/Brown rejected but also Jaylen/Smart, it lets it out there that the Nets maybe don't really have the offers they are leaking, thus bringing the price back down. If you're a team in KD discussions, if you know the Celts aren't giving up Jaylen/Smart, I imagine that impacts what you're willing to offer. By leaking that the two sides are nowhere close to a deal or that there's no real traction, that puts a dent in whatever leverage the Nets are trying to create when talking with other teams. 
The good news (aka bad news) about all this is we're nowhere close to the KD trade drama being over. Far from it. There will be more leaks, more "sources" that are close to the situation, more public leverage plays etc. But if the Nets are going around asking for Tatum/Brown, I'd LOVE to hear what they are asking for from everyone else all for an aging player that is starting to become pretty radioactive.