Final Programming Note: Frank The Tank Is Now Banned From Tweeting Anything Negative About The Mets Until The End Of The MLB Playoffs
Hey guys, it's your pal Clem again. I kinda stumbled into a blog series thanks to a bunch of statements made by my pal Frank The Tank about our favorite baseball team that I called him out on, which led to us making bets. Unfortunately it seems the series is has reached a dramatic conclusion. But for those that missed how everything went down, here's a quick refresher.
It started back on June 30th when Frank said the 47-29 Mets would go either 2-8 or 3-7 in the 10 games against the world beating Rangers, Marlins, and Reds. I disagreed and said they would be better than .500 in those games, so we bet that Frank wouldn't be allowed to tweet negatively about the Mets for the rest of July if the Mets were better than .500 and I wouldn't be allowed to drink anything but water if the Mets went under .500.
What happened? #FrankWasWrong
The next bet arose after news of Jacob deGrom having some soreness during his rehab starts.
Frank rationally reacted to this news that deGrom was pushed back one (1) day by saying he would never pick up a baseball again for the rest of the 2022 season. I called him out on it and he came up with a double or nothing bet. Frank's forced radio silence would end if he was right, but it would extend through the end of August if he was wrong.
What happened? #FrankWasWrong
Which takes us to earlier this week when Frank was convinced that the Mets wouldn't make any trades at the trade deadline, which seemed extreme despite them trading for Daniel Vogelbach and Tyler Naquin the previous week (who both had pretty good games last night btw) along with a good chunk of bullpen arms getting healthy.
However, Frank was locked into his take and hit me with a triple or nothing bet that his silence would end or extend through the end of September based on if the Mets would actually make a move by the 6 PM trade deadline.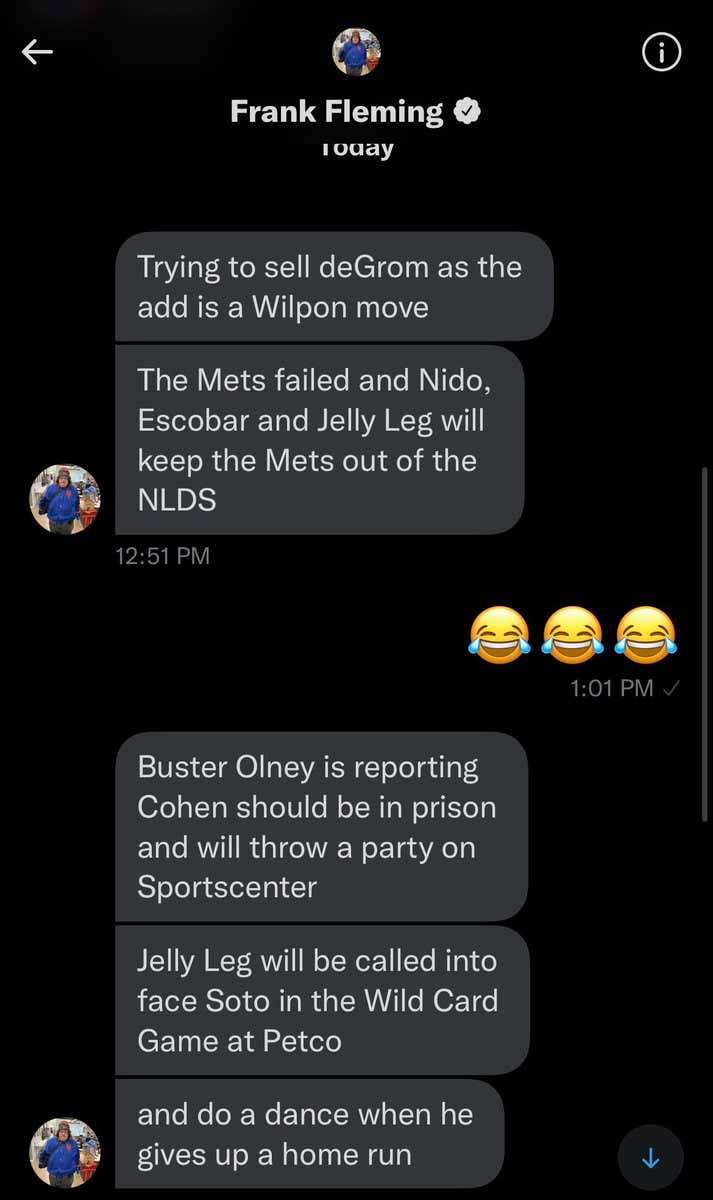 What happened? #FrankWasWrong
Which takes us to Tuesday, where Frank was convinced the Mets inability to make a big splash was going to instantly torpedo their season and lead to a rare five game sweep by the Atlanta Braves. So he agreed to the even rarer quadruple or nothing bet that would extend his silence on Twitter through the playoffs.
What happened? #FrankWasWrong. After Game 1.
Where do we go from here? I don't know. Frank can still be positive or neutral on Twitter about the Mets and be as negative as he wants about anything else, which likely will include the Dolphins, Nets, and aforementioned NJ Transit. He can also get off his Mets negative takes on his TikTok and YouTube. 
However #MetsTwitter is getting a much deserved break from its biggest naysayer during what will likely be a fun but stressful pennant chase and I get to avoid dealing with Frank on Twitter before what I am going to be sure will be VERY stressful streams during Mets playoff games.
For those wondering why I think Frank will keep his word, I remind them that this is what he did back when he had roughly 2 YouTube subscribers before he became a viral sensation due to the INCOMPETENCE of the NJ Transit.
If Frank does break his promise, he has to wear an Atlanta Braves hat until the playoffs are over.
As for the weirdo Fleming Lemmings that get off on a stranger yelling about a baseball team in 280 characters or less, I offered to lift the July ban for $100,000.
I then raised it to $250,000 once it was an ban for all of August as well. However now that Frank is #done for the rest of the regular season AND playoffs, his Twitter bail is now set at…
If you know anybody that loves Frank's negativity that may or may not be the mogul of a massive media company, tell him to drop the milly in my Venmo in exchange for Frank's Twitter freedom.
If not, you Lemmings can please shut the fuck up like Frank. However, if you need negativity in your miserable life, may I suggest the stylings of the Frank The Tank Twitter parody account that tweets out what it would be like if Frank Fleming was a Yankees fan (to be honest, I'm still not 100% sure our Frank isn't a Yankees fan since the Mets winning brings him no joy). Considering the Mets are 9-1 in their last 10 and 14-5 since Frank was muted, this account will probably have more things to complain about anyway.
As for the actual Mets, we have an INCREDIBLE deal lined up for Saturday in what will be an electric atmosphere at Citi Field that could also come during a Max Scherzer start.
Along with an awesome giveaway for anybody subscribed to the We Gotta Believe YouTube, which at last check was roughly 750 subscribers away from 5,000 so smash that SUBSCRIBE button now.
For anybody that wants more Mets/Braves/Frank talk, check out last night's postgame live stream immediately following the game. LFGM