Credit The Lakers For Now Allowing Their Head Coach To Bench Russell Westbrook If He Stinks In Games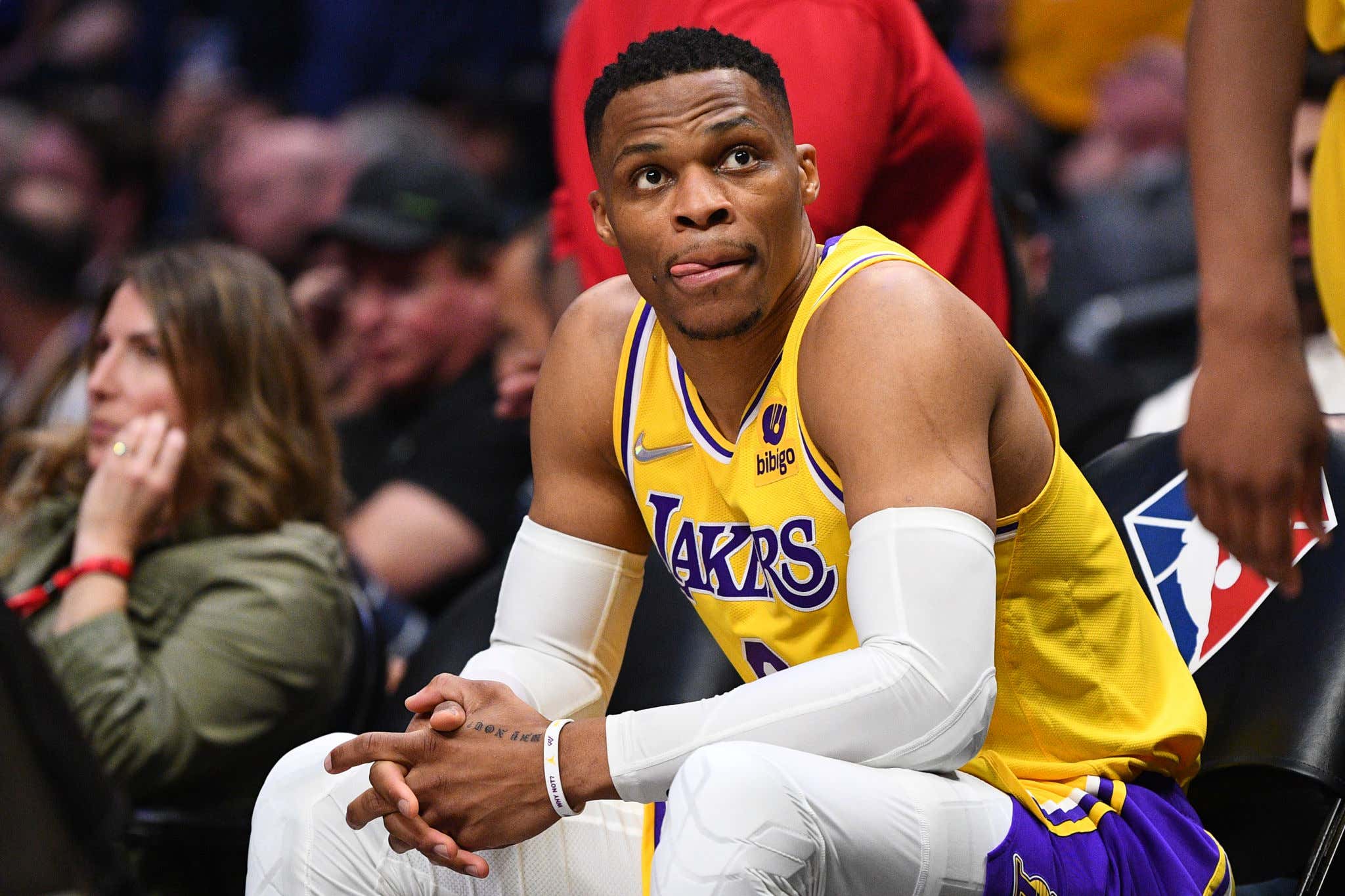 Icon Sportswire. Getty Images.
(LakerDaily) - As part of that dilemma, there seemed to be a fair amount of contention when it came to whether or not Westbrook belonged on the court in crunch time. Though Westbrook surely sees himself as a closer, he often made mistakes last season that cost the Lakers at the end of close contests.

It looks like that might not be an issue in the upcoming campaign, as new head coach Darvin Ham will reportedly have more power to bench Westbrook at the end of games if he desires to do so.

"Lakers head coach Darvin Ham will have more power to bench Westbrook down the stretch of games, according to league sources," Jovan Buha of The Athletic reported. "(Former head coach Frank Vogel did so a few times last season). That could eventually extend to removing Westbrook from the starting lineup as well."
This might be one of my favorite storylines currently in the league. It's very weird that Russell Westbrook has seemingly become the scapegoat for everything that was wrong for the Lakers last year. Was he good? Not particularly. I guess it all depends if you consider 18/7/7 with 3.8 TOs on 44/29% splits good or not. I think most would agree though, 2021-22 was not exactly a great Westbrook season. It's also not the main reason the Lakers missed the play in tournament. At this point of his career, you can't really get mad at Russell Westbrook for playing like Russell Westbrook. He's 33 and has always been stubborn. Maybe don't build your team with a bunch of old guys and non shooters outside of Malik Monk. Maybe don't rely on a 37 year old LeBron and an injury waiting to happen in AD. It's the same reason why putting all that blame on Frank Vogel never really made sense to me either, but whatever.
So you really have to give the Lakers credit here that they are now going to allow their head coach to make lineup decisions during a game. That's really big of them. How is that even an issue is my question? You should not need Jeanie Buss saying it's OK for a coach to make decisions over the course of a game. I do want to point out something with Westbrook late in games though. While he wasn't perfect, his clutch numbers weren't that bad.
44 games / 2.0 points / 43% FG% / 20% 3PA / 0.4 TOs
He only had 17 TOs in 44 total games and took only 79 FGA. That comes out to just 1.79 FGA in the clutch. How about LeBron shooting 38/25% in the clutch last season? Did that maybe have an impact on things (Lakers were 21-26)? He was second in clutch minutes (145) to Westbrook's 182. Notice how there aren't any reports that Darvin Ham will now have the "authority" to bench LeBron late in games? It's just weird to me that everything comes back to Westbrook. No wonder he probably hates his life as a Laker.
Looking at this Lakers roster on paper heading into the season
You could make the case that not only do the same issues exist that we saw last year, things are potentially even worse. I think we can all expect that LeBron/AD won't get any of the heat and everything will once again be put on Westbrook if this team struggles. I don't even want to come off as some sort of Westbrook apologist because like I said, he did kind of stink last year, but the Lakers issues are much more about their current roster construction than Westbrook at the end of games. It just feels like the Lakers don't want to admit that they fucked up, and instead would rather make Westbrook the scapegoat for all their problems until his contract is over and they can sign Kyrie in free agency next year.
Now I have to come clean for a second before we wrap up. Full transparency, this all brings me a great amount of joy. I am not unbiased when it comes to the Lakers. Hate em. Always have and always will. So part of me wishes this entire thing blows up in their face and they once again find themselves in the lottery. The West is pretty stacked and only getting better where even the young shitty teams could be tougher to play on a nightly basis, so it's not like it's a guarantee that the Lakers even make the top 6. Are we sure LeBron is going to want to stick around on a team that has back to back lottery seasons? Be a real shame if he took his talents elsewhere. A real shame indeed.