RIP Bill Russell: The Celtics Icon Has Passed Away At The Age Of 88
Dick Raphael. Getty Images.
I'm not sure it gets bigger than Bill Russell. The man is an icon for no fewer than a billion reasons. Not just because of what he did on the basketball court either. He's simply one of the greatest humans to ever exist. Think of how many people you can truly say that about? I think deep down we all knew this day would come someday, and I don't think I'm alone in wishing that never happened. 
In addition to all the human rights work off the court, Bill Russell is also the greatest winner of all time while on it. Not debatable. When you talk about the Boston Celtics specifically, it is Bill Russell. Never losing a Game 7 (10-0), winning 11 titles in 13 seasons, I mean look at this shit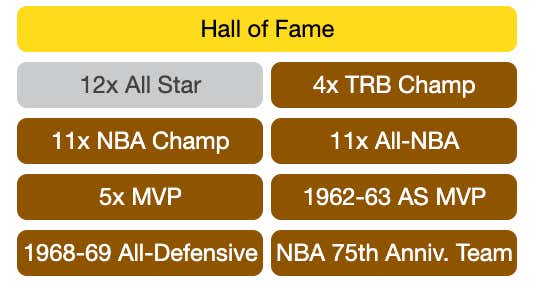 Nathaniel S. Butler. Getty Images.
it's hard to put into words what he means to this city and this franchise. He's a God. That's honestly the best way I could describe it. A true God living among the rest of us. We'll never see anything like him again in the history of sports, I truly believe that
Over the recent years, we've seen the passing of more and more Celtics legends and each one is tougher and tougher to stomach. These are the guys who built the franchise, they created all the history and everything we now love about this team in 2022. Growing up hearing endless stories about their dominance, you somehow feel connected to these players despite never seeing them play in person. It's a connection I can't really explain. Bill Russell is in our DNA as Celts fans. He is the base from which everything else grows. I generally lived my life by one basic rule. When Bill Russell talks, you shut the hell up and listen
I also really loved the relationship he had with KG
When you talk about someone who Bleeds Green, nobody did that more than Bill Russell. He repped the Celts until the very end because he IS the Celtics. 
Just thinking about his infectious laugh makes me smile because you have to remember that same guy will absolutely murder you on the basketball court. 
You step in between those lines, welcome to hell. You are not going to beat Bill Russell, sorry. The man made Wilt look like a G-League player on the regular. He ruined Jerry West's life. Giants of the sport had no chance against Russell, that's the type of beast we're talking about here.
There will never be another Bill Russell, and the world is a worse place now that he's no longer in it. RIPIP to the absolute GOAT.