Tyreek Hill Doubles Down On Tua Tagovailoa Hype, Says He's The NFL's Most Accurate QB And A "Fucking Heck Of A Competitor"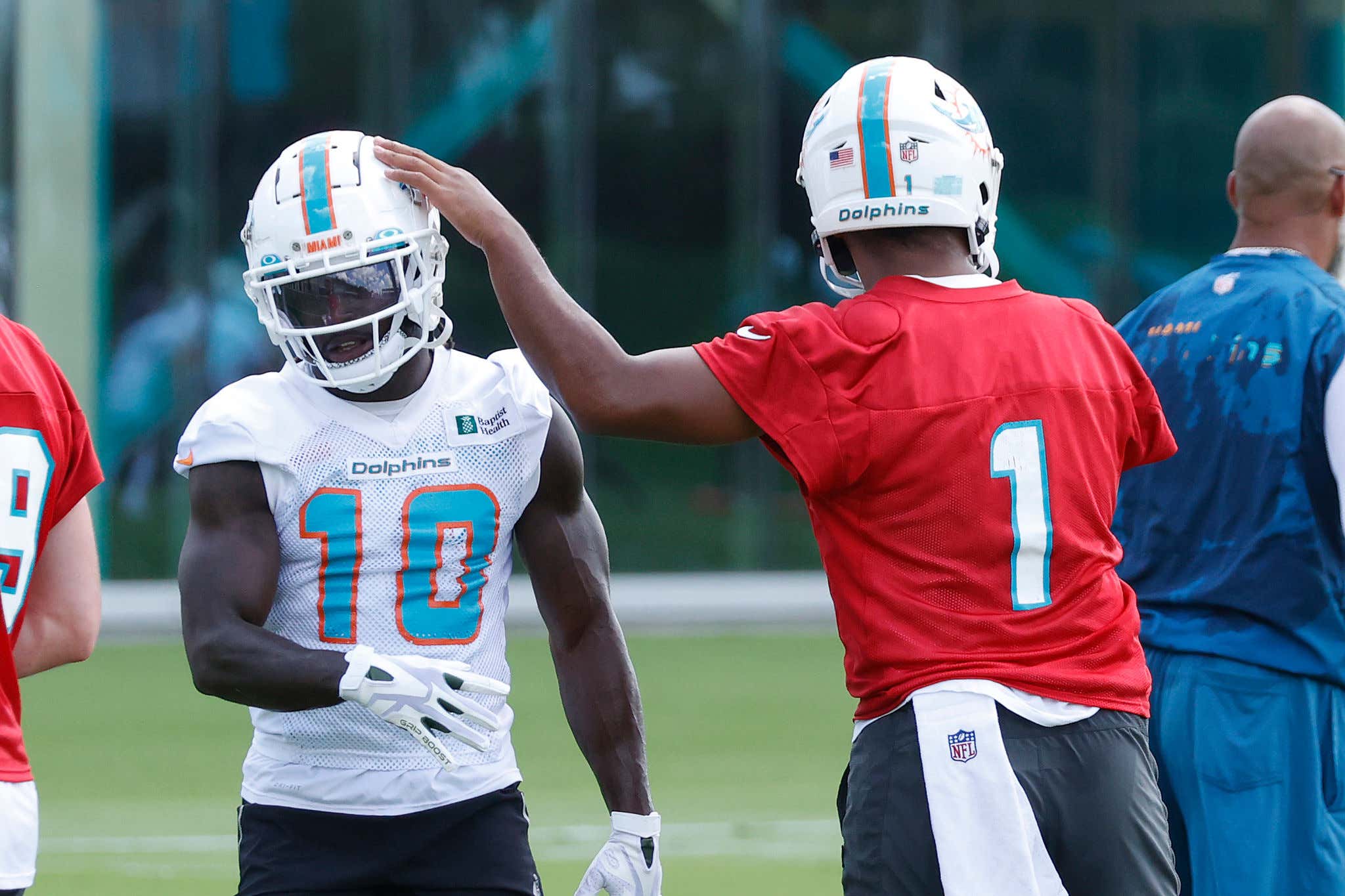 Joel Auerbach. Getty Images.
NFL training camps are opening now but it's still pretty slow in the sports new cycle overall. Count on Tyreek Hill to save us from the doldrums of late July by sporting some plus-sized shades, going on First Take and firing off some spicy analysis about his new Miami Dolphins quarterback, Tua Tagovailoa.
Earlier this offseason, Hill proclaimed that Tua was one of the most accurate passers in the NFL. Now, he's insisting the third-year signal-caller is, in fact, the most precise thrower of footballs in the sport, using that point to underscore why he chose to be traded to Miami instead of the Jets to play with Slingin' Zach Wilson.
"I've said it once and I'll say it again […] I'd rather play with the most accurate quarterback in the NFL. […] Tua, he's not your typical gunslinger, but if you were to just pay attention to his game, everything is spot on, everything is pinpoint, ball his on time, his fundamentals are on point…He takes the time to make up in other areas to be great … that other quarterbacks may not be good at. […] He's a fucking heck of a competitor, he's a hell of a hard worker."
Hill's hot take could be viewed as additional shade being thrown at his prior QB, Chiefs superstar Patrick Mahomes. Then again, maybe he's just trying to talk himself into being in a great situation despite leaving Kansas City and doesn't yet want to accept the reality that he'll never play with another field general anywhere near as good as Mahomes.
But at least for now, Hill isn't shying away from heaping lavish praise on Tua. The honeymoon phase is in full swing. It isn't necessary for "Cheetah" to be doing this, so there must be more faith in Tua around Dolphins headquarters than anyone realizes.
Not sure if most people outside of Miami realize this, but given how atrocious the Fins were in the trenches in 2021, it's rather impressive Tua made out as well as he did. The former Alabama star went 7-5 as a starter with many factors working against him. Rookie Jaylen Waddle was the only pass-catcher he could really count on outside of tight end Mike Gesicki. WR2 DeVante Parker was DFL in average separation, per Next Gen Stats. PFF rated the Dolphins as the league's worst pass-blocking offensive line and second-worst run-blocking unit.
New coach Mike McDaniel is bringing the Kyle Shanahan offense he helped build in San Francisco to South Beach. With electrifying playmakers like Waddle and Hill on the outside and Gesicki still around, there's reason to believe Tua could have his best year as a pro to date. If McDaniel's zone-blocking running scheme can mask some of the o-line's deficiencies, and Tua can merely put the ball on target for Hill and Waddle to rack up yards after catch, this Miami offense could be very dangerous.
Based on what Hill is saying, it seems like the Dolphins can at least count on Tua to hold up his end of that hypothetical bargain.
Twitter @MattFitz_gerald