The Biggest Storylines for Patriots Camp, Volume II: The Great Linebacker Reset
 a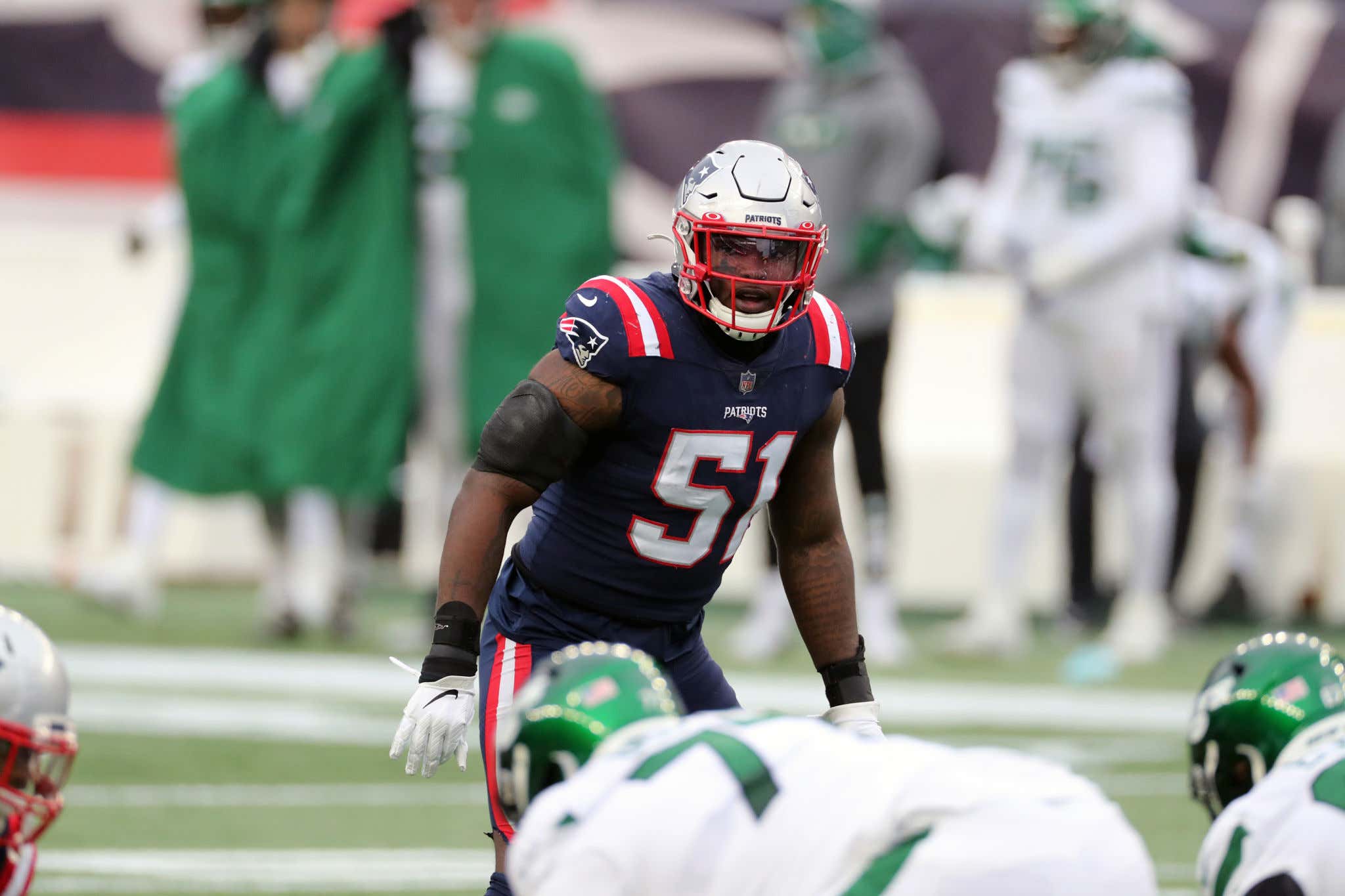 Al Pereira. Getty Images.
The second in a series as training camp approaches. Here's Volume I. 
You know those insurance commercials where there's been a natural disaster, and there's a concerned, empathetic looking claims adjustor walking through the shattered rubble of a destroyed home with his sleeves rolled up and tie slightly undone, compassionately inspecting the damage and ready to start handing out checks so the ordinary folk can start rebuilding their lives? That guy was all of New England in January, right after the Buffalo twister touched down in the middle of the Patriots defense. Except I remember there being a lot more concern than empathy and compassion. Concern mixed with rage at the total cataclysm we'd witnessed. 
Here was the Pats linebacking corps in that Wild Card game, in descending order of snaps:
--Kyle Van Noy, 54
--Dont'a Hightower, 45
--Jamie Collins, 34
--Ju'Whaun Bentley, 18
--Jahlani Talai, 5
And if you want to include OLBs, Josh Uche played all of six snaps opposite Matt Judon. If you'd rather go with just off-the-ball linebackers, that leaves just Bentley and Talai and their 23 reps on the current roster from the group that got so badly debacled by Josh Allen and the Bills offense. 
Which can only lead to one logical explanation. The Pats coaching staff saw what we saw and concluded what we concluded: That wholesale changes were in order. That this unit had to get younger, faster and more athletic. A point they drove home by trading their most versatile, sideline-to-sideline defender in Van Noy, letting the freakishly athletic but streaky Collins walk, and allowing Hightower (at the age of 32) to depart into whatever weird plane of existence he's been in since the end of the season. Still unsigned, not yet retired. Just … sort of … being. 
You can count me among the legions who assumed LB would be a huge priority in the draft, and was badly fooled. Instead they went with three defensive players among their 10 selections, two defensive backs and a defensive end. They did add Mack Wilson in a trade with Cleveland. A replacement for Chase Winovich, though more of a traditional second-level inside linebacker. And more productive:
Here's what I wrote at the time of the deal:
Also a part timer in Cleveland with just 193 snaps, Wilson nevertheless made use of the time he got. Among all linebackers with 190+ snaps, he graded out 3rd in tackling on Pro Football Focus, 18th against the run, and 13th overall. And perhaps most interestingly, 15th in coverage, with a passer rating against of just 87.0, which was almost identical to Kyle Van Noy. But that's on a very small sample size. Wilson is a 6-foot-1, 240 pound Alabama product who'll be expected to add run-stuffing capabilities
They also signed Raekwon McMillan from the Raiders. A two year starter for the Dolphins as a fifth round pick out of Ohio State, he came off the bench in Las Vegas, contributing 27 tackles in 16 games. But beyond Wilson and McMillan, the upgrades at the position - if any - all have to come from within. 
Bentley seemed like a likely free agent loss, but was the surprise recipient of the rare second contract. Although after not drawing much interest around the league, he doesn't represent a huge investment at two years and $6 million. Among Pats linebackers, Bentley was second only to Van Noy with 712 snaps. And his production has gone up across the board every season since his rookie year was cut short with an injury. So for better or worse, he seems like the one they plan on relying on the most. 
Besides Wilson and Bentley, it's all depth guys and assorted unknown quantities. Assuming that competent adults are still calling the shots in Foxboro (which I am and will die on this hill), the only way the lack of linebacker help in the draft makes any sense is that they invested in the position each of the two previous drafts and are ready to let that tree bear fruit. It's the only logical explanation. 
In 2020 they took Anfernee Jennings out of Alabama one round after Uche. He actually made four starts as a rookie, but just 20 snaps total, and was a scratch all of last year. What his glitch is, whether he got lost on a crowded depth chart, they feel like he needed a little more seasoning, or he flat out cannot play, remains to be seen. And it's going to be a major story as camp goes on, given how desperate this defense is, both at Mike and Jennings more natural position, at the Will. 
Last year they invested even more draft capital at LB, first with Ronnie Perkins out of Oklahoma (96th) and Cameron McGrone from Michigan (177th). Both redshirted the whole season. 
So that's three players taken in Rounds 3 through 5, none of whom have had to throw their game uniforms in the hamper. If the pillows on my mother-in-law's (RIP) sofa were correct, "Patience is a virtue." But not forever. Not this much patience. If Jennings, Perkins and McGrone aren't ready to contribute significantly, and Uche regresses again like he did last year (he went from a 77.6 grade from Pro Football Focus in 2020 to a 60.9 last year), this defense is in major trouble. What the Bills did to them could become the norm. Opponents will be giving their punters the week off to free up a roster spot. It will be a disaster that can't be solved with some cubicle monkey showing up, looking concerned and writing checks. 
Beyond the names I've mentioned, it's veteran pecial teamer Harvey Langi, and a UDFA out of Purdue, DaMarcus Mitchell. That's it. That's the linebacker room. All of them players out of big college programs who've been around the league a few years. But with the exception of Bentley and McMillan, have never been consistent contributors, making a lot of impact plays in the NFL. Now, they have to. There is no path to victory for this team without several of these names making significant progress. And watching for signs of that progress is going to be one of the most fascinating aspects of camp.
 Everything else the Patriots try to do at every other position depends on it. No pressure though.