This Jordan Spieth Interview Exchange About Cold Therapy Is A Special Kind Of Weird And Therefore Totally On-Brand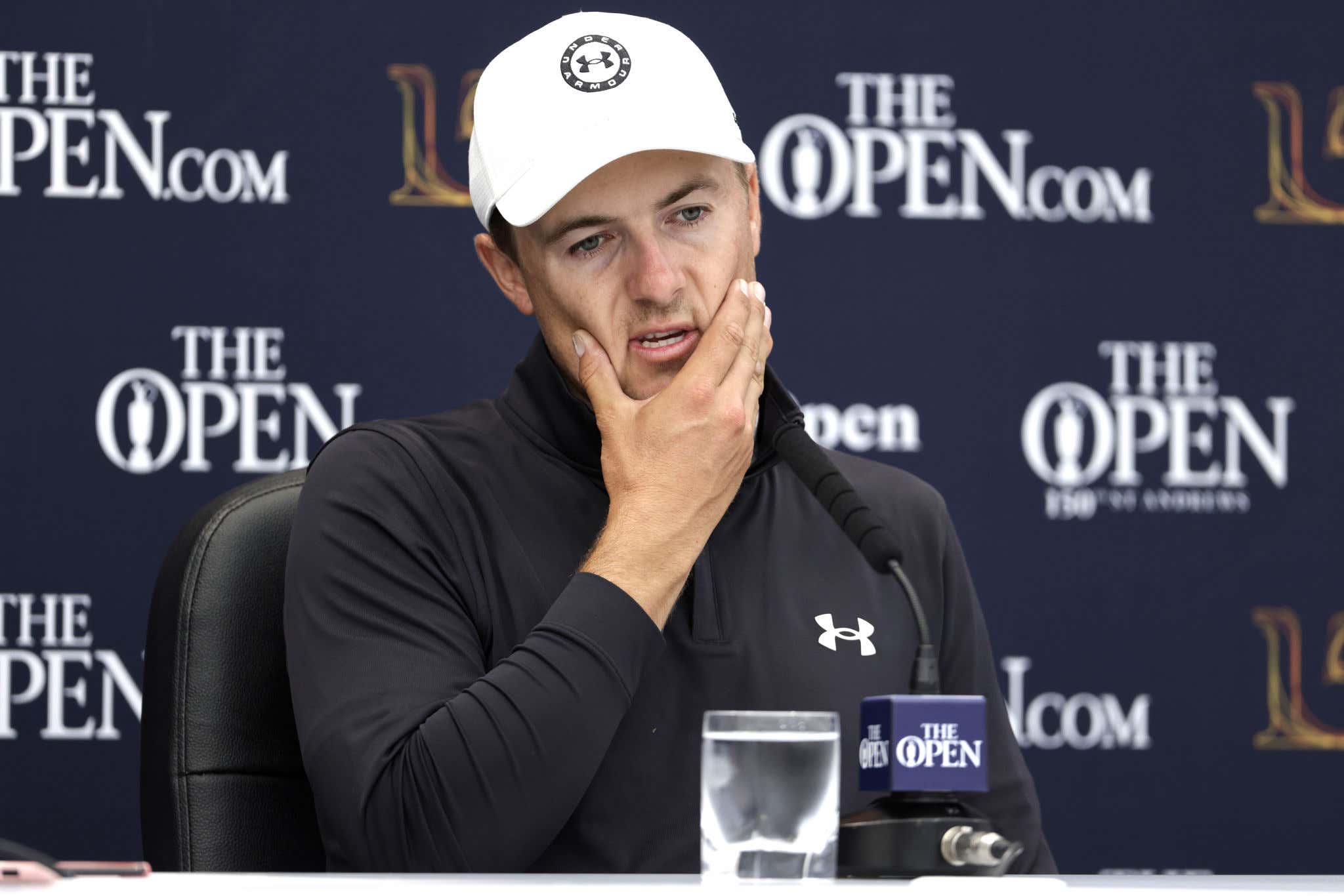 Richard Sellers - PA Images. Getty Images.
No chance Jordan Spieth can catch Rory McIlroy or Viktor Hovland in this year's Open Championship at St Andrews. He's eight strokes off their lead entering the final round. That's not what's important right now, though. I have so many questions about this.
I had to Google what NormaTec boots are. They're really expensive and they have such a striking visual aesthetic. They're more like full-blown snowpants that don't cover your ass. Better take a tinkle before you get in those things. Mobility may be restricted. Instead of dropping company money on a Getty Image, you can check it out for yourself, free of charge. In our Getty gallery the best photo I found was a row of Ironman triathletes lounging in recliners, all in a row, wearing said NormaTec boots. 
 Now I'm not saying golf is easy but this seems like an extreme length for a golfer to go to get that lower body in shape. Hell, I don't care. Cap off to Spieth for doing whatever he can to be at his best. I'm not the least bit surprised by this development. I find it hilarious that he needs to request copious amounts of ice across the pond, too.
Don't know about you, but I dig Jordo. Golf's a damn cruel game and the guy has been a workaholic/borderline basket case since achieving so much so young, only to fall into a lengthy slump. Although his form is returning over the past year and a half or so, Spieth hasn't added to his total of three majors since the 2017 Open Championship and only needs the PGA to complete the career Grand Slam. Still plenty of time to get there, as he's only 28.
There are unlikable weirdos like Bryson DeChambeau and Patrick Reed. That ain't the case with Spieth. Related news: Those other two have jetted to play LIV Golf. Sometimes Spieth annoys me with how much of an unrelenting chatterbox he is between the ropes. If I were his caddie Michael Greller, I would've chucked his clubs into the nearest pond more than a few times by now. Nevertheless, he's an incredible talent, a standup dude from what little I can tell from the outside, and a likable weirdo.
So again, no Claret Jug for Spieth this week, barring a miracle. Still, I'm thrilled he keeps grinding away and entertaining us to no end, even if it means powering through various freezing-temperature self-care recovery routines. Saturday's gem of an interview added to some appropriately bizarre Spieth-related moments for Open Championship week, highlighted by his efforts to eat an ice cream cone. 
Twitter @MattFitz_gerald, and in case you missed Spieth's hot mic hijinks at the Scottish Open last week, enjoy: