Time To Fire Up The NBA Trade Machine And See What Epic Kevin Durant Deals Can Be Had!!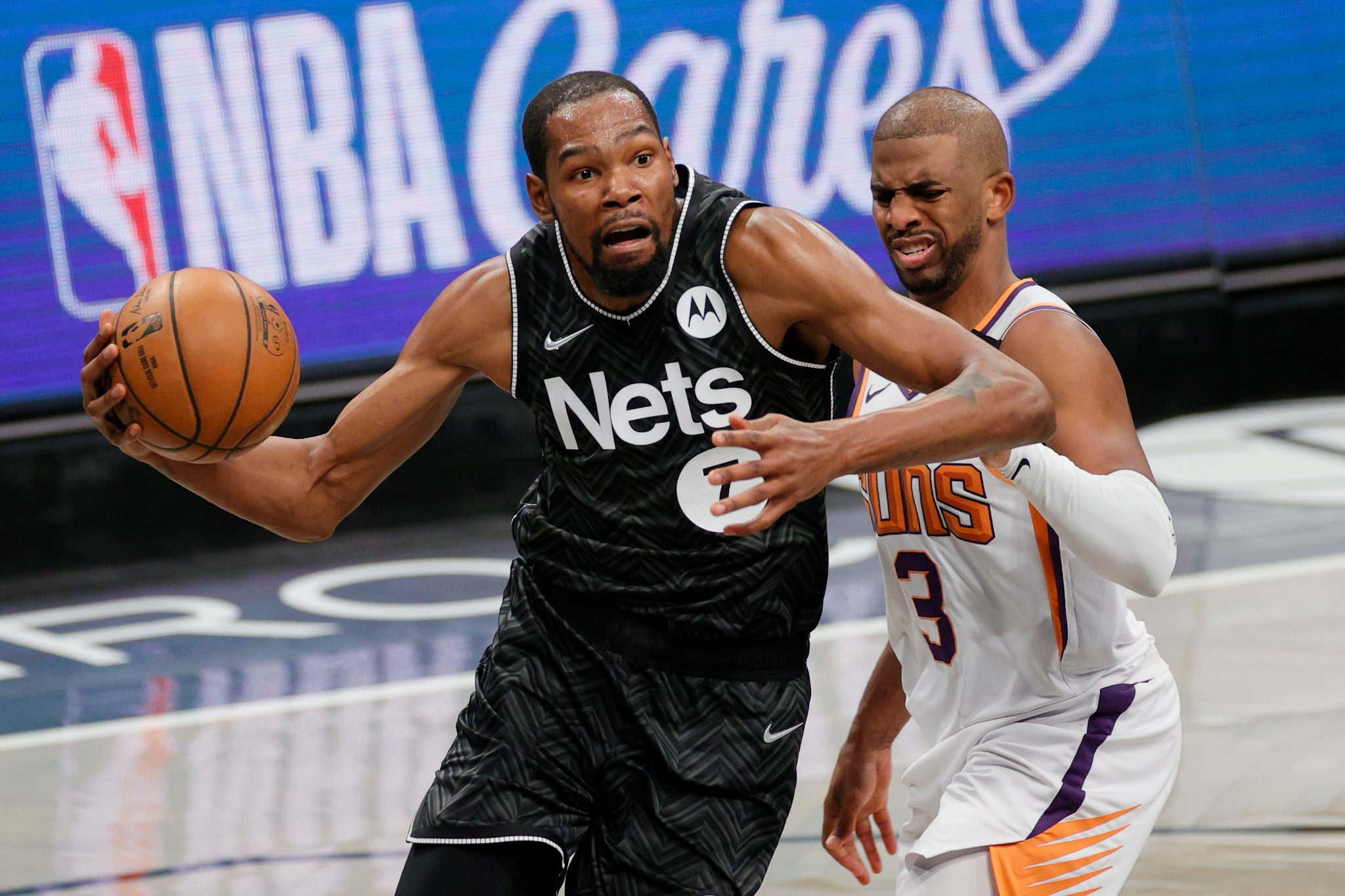 Sarah Stier. Getty Images.
Kevin Durant requests trade from Brooklyn Nets hours before free agency opens. You know the drill. Time to speculate. I'm gonna get creative with this and have a little fun.
Hawks complete a new Big 3
Nets get: PF John Collins, SG Bogdan Bogdanovic, SG Kevin Huerter, future 1st-round pick/pick swaps
Hawks get: SF Kessler Edwards, Kevin Durant
Can you imagine Trae Young, Dejounte Murray and Kevin Durant in the same starting five? I can, and it's glorious.
The hangup here is the Hawks sent a lot of first-rounders to San Antonio in order to acquire Murray. However, I think there'll be some understanding that KD is entering his age-34 season with a lengthy injury history. So with perhaps one more first-rounder into the mix and some potential pick swaps, I'd center the main package of this deal around Brooklyn receiving John Collins, Kevin Huerter and Bogdan Bogdanovic.
That seems more than fair for the Nets. They get a versatile, still on the rise frontcourt piece in Collins who doesn't need to dominate the ball, and a pair of sharpshooters on the wing to play off Kyrie Irving and Ben Simmons when they're handling the rock. You could get really creative with some small-ball lineups with that quartet. I sent Kessler Edwards to Atlanta to make the salaries work, per the scenario I completed on FanSpo.
Because Murray's contract is such a bargain, this is something Atlanta could actually consider. I won't be including the Spurs here, but it'd be hilarious if they used all the picks the Hawks just gave them in the Murray trade and won the bidding war for Durant.
Biggest dominoes fall all at once in Phoenix
Nets get: C Deandre Ayton (sign-and-trade), F Mikal Bridges, F Torrey Craig, one 1st-round pick
Suns get: Kevin Durant
Brooklyn adds wing depth here with a great two-way player in Bridges, and a hard-nosed defender in Craig on an expiring contract, not to mention one of the biggest catches of the summer in Deandre Ayton. Chris Mannix of Sports Illustrated recently reported the Nets are interested in an Ayton trade. While this does leave a void at center for the Suns, they won't have to worry too much with the firepower they'd have between KD, Devin Booker and Chris Paul.
This may be CP3's best chance ever at that long-elusive championship. While some might call Durant a front-runner again by joining the team that just had the NBA's best record, the Suns did get stomped in Game 7 of the second round by Dallas. Speaking of which…
Mavs give Luka a legit superstar teammate
Nets get: PG Spencer Dinwiddie, F Dorian Finney-Smith, SG Tim Hardaway Jr., two 1st-round picks
Mavs get: Kevin Durant, SG Seth Curry
INITIALLY HAD Jalen Brunson here in a sign-and-trade before the Knicks swooped in to sign him.
The Nets need Kyrie insurance in case he decides to go AWOL. I mean, think about it: Durant asking out of Brooklyn has to mean he's not meshing super well with Irving. And how could most of us, really? Dude is a fuckin' weirdo. Dinwiddie has proven capable of functioning well alongside a ball-dominant star like Luka Doncic and also sparking the Mavs' second unit. I think he'd be fine fitting in with the Nets in his second stint with the team, and could allow Simmons to open up other parts of his game rather than being a more passive distributor.
Hurts the Mavs to lose a key wing like Dorian Finney-Smith, but they still have enough dudes there, and if it gets you Kevin Durant, you live with it. Bringing Seth Curry back to Dallas is a nice little storyline, and Tim Hardaway Jr. gets thrown in here as well. The Mavs made the Conference Finals without him, and it's worth it to land KD.
An OKC homecoming for KD!?
Nets get: Four 1st-round picks, G/F Lu Dort (sign-and-trade), PF/C Derrick Favors (+ maybe Josh Giddey?)
Thunder get: Kevin Durant
Approximate reality of the number of first-round picks Oklahoma City GM Sam Presti can throw at Brooklyn:
While I'd be fascinated to see OKC tank for Victor Wembanyama, it'd be even cooler to see KD return to his OG team, recruit another superstar not named Kyrie to join him, and try to deliver the Thunder their first championship. This has shades of LeBron's return to Cleveland.
Plug in Durant with fellow Slim Towers Chet Holmgren and Aleksej Pokuševski, and you might have the lightest-yet-most-skilled front line in the sport to complement Shai Gilgeous-Alexander and Josh Giddey. Not entirely sure on the mechanics of this trade. The Thunder may need to bring in a third team and ship out some role players for salaries to match, if necessary. Still. Presti is smart enough to figure that shit out. DAMN would this be amazing.
Honorable mentions: Miami Heat, Chicago Bulls, Memphis Grizzlies