Taking A Trip To Chicago For The First Time? Here's How To Do Chicago The RIGHT Way
Full disclosure: This blog was Chief's idea and I 100% stole it from him because I'm hungover and this is the most brainpower I can muster right now. Sorry Chief. Chief and I have a lot of similar tastes in bars/restaurants though, so a lot of these recommendations are similar to what he'd give out anyways.
In between people telling me I'm a fat disgusting midget via both Twitter and Instagram DMs, here and there I'll get messages of support. Take this one for example: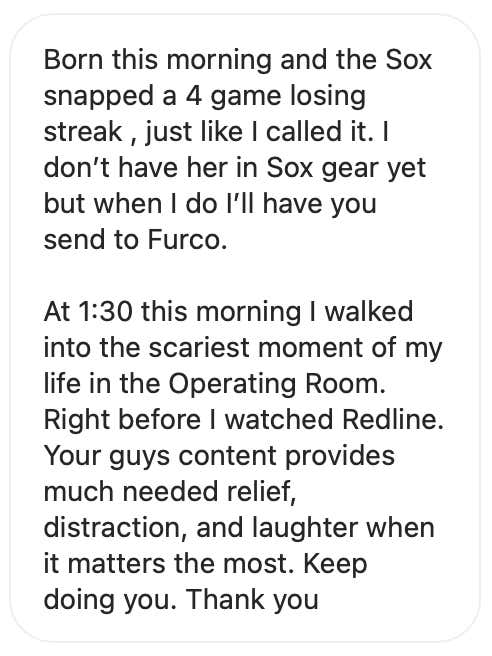 See? Not everyone is a complete cunt. We genuinely love receiving these sort of messages. It makes all the dick jokes we tell on a daily basis worth it. But 99% of the messages I receive are exactly like the one below:
Now Chicago has a TON of warts as a city. Our mayor stinks, the crime has gotten really bad and it's started to seep into the "safe" areas of the city, yada yada yada. But that doesn't mean Chicago isn't still the best summer city on the entire planet, because it is. It's a PERFECT summer city. On any given weekend you have concerts, street festivals, a goddamn beach, two baseball teams with two VERY different, yet very fun vibes at the games, and awesome food. I like to show this stuff off to noobz so whenever I get one of these DM's, I always try to respond with sincere recommendations.
ALSO - I saw Dead and Co at Wrigley Saturday. It was a religious experience. I will get dragged for this, but Wrigley is the by far the best venue for music in the city. It was the best concert I've ever been to and I've seen a million A list musical acts. I avoid Wrigleyville typically, but for concerts it's the best we have to offer IMO. If you're in town and can see a concert there, do it. 
This is what I would recommend to anyone coming in from out of town for the first time:
Pizza:
People always assume Lou Malnati's is our best pizza. It's good, and don't tell Eddie I said this, but Chicago doesn't really prefer deep dish. It's obviously awesome, but the vast majority of Chicagoans prefer tavern style thin crust. My personal favorite is Al's Pizza in Warrenville:
That's obviously a trek from downtown (about 25 miles west), so that's not exactly feasible. My two favorite spots that are a quick uber from the loop are Phil's Pizza on 35th street and John's Pizza and Ristorante in Bucktown. Both excellent pizzas and they are SUPER thin. 
But if you HAVE to go deep dish, I would recommend Pequod's 100x out of 100 over Lou Malnati's. I worked at Lou's in college for like 6 months as a server and kinda saw how the sausage was made so to speak, so my opinion may be slightly skewed. Lou's is good though. I just prefer Pequod's 
Bars:
This may come as a shock to you, but I don't like clubs. I also don't like dealing with 22 year old douche bags because I'm a grumpy ass old man or something. Idk. Downtown (the Loop) is where you'll find most clubs - I avoid those areas like the plague but if you're into that, you do you. I ain't recommending El Jefe to anyone though.
Just hit up Wells Street in Old Town. There's our home bar (Declan's) that's a great Irish Pub with awesome food. Dante's bar "Uproar" is right next door and I am not bullshitting you when I say this, their wings and Chicken sandwich are the best in Chicago. I'm not saying that because Dante's one of my best friends, I'm saying that because it's the truth. Look at this fucking thing!
It's legit orgasmic. The bar is a cool vibe too. Great date spot. 
Everything else up and down Wells is great too. Old Town pub (shit hole dive), Benchmark (more clubby) and plenty of other spots too. 
You can also swing around the corner and hit up Gold Coast which is a 5-7 min walk from Old Town. The Lodge is one of my favorite bars on earth (it's about 300 square feet). Just a perfect bar.
I also love Kingston Mines at Halsted and Wrightwood in Lincoln Park because I have an unadulterated addiction to live blues music. Marc Roberge of OAR says it's his favorite Blues bar in the country. Take it from him.
Italian Beefs:
Everyone has their opinion on Pizza, bars, and anything else. It's funny though - Johnnie's Beef in Elmwood Park is at the top of 100% of people's beef rankings. It's crazy - nobody ever argues this. It's by FAR the best beef we have to offer. It's a perfect sandwich. The only thing is it's a hike from downtown. If you have access to a car, make the trip. It's worth it. If you don't, then I'd hit up JP Graziano's in the West Loop. They're doing beef's now and they've already mastered the art. Tommy and Rone were in town doing Rone's travel series last week and Tommy said JP's beef was almost as good as Johnnie's. That's EXTREMELY high praise, and he ain't wrong. 
Upscale Dining:
Hit up Armando at La Scarola for a wonderful Italian dining experience. Armando is the owner and his restaurant's vibes are so great. Excellent food, laid back atmosphere and a SHIT TON of tequila. That's where this (photoshopped) picture was bred:
Bavette's is great but it's super expensive and super hard to get into. Also love Maple and Ash and Kinzie Chop House - excellent steaks.
Rose Mary in the West Loop is also fantastic. Top Chef winner Joe Flamm is the executive chef and the coolest cat around. Super good dude and his food is great - way lighter than typical Adriatic cuisine too, but a perfect date spot or spot to go out with the fellas and pound awesome food and drinks.
That's what I got for ya'll. I'm gonna pin this on Twitter and just send it to everyone who reaches out asking how to do Chicago the right way when coming into town for the first time. 
The comment section can fire away with their recommendations too if that tickles their fancy.