Will Compton is a handsome guy.
Frederick Breedon. Getty Images.
He just is.
Also, there is a guy who is on the pit crew for Austin Dillon named Paul Swan… He is also handsome.
He just is.
I am not saying I have the desire to blow either of these dudes, but if I somehow HAD to drink from either of those forbidden fountains, I could do a lot worse.
And I'll be ready…
Not so coincidentally, both of these gentlemen have rocket ships for wives, and, a bit less coincidentally, both of those wives recently just jeopardized their perfect bodies by having children for these aforementioned handsome gents.
And now they are about to meet.
The reason for their meeting is whenever Spider and I have guests from Barstool content at NASCAR races, we make it a point to run them past Austin's section on Pit Row because Swanny always rolls out the welcome wagon with access to the track.
Two weeks ago, we had Kayce and Kelly in Sonoma, and after Paul did his nickel tour, I asked the young ladies if they liked the feeling of the track.  Both immediately responded that they didn't remember a single nuance of Pit Row because Paul's good looks hypnotized them.
The same thing happened the first time I took my wife down into the pits… I wasn't aware that members of almost all NASCAR pit teams are generally buff gorgeous guys.  Since I am also buff and gorgeous, I don't really notice my own assets in others (even though my moderately-homoerotic appreciation for 2 hot guys is the topic of this blog).  But my bride of 23 years, Kayce, and Kelly Keegs were keenly aware of all the fresh meat wandering around the track, and I think those boys (coupled with the invasive vibrations from the passing car engines) lead me to believe NASCAR should be selling more dry replacement panties than Kyle Larson t-shirts at their events.
The reason I am writing this is I got a text from Swan today…
And I agree with Swan's explosive prediction… So I will open up my thesaurus and tell y'all that I am about to hop on a plane to meet up with an imposing posse in a fantastic city for a resplendent weekend capped off with a phenomenal race at an extraordinary 1.33-mile concrete oval in Lebanon, TN.
And if you'd like to follow along on social, you're more than welcome, PLUS you can tune into the ALLY 400 this Sunday from Nashville Superspeedway starting at 5 PM EST on NBC… Only 10 races remain in the regular season, so I am officially dubbing this the beginning of that final stretch before the playoffs.
This season has been fucking wild with 4 drivers collecting their first career wins this season (Cindric, Brisco, Chastain, and then Suárez in Sonoma)… That's the most since 1950.  And three active NASCAR Cup champions (Truex, Harvick, and Kesselowski) have yet to win in 2022.
Returning champ (Cup Series AND at Nashville), Kyle Larson is the favorite at +600 on The Barstool Sportsbook.
Enjoy the race and take a report.
-Large
---
Oh… 2 more things:
1) Since I mentioned Paul in this blog, I should also mention this sonofabitch has a new show out on the USA Network… 
His driver, Austin Dillon, has a wife that is also inordinately better looking than he is…
… so the Swans and the Dillons (all best friends) have a platform to show the unwashed masses how beautiful people do beautiful stuff.
.
2) The Barstool Store never cared to create merch for Spider and I assume that's because we are ugly.  But now that Compton is on board, the virtual aisles are chock FILLED with new items for those who like a race…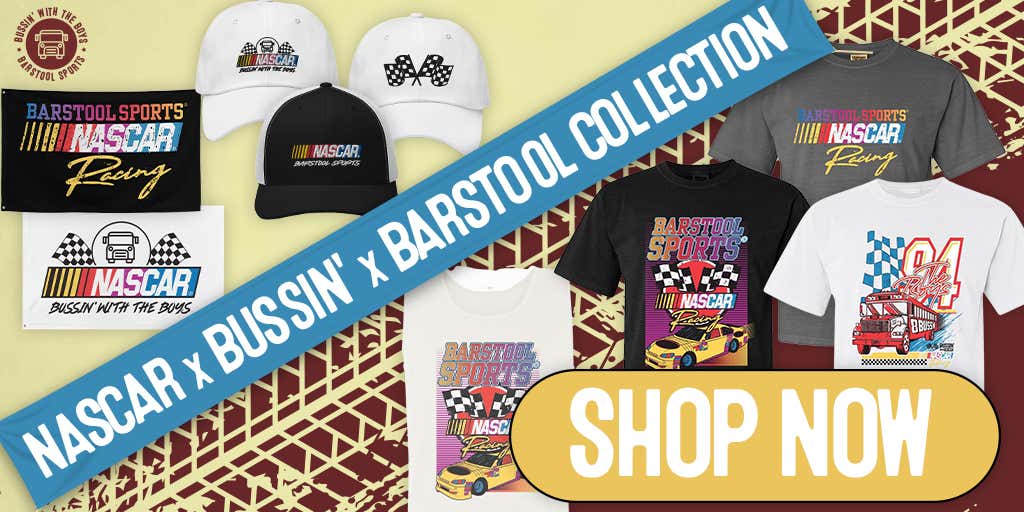 You can find it all right here.