The Brooklyn Nets Are Officially Crumbling Before Our Eyes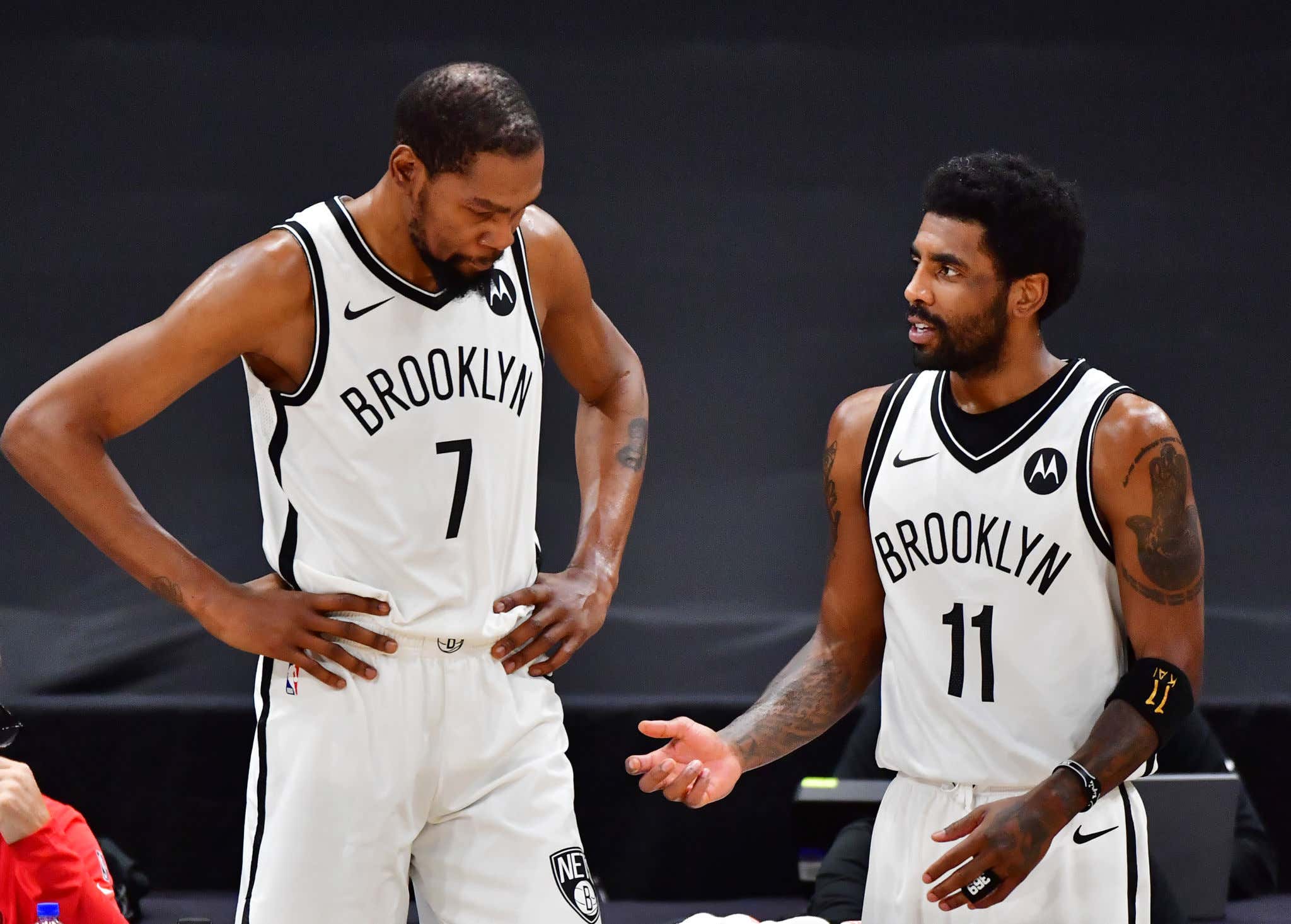 Julio Aguilar. Getty Images.
Ok, everyone take a deep breath. There's a lot to digest here. I knew things were too fucking quiet today. We're getting closer and closer to the draft and the only Woj bombs we got were some meaningless 2nd round pick deals. Well, here's a rather MASSIVE set of bombs from Shams and Woj. Take another second to re-read both and I'll see you back here in a minute.
Quick question for the group. Is anyone surprised by this development? Given everything that's come out in regards to Kyrie and the Nets, we all had a feeling this is where we were headed. We knew that this wasn't just going to be a Kyrie issue, but a Kyrie AND KD issue if things went south. Fast forward to right this second, things are going south. In typical 2022 NBA fashion, KD signed his extension most likely with a certain idea of who his teammates would be in James Harden and Kyrie Irving. Now, a year later he's looking around at……Ben Simmons and like, Seth Curry? Yeah, that's not going to cut it for a player of KD's stature given his age.
As I said the other day, if KD wants out, the Nets will have plenty of offers. This isn't a Harden/Simmons situation where the player kinda stinks. KD is still one of the best players on the planet. If the Nets are going to have to smash the rebuild button, they may as well get what they can in terms of assets in a return for KD.
The Kyrie tweet is the more intriguing one to me. Look at that list of teams. Who is going to give up real assets for Kyrie? All of them? None of them? There's obviously a HUGE AMOUNT of risk when it comes to bringing Kyrie into your franchise. Odds are it's going to end in disaster so is it even worth it? Some of those teams listed are already contending for a title as is. I guess if you're a team finally looking to get over the hump you risk it, but in terms of the assets those teams could send back, how do they even make that work? Would the Nets even be willing to help Kyrie now that he basically nuked their franchise? On one hand why would they, but on the other hand when we see a guy give a list of teams he wants to go to, more often than not he ends up on one of them. This is where the leverage angle comes into play. It's as easy as
"Either pay me what I want or figure out how to send me to one of these teams or I'm turning down my player option and leaving for nothing"
Player empowerment baby. This is why they collectively bargain for the player option. Poor Sean Marks. He probably thought he did something when he brought in KD and Kyrie and then traded for James Harden. There was dynasty talk, let's not forget that. Boy does life come at you fast. A total of 0 Finals appearances, Harden already demanded out, Kyrie is demanding out if he doesn't get what he wants, and KD is going to follow? Woof. 
All I know is the rest of the day just got a whole hell of a lot more interesting. We could see major league impacting moves in just a few hours. The timing of all this is also so fascinating. Free agency is like 7 days away, but I imagine teams would be including tonight's draft picks as part of any sort of package, so how does that work? Do the Nets have like 6 hours to make the final call on Kyrie's extension? What a clusterfuck.
If KD is somehow reading this blog, I'm just going to put this here. You want to get out of Brooklyn Kevin? I have the perfect place
Boston Globe. Getty Images.
Let's make up for 2016. I promise to keep Kelly Olynyk out of the pitch this time around. Seems like a no brainer.
Now let's see how Frank The Tank is handling everything!