Kim Kardashian Famously Lost 16 Pounds In 3 Weeks To Wear Marilyn Monroe's Iconic 1962 Dress — a "Historical and Cultural Treasure" — to the Met Gala Red Carpet; The Monroe Collection Says She Damaged It Beyond Repair.
Matt Baron. Shutterstock Images.
NY POST — The historic dress once worn by Marilyn Monroe that Kim Kardashian showed off at the 2022 Met Gala appears to be damaged from its night out, according to an observer. 

The Marilyn Monroe Collection Instagram account posted new photos Monday showing the bedazzled dress, which Monroe wore to sing "Happy Birthday Mr. President" in 1962 to then-President John F. Kennedy. But the dress appeared to be "missing" a few crystals, claimed the account, which added that others seemed to be "hanging by a thread." 

Kardashian, 41, vowed to not make any alterations to the dress — declared a "national treasure" to The Post by one noted Monroe expert — and altered herself instead. She now infamously admitted that she lost 16 pounds in three weeks in order to squeeze into the dress.
Ahhh, the Met Gala — the very pinnacle of High Society. The last bastion for the cultural elites to truly and publicly embrace how much more beautiful, more successful, and more disgustingly rich they are than us, the dregs of society live-tweeting their red carpet stance and posture. Hard to believe it's been over a month since we were basking in the splendor and opulence of the most recent edition of what is widely regarded as one of the most prominent and exclusive social events, and THE most prestigious fashion event, in the world.  
With the exception of 2020, when the lowly, unwashed commoners forced a cancellation by insisting on dying everywhere, the Met Gala has been a yearly highlight, a showcase for the loftiest ideals of American High Culture: celebrities, fame, fashion, the arts, wealth, celebrities with wealth for being celebrities… all tied together by a unifying theme based on some of our most cherished American values: celebrating Chinese culture, "Camp," "Punk," and sacrilegious cosplay mocking the Catholic church, to name just a few recently.
Of course, no function centered on our pathological celebrity worship culture would be complete without the attendance of the very embodiment of it: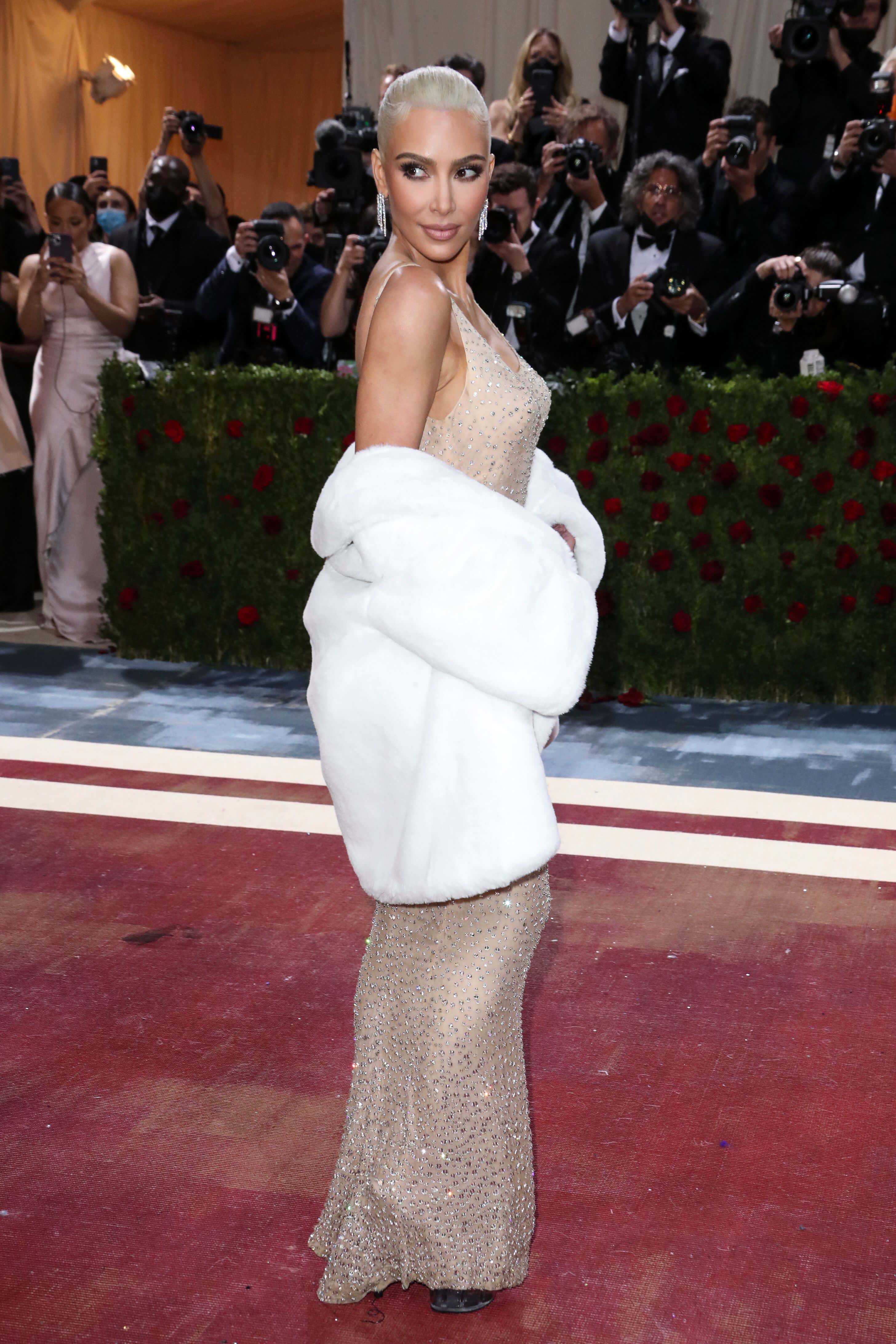 Matt Baron. Shutterstock Images.
Kim Kardashian, who first skyrocketed to fame on the back of (no pun intended) her own valuable contribution to The Arts with 2007's underrated "Kim K, Superstar," then maintained her perch atop the cultural hierarchy with the deeply moving documentary series "Keeping Up With The Kardashians (Seasons 1-83)."
Showing her personal growth since the 2019 Gala where she was criticized for setting unreal beauty and body standards for young women, Kardashian graced the 2022 red carpet in a dress that she lost 16 pounds in 3 weeks to fit into.
But this was not just any old dress — far from it.  This was the iconic dress worn by Marilyn Monroe for her 1962 serenading of JFK with "Happy Birthday, Mr. President" — a "historical treasure," significant for its part in a touchstone moment of pop culture history featuring two of biggest larger-than-life figures of the 60s and beyond.
Bettmann. Getty Images.
Despite the dress being preserved and held by a museum, despite it being worth $10 million and the most expensive dress ever sold at auction, and despite the warnings of garment conservationists, appraisers, archivists, and historians, Kim was able to persuade the head nerds in charge to allow her to rock it on the red carpet — albeit with the very strict condition that no alterations be made whatsoever.  
Hence, the reason for the shedding of 16 pounds in 3 weeks — accomplished by what I can only imagine was a strictly followed regimen of not eating anything and bulimia. 
But even with the impressive and most likely wildly unhealthy and dangerous weight loss, Kardashian STILL wasn't completely suitable for the iconic outfit:
She was finally able to fit it over her famous derriere but was unable to zip it — hence why she draped herself with a white fur shawl while on the carpet.  

"I tried it on and it didn't fit me," Kardashian recalled on the red carpet as she retold the tale of her first fitting. "It was such a challenge. It was like a role, I was determined to fit in it."
"Fit" is the operative word here, considering she couldn't zip it and had to wear a white fur shawl to cover up the fact; but ultimately, she got what she wanted: everyone talking about it, and plenty of Getty photos wearing an American treasure.  The comparisons flooded in almost immediately: the talented and fiercely independent actress who blazed her own path through a male-dominated and misogynistic studio system after rising from obscurity through hard work, and the sex tape star who did none of those things then took her dress.
The End.
…or so we thought.  Now, a month and a half later, the very feisty "Marilyn Monroe Collection" Instagram account has gone public with a damning claim:  Kardashian's shameless egotism has damaged, deface, quite possibly destroyed a priceless artifact of fashion history.
---
A complete accounting of @MarilynMonroeCollections posts about Kim K and MissingCrystalGate
marilynmonroecollection
Just in case you missed it… Missing crystals, and some left hanging by a thread.
____________

The dress, on display at Ripley's Hollywood location on June 12, 2022. Shared with me by @1morrisette.

@ripleysbelieveitornot , Was it worth it?
____________

"Great care was taken to preserve this piece of pop culture history. With input from garment conservationists, appraisers, and archivists, the garment's condition was top priority. Believe It or Not! no alterations were to be made to the dress and Kim even changed into a replica after the red carpet!⁠"

Source: Ripley's Press Release, May 2
____________

And to be fair, Ripley's said it did try to protect the dress: "We basically had many conversations with Kim and her team and put a lot of requirements in place with security and with the handling of the dress," Amanda Joiner, a vice president of licensing and publishing at Ripley's, said to the Daily Beast. "The dress was never with Kim alone. It was always with a Ripley's representative. We always ensured that at any time we felt that the dress was in danger of ripping or we felt uncomfortable about anything, we always had the ability to be able to say we not were going to continue with this."

Source: Slate.com, May 5

____________

After receiving Kardashian's request to wear the dress a couple of months ago, "we had to make some decisions as far as whether or not we were willing to let Kim borrow the dress," Joiner said. "We did two different fittings with her. The first one was in L.A. in April and then the second one later in April to see whether or not the dress would fit. The biggest challenge that we had is that we really wanted to make sure that we kept the integrity of the dress and the preservation, because it's 60 years old, and we feel that it's such an iconic piece of fashion, both from a historical perspective, but also from a pop culture perspective."

Source: The Daily Beast Interview with Amanda Joiner, Vice President of Licensing and Publishing at Ripley Entertainment, May 3
marilynmonroecollection
To anyone who may be questioning the actual condition of Marilyn Monroe's "Happy Birthday Mr. President" dress prior to being purchased by @ripleysbelieveitornot or implying that low quality photos of the dress were shared to somehow make the newly discovered damage to the dress seem worse than it actually is, this is 4K video that I took of the gown while it was on display at @juliens_auctions in November of 2016. Without question, the damage is significant. 
---
If there is a more perfect example of symbolism in the world than Kim Kardashian appropriating a treasured piece of American culture and destroying it with her gigantic ass, I would love to know what it is.