At An MLB Best 28 Games Over .500, The 2022 Yankees Are Playing on a Different Level Than Everyone Else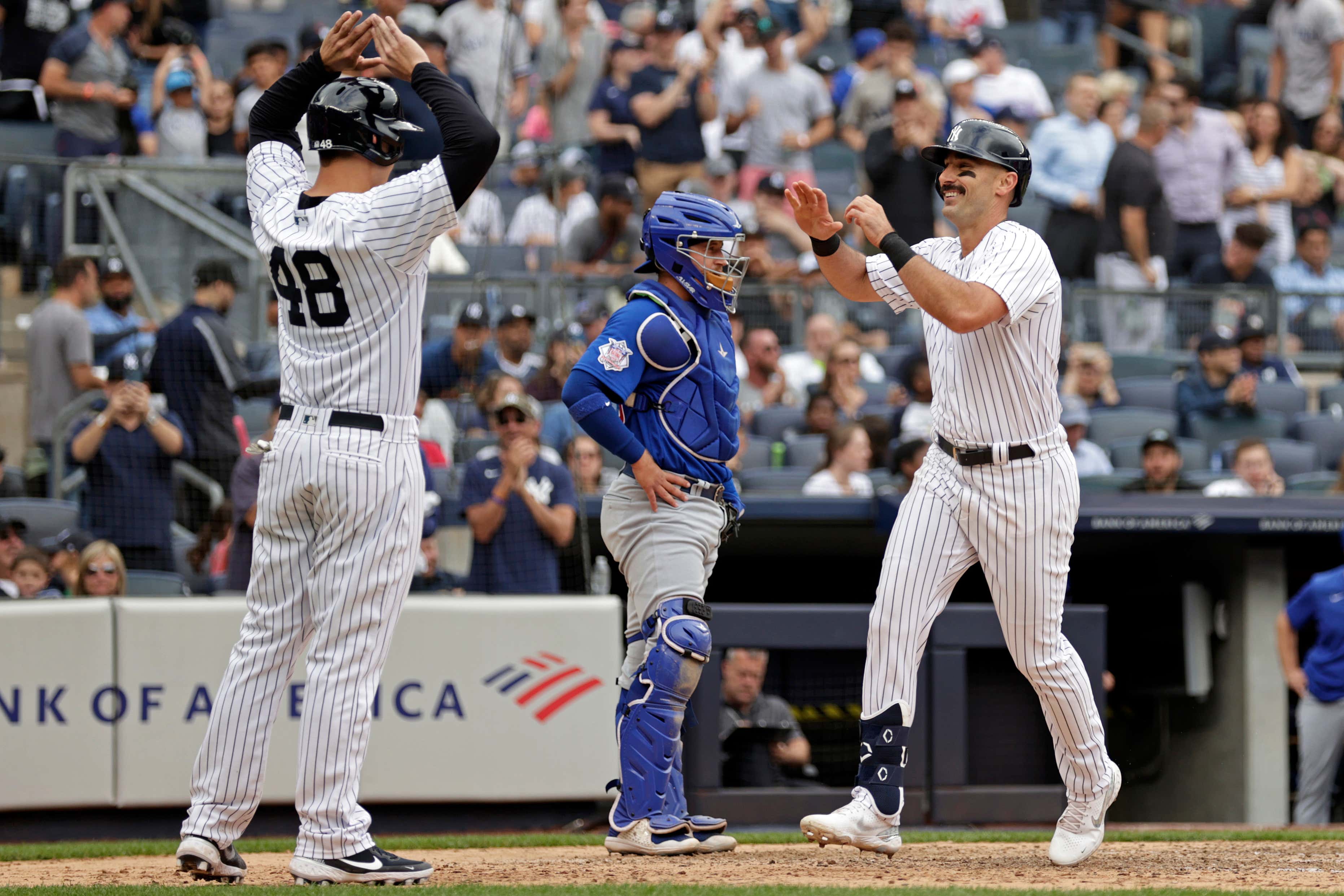 Adam Hunger. Getty Images.
The 2022 baseball season has felt like one big never-ending dream. What the Yankees have been able to do through these first 60 games is actually beyond belief. I mean look at all the stats they lead…
It's actually fucking crazy. The hot start has allowed them to create a real nice cushion in the all important AL East race. This is the 5th best start to a Yankees season through 60 games. We're witnessing something special.
For reference, the Red Sox went 21-10 in a recent stretch and lost ground to the Yankees. The Bronx Bombers are playing at a different level. They hold the best run differential in baseball at +127 with the next closest in the AL being the Astros at +43. They mash, they pitch, and they field. If they fall behind there is a supreme confidence in that clubhouse that they're going to come back and win every night. Just take last Thursday for example. Gerrit Cole gives up a homer to the first three batters in the Twins order. He departs giving up 7 runs in 2.1 IP. What does this team do? They chip away and end up winning 10-7 in rather comfortable fashion. Regardless of the opponent the Yankees of last year lose that game and spiral into a slump in the series after. 
One of the biggest surprises has easily been the play of Jose Trevino. The former Ranger came over from Texas as some defensive insurance while newly acquired catcher Ben Rortvedt rehabbed a Spring Training injury. Kyle Higashioka entered Opening Day the definitive starter after a hot month of March. Slowly but surely, Trevino has become the team's starter with nearly flawless play behind the plate, but also a shockingly productive bat. Through 39 games played Trevino is slashing .308/.356/.505 with 5 homers and 18 RBIs. I was all set in punting away an offense from the catcher position in exchange for elite defense. That seemed to be the plan when Cashman decided to move on from Gary Sanchez with Trevino being the best of the best in terms of pitch framing. That move has paid off in so many ways it's crazy. What Trevino has added to this team on and off the field has been unmeasurable. We initially likened his role to Jose Molina's in 2009, but he's proven to be way more valuable and deserving of starter's reps. On Friday he roped his second walkoff of the season.
Another guy who has come on here out of absolute nowhere is Matt Carpenter. Remember that guy from the Cardinals a few years ago? The Yankees added him out of necessity of depth when covid/injuries struck the team a few weeks ago. Since Carpenter has fit in seamlessly. His stache is magnificent, his 'do whatever the team needs' vibe is infectious, and his home run swing is perfect for Yankee Stadium. Yesterday he became the first player EVER to hit 6+ homers in his first ten games as a Yankee. He's got more RBIs than Hicks does in 157 less plate appearances. I have no idea how he was a free agent, but I'm not complaining. If he keeps this up he'll force the team's hand to platoon at 3rd base with a struggling Donaldson. 
Seems silly to have a blog about the 44-16 New York Yankees and start off with Jose Trevino and Matt Carpenter, but they've been fantastic and its well-deserved. The big guy leading the charge however is Aaron Judge let's not get too carried away here. He's your MVP. What this man continues to do is other-worldly. Judge ranks 1st in the AL in home runs, runs, total bases, slugging percentage, and OPS. He's on pace for 65 home runs. In at bats in the 7th-9th innings this year he's hitting .391 with a 1.290 OPS. You can no longer get him to chase that slider with two strikes like he was prone to do early in this career. He's striking out and whiffing less than any season in his career. Has there ever been a better performance in a contract year? We'll worry about that after the World Series, but man is this fun to watch. 
Now some of you want to rip on the Yankees for not beating top tier competition. I mean they're 15-7 against teams at or above .500 what do you want them to do? In year's past what did them in and forced them into the WC spot was poor play against inferior opponents. 29-9 against the bad teams will put you in a position to care about games like the ones they have coming up. 3 at home vs. TB, 3@ TOR, 3@TB, 4 at home vs. Houston. That's a tough stretch, but even going something like 7-6 would be fine considering the cushion they've built. I'm not expecting 7-6, but the start they've had alleviates a lot that pressure. I'm very much looking forward to this upcoming test. 
That's not to say they won't play with the same mentality and aggressiveness that they have to start here. Aaron Hicks said before the season that this team is going to play with a lot of "fuck you" in them and he was right. He also said he had a goal of 30 homers and 30 stolen bases. You win some, you lose some, but the fuck you mentality is there no question. There's been a culture change in that clubhouse and I'm crediting Anthony Rizzo with all of that. I love that man. 
We've got some cool shirts in the store you can buy from and rock at the stadium. It's going to be a fun summer in The Bronx, see ya out there. Also buy your Barstool at the Ball Park tix here for our final event in July vs the Sox. Buy here
And if you haven't caught the latest episode of The Short Porch you can listen here