The Rangers' Season Is Over, But It Is In No Way, Shape or Form Igor Shesterkin's Fault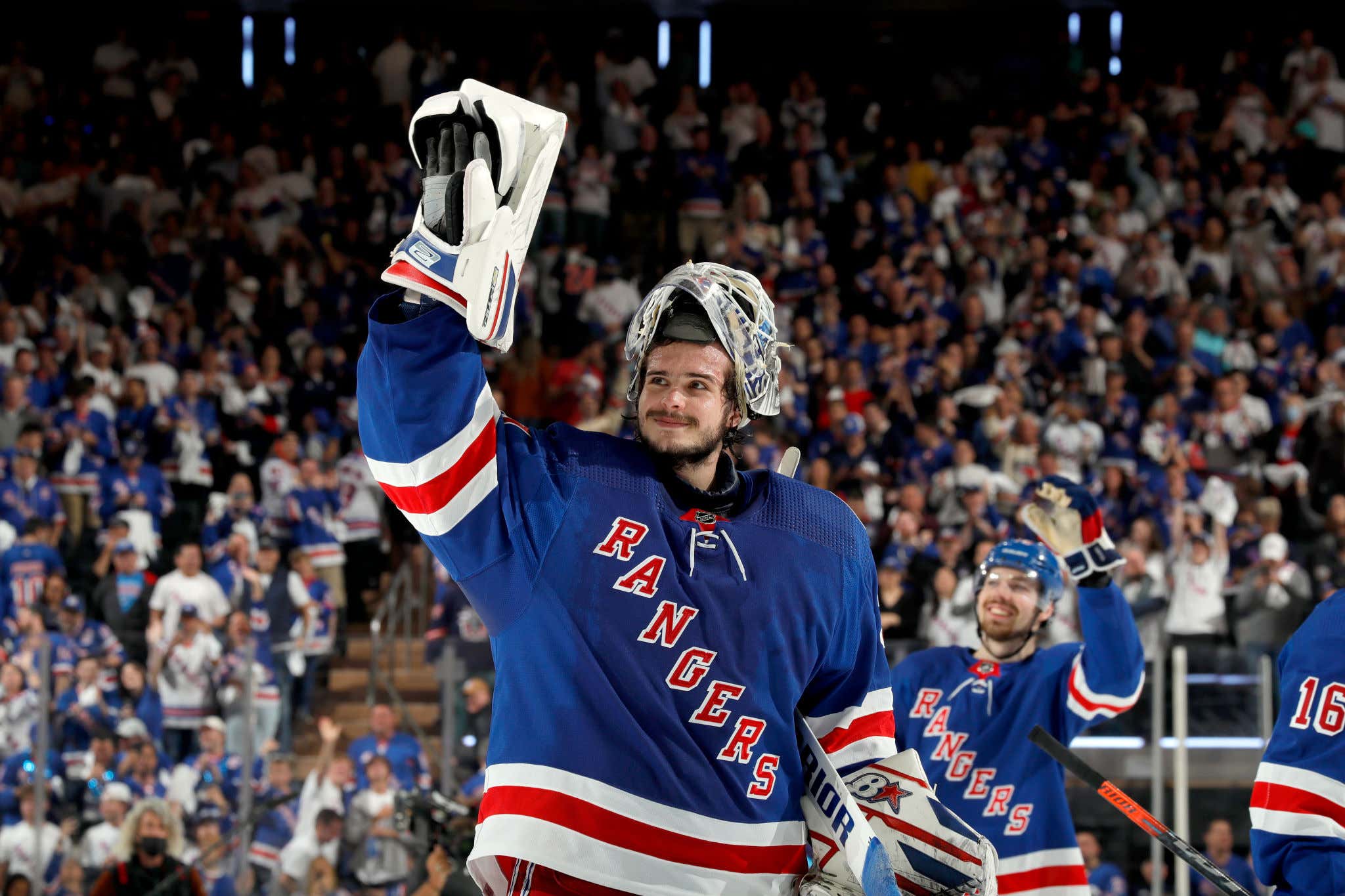 Jared Silber. Getty Images.
Take a fucking bow, Igor Shesterkin.
Given the circumstances, the New York Rangers goaltender just had arguably the most impressive individual season in more than a decade at his position. Yes, the Blueshirts are going home after a 2-1 loss at Tampa Bay in Game 6 of the Eastern Conference Final, but if not for Shesterkin's brilliance, that series, and especially that decisive contest, wouldn't have even been competitive.
I often find it difficult to spot huge saves when searching for hockey highlights on the Twittersphere. Much easier to access footage of goals. More interest around them, too. So like, a save has to stand out as a complete robbery in order to get a lot of widespread attention and social engagement.
Yeah, Shesty had a myriad of those among the 28 saves he made on Saturday. The guy was playing out of his damn mind — or rather, up to his ability, because that's what we've come to expect from this 26-year-old breakout superstar.
Known for his knack to play the puck, Shesterkin put himself in a spot of bother here but denied a golden opportunity right on the doorstep:
I needed to get the disclaimer of Shesterkin's blunder out of the way for that one. Simply enjoy these next three beauties.
A relatively soft goal by Steven Stamkos opened the scoring. You could hardly blame Shesterkin for a slight slip-up at some point. The guy is human after all. 
Stamkos went to the penalty box with 8:15 remaining in the third, however. Frank Vatrano RIPPED home an equalizer with just under seven minutes in regulation right off a face-off. But as Stamkos giveth, he quickly taketh away…21 seconds later. This pass by Nikita Kucherov was utterly stupid good, and let's be honest, what a damn stop by Shesty, only for some of the worst puck luck I've seen in several seasons. It caroms off Shesterkin's glove, off Stamkos' leg, into the net.
Even when the Rangers kept pace with shots throughout the series, the quality of their scoring chances was consistently worse than Tampa Bay's, which yeah…is backed up by stats.
So it's worth reflecting on what Shesterkin just did before it gets lost in the shuffle. Seriously think about this. The Rangers had a whole new regime in place prior to the 2021-22 campaign. Expectations weren't exactly soaring. Their rival, the Islanders, were the ones who'd been to the Conference Final the past two years and lost to the Lightning. It was supposed to be the Isles' championship window.
Instead, Shesterkin decided to fuck around and will his team to an instant, stunning turnaround. Shesterkin a lock to win the Vezina Trophy as the NHL's best goalie. Beyond that, he's one of the three finalists for the Hart Trophy Memorial Trophy as league MVP. Carey Price is the only goaltender to win that award since Dominik Hasek in 1998.
Those stats I shared at the top of this article are downright absurd. It's amazing what a goalie can do to give a whole team confidence, help spark a culture change and create a paradigm shift for an entire organization. Part of that is protecting home ice. Making Madison Square Garden an intimidating arena to enter once again was instrumental in Shesterkin's success and the Rangers' resurgence.
Here were Shesty's home splits during the regular season: 21-6-3 record, 1.85 GAA, .940 SV%, 5 shutouts.
For the season, he had a 36-13-4 mark with a 2.07 GAA, .935 SV% and an additional shutout. This was for a New York team who ranked eighth-worst in net penalties drawn per 60 minutes (-0.11), averaged the fewest shot attempts among playoff teams (28th out of 32 clubs overall) and allowed a lot of quality scoring chances.
Now for the playoffs…
Shesterkin had a little ho-hum proper playoff debut against Sidney Crosby, Evgeni Malkin and the Pittsburgh Penguins. A triple-OT loss in Game 1 preceded getting chased twice on the road. Suddenly, New York was down 3-1 with its season on life support. How did Shesterkin respond? By rattling off three straight wins to help the Rangers advance.
How about Round 2? Yeah, Carolina, who tied the Blueshirts and several other teams for the NHL lead with 25 road victories, and was the only team to allow fewer goals than New York. When the Hurricanes went up 2-0 as Shesterkin yielded only two total goals in regulation play, he didn't panic. All he did was average 35.6 saves in his next five starts to get the Rangers through in seven.
Hahaha. It'd only get harder from there. Yeah Igor, how about facing Andrei Vasilevskiy, you know, the two-time reigning Stanley Cup champion netminder for the Lightning? Go head-to-head with him!! How FUN!
Well guess what? Shesterkin got the Rangers two wins out of the gates. In Game 3, Shesterkin faced 52 shots in Amalie Arena. Easily played well enough for the Rangers to take a 3-0 series lead, only to lose 3-2. The Lightning's superiority shined through thereafter. From Game 3 through the end of the series, New York managed only ONE even-strength goal. They could only generate any kind of offensive thrust on the power play. That type of support isn't going to get it done, I don't care who's guarding the crease.
According to Money Puck, in terms of goals saved above expected per 60 minutes, Shesterkin was at .666 (34.1 total) in the regular season and .945 in the playoffs. Vasilevskiy was second to Shesterkin in those GSAx stats, with a .453 regular-season mark and .739 in 17 playoff starts to Shesty's 20. The Lightning goalie only faced 21 shots in advancing to his third consecutive Cup. Game recognized game in the handshake line, though.
To bring it back to New York for a little context on all these numbers I'm throwing around: Islanders goalie Ilya Sorokin (52 games) was in the top 10 with 12.8 GSAx in the regular season (.250 per 60). The gap between Sorokin and Vasilevskiy is big enough. Then Shesterkin is another level up from that. Unreal.
As for my claim that Shesterkin might've just completed the single-best overall season in about a decade? I think it holds up. You'll have to look back at former Boston Bruin Tim Thomas in 2010-11 for something this consistently great across all categories. That's crazy to say since, as I mentioned, Price won the Hart Trophy as NHL MVP in 2015.
That season in question for Thomas featured a .706 GSAx figure per 60 minutes, and 39.6 total. He followed that up with an outstanding playoff run, with a 1.98 GAA, including four shutouts and a Stanley Cup to cap it all off. In NHL history, since such stats were recorded, only Thomas (.938), '99 Hasek (.937) and 1969 Jacques Plante (.940 in 36 games) had better save percentages among Vezina winners than Shesterkin's .935.
I can't imagine Shesterkin having a much tougher road in his real playoff debut. Didn't matter. Coming off one of the better regular seasons in recent memory, and a nightmarish start to the Pittsburgh series, he kept his composure like a seasoned veteran. The Rangers should have lots of reasons to be optimistic about the current core they have in place and how much farther ahead they are than expected in terms of consistently competing for Lord Stanley' Cup. The biggest key to all that is Shesterkin, and as long as he's healthy and maintains this type of form, the Blueshirts will always have a chance.
DAMN this wound up being a long one. Necessarily. Igor Shesterkin is the truth. We all must recognize this greatness.