Quick Reminder That There Is So Much Awesome Celtics Merch Available Right Now It'll Make Your Head Spin
MediaNews Group/Boston Herald via Getty Images. Getty Images.
A lot going on right now for our beloved Boston Celtics, so I wanted to make sure this didn't get lost in the shuffle. We've dropped a shit ton of new Celts merch throughout these playoffs, easily the most I've ever seen during my 7 years here. They are all glorious, and the hope is this is just the beginning. The Celts aren't exactly the easiest team to do shirts for, especially because Tatum's team loves to send that quick C+D, but I wanted to run through them to make sure you have everything you need for what could end up being a historic run. 
1. Draymond
Sorry for the curse word. I know what a big deal it is to protect the children of Boston from hearing such a word, but this is pretty self-explanatory. Nobody loves to run their mouth more when things are good and then turtle when they aren't more than Draymond. Because he no longer has the basketball talent, he has to resort to not playing basketball in order to be effective. Seems like this is a pretty fitting shirt.
2. Classy
Maybe you've heard, but Boston fans are a bunch of meanies. They chant bad words at opposing players. Even in front of children! Can you believe that? Steve Kerr, Klay Thompson and Draymond's wife cried and cried last night about being classy. It was sad really.  In my opinion, nothing screams class like wearing this shirt while also telling someone to go fuck themselves. Buy this shirt and that can be you.
3. Larry Legend
Pretty simple, The Legend always plays. Now and forever. When in doubt, rock the Legend with pride. The collection wouldn't feel right without a tribute to the GOAT and anytime you can combine one of his most iconic moments with from Trigz magic, that's a 10/10 purchase.
3. Al Horford
Simple, reliable, not flashy, and also not a lie to be seen. This shirt is the very definition of Al Horford. It might be my favorite one of the bunch, but that's probably because I am so emotionally invested in the success of Al Horford and him finally getting his first ring I can't even stand it. Whatever, the shirt is fire. They aren't in this spot without Al and they will not win the title without Al. All those "Average Al" losers are having a tough time right now. Al Horford is good. That's just the reality.
4. Jaylen Brown
3 absolute white hot fire flames Jaylen shirts if that's your thing. As we know, Jaylen's energy shift tweet basically saved the season. That alone is worthy of a shirt. I've always been partial to the Air Jaylen one even dating back to the original we sold a few years ago, but this redesign also plays. Then the Juice option, I mean that's just perfect. Simple, on brand, creative, it has it all. 
6. Celts are the balls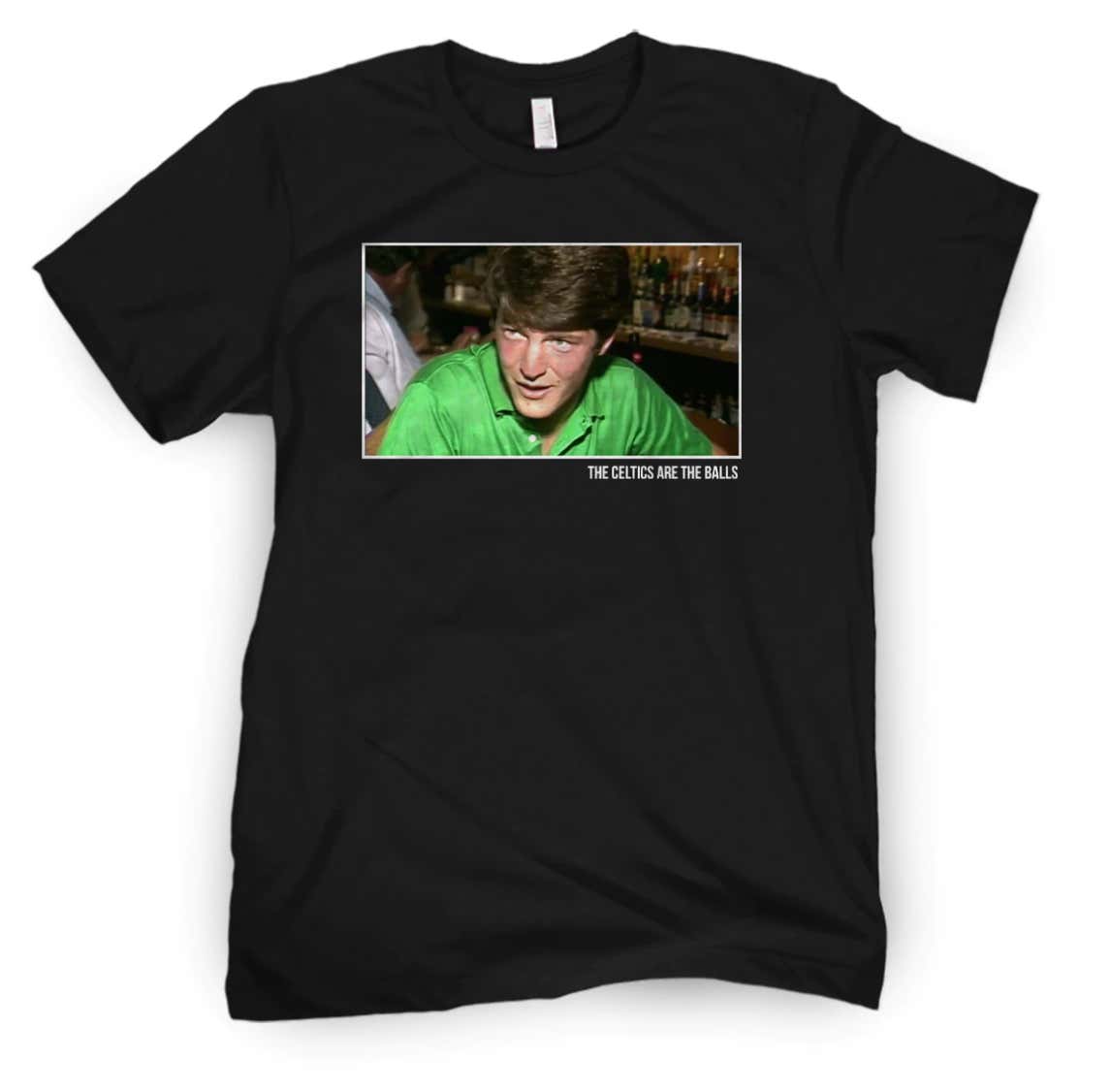 Our fearless leader. There are few things I enjoy more than waking up, immediately grabbing my phone, and putting out this video on gameday. It sets my entire mood for the rest of the day. This man, Donald N. "Donnie" Beardsley, unfortunately passed away back in 2015. I'm sure he would love this Celtics team and think they are very much the balls, just like the 1986 version. It's only right that we honor him with a set of shirts because again, he wasn't lying. This team is the balls. That's all you need to know.
7. Marcus Smart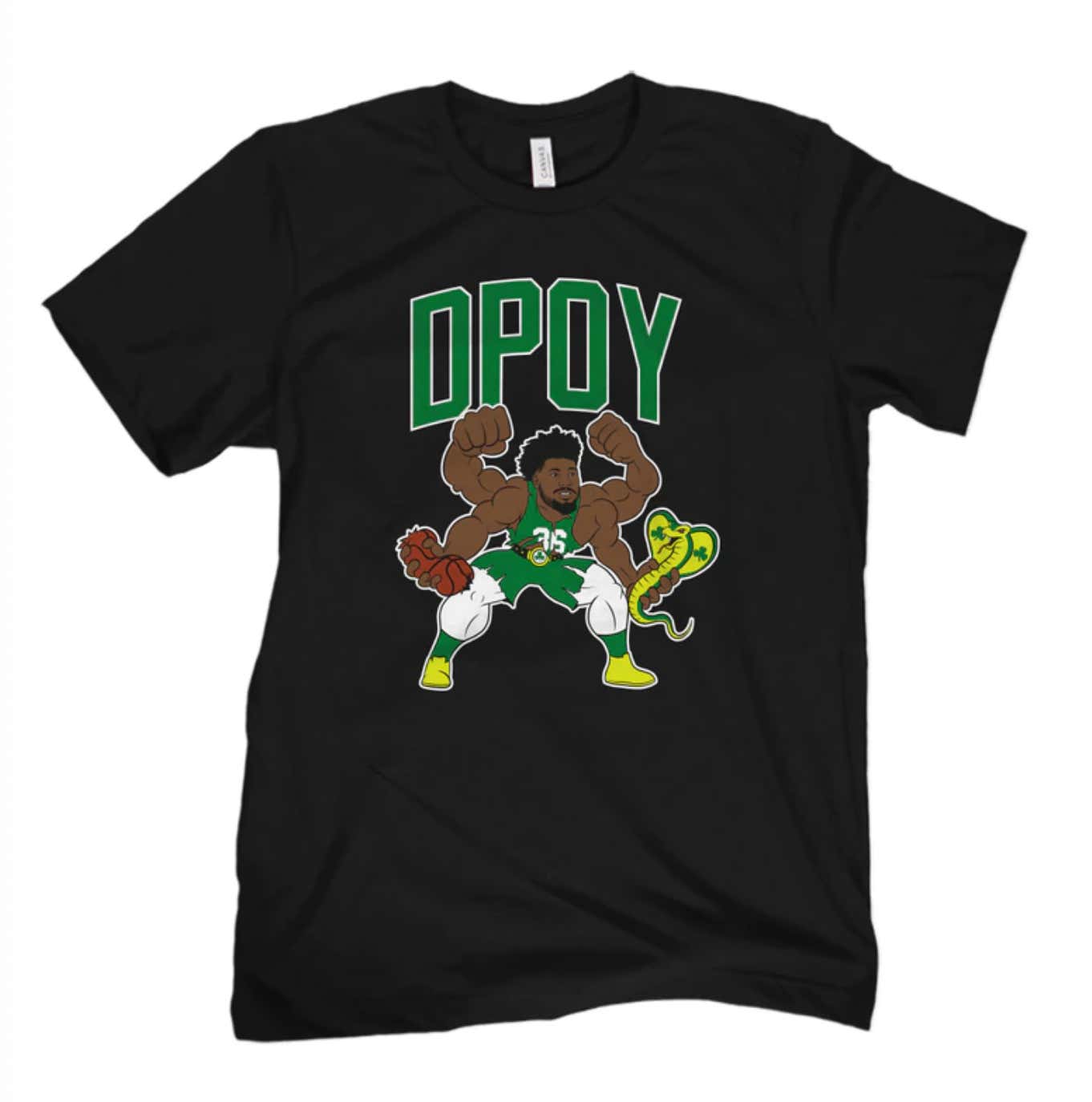 Love and Trust. Of course, the DPOY deserves his own merch. Not sure if you heard, but he's the first point guard since 1996 to win it. Nobody pulls off a DPOY Robe like Smart. Anyone else comes off like a gigantic asshole if they do something like that. Smart? He's been about that robe life since he entered the league. It just works for him and it can work for you too with the purchase of that shirt.
8. Jayson Tatum
Without a doubt, the Kiss Of Death celebration has taken over this team. Tatum started it all because Deuce thought it was cool, and if Deuce approves of it then you simply have to do it for the rest of your career. That's how this works. Then we saw Grant start doing it, and Marcus soon followed, it's a great move. Every championship team needs a good big time three celebration and few things work better than the kiss of death. When Tatum unleashes this one you, your life is about to get very terrible. 
9. Jaylen and Tatum
Not overly complicated here. The Celts do not have one GOAT on their roster, they have two. There is no #1 and #2 option, there's a 1A and a 1B. Both are franchise guys. Both can carry a game by themselves. So much was made about these two not working, and that was stupid from the moment someone had that initial take. The best part of having both Jaylen Brown and Jayson Tatum on this team is the fact that you have both Jaylen Brown and Jayson Tatum on this team. Two goats in the same package. No other team can say that.
10. Rob
Another masterpiece. No player in the NBA can manipulate realities and the concept of time like our beloved Timelord, so naturally that deserves a shirt. You see what he did last night? Completely changed the game and is probably the biggest X factor of the Finals. That man deserves his own shirt. Playing through pain, doing nothing but cool shit whenever he's on the floor, Rob is blossoming before our eyes into a legit Top 5 center in the NBA. Oh, and he's 24 and is signed long term. Love that.
With so many great options, my advice would be to not drive yourself crazy trying to decide which one to get. Just get them all. It's only money. You do not want to live in a world where you regret not pulling the trigger and a certain shirt you might want is off to Barstool TShirt Heaven. Why risk it? As I said the hope is there's more to come, some with a certain end of the year theme, but in the meantime, this is a good place to start. I don't ask you guys for much, outside of reserving about an hour or so to read the postgame blogs, so let's all join together and buy some goddamn shirts. 
Love and Trust.