Rangers Home Cookin' Will Push Bolts To The Brink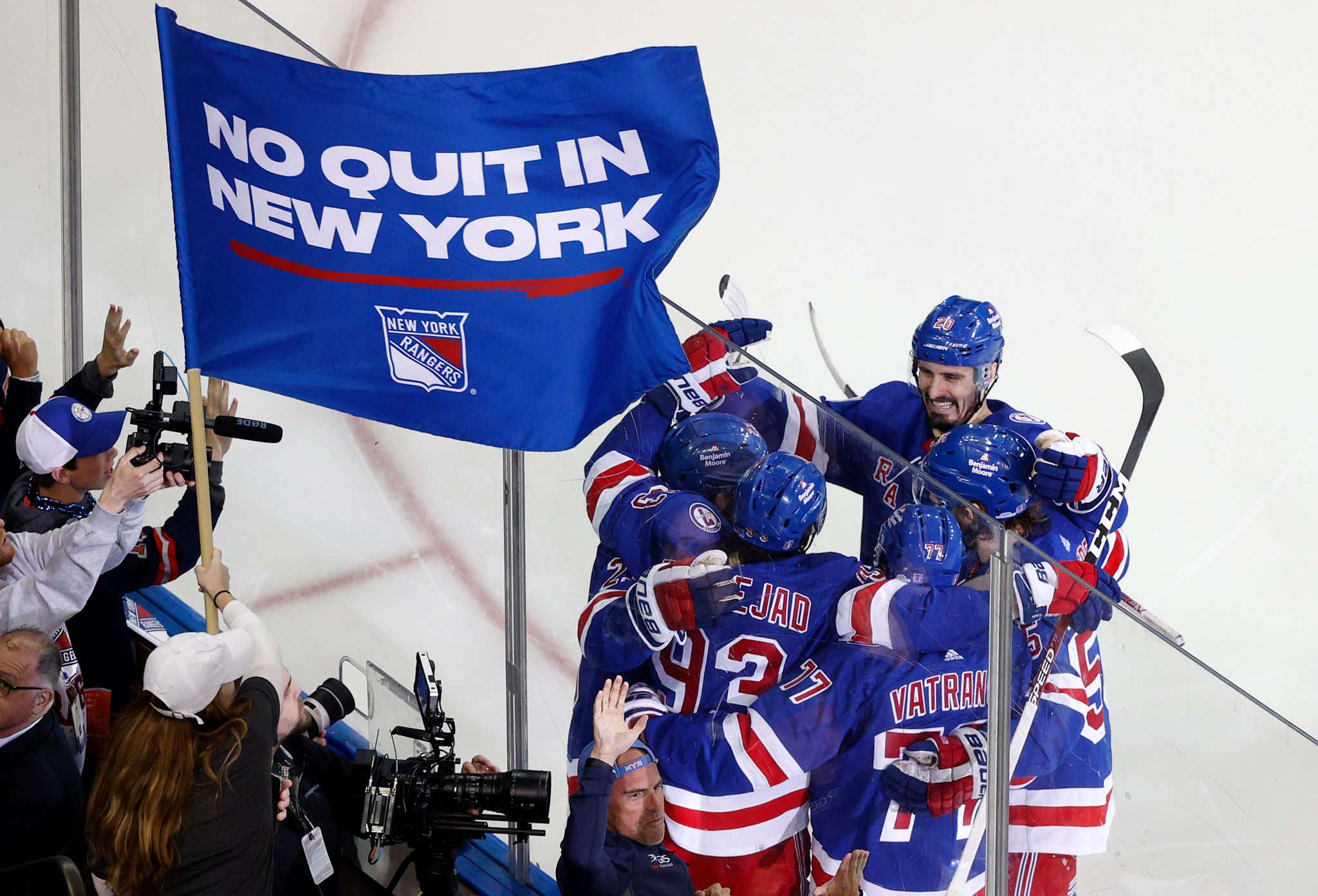 Sarah Stier. Getty Images.
Should the Rangers have won Game 3 after a 2-0 lead? That'd have been preferable - but they should've won Round 1 Game 1 after a 2-0 lead at home & a late goal that (arguably) should've counted. They should've won Round 2 Game 1 but Kakko missed a wide open net that most likely puts the game away. Yet dropping games they "should've" won hasn't had any impact on their advancing so far. Yeah Tampa Bay is a different beast but they're not trailing by two like they were in each of their prior series. They're tied. They have home ice advantage where they've won 8 straight by a 35-16 total. They're 5-1 in Games 5-7 this postseason.
This isn't time to panic. This is when things get good.
Playoff series are all about momentum swings and clearly this one has swung to the two-time defending Cup champs - but I can't stress this enough. All they did was win home games they're supposed to. They're the squad who still has to win one they're not. This is far from the first time the Rangers looked like absolute dog shit on the road. Line matchups made all the difference as usual. Still, they managed to steal momentum back from PIT after being down 3-1 and trailing in every elimination game. They ping-ponged momentum with the Canes and stole it back after being down 3-2 with a Game 7 in Raleigh no one gave them a chance to win. They held serve against the Lightning twice in a row, something that no team has been able to do against TB in 18 prior tries, to start this series with momentum. One home victory and they take it all back.
Obviously the health of Strome & Chytil is a monster question mark - but I can't fathom Strome won't dress after not only skating Tuesday morning but taking pregame warmups with his regular linemates. If he was that close then, the additional rest has gotta be enough to get him in. As for Chytil, who knows. Maybe (just speculation) a separated shoulder and if so, that's really tough to suck it up and play with which puts more importance on Strome's return. You want them both, but if they have at least one the Rangers should be OK especially in a contest where they get last change. Pick your spots to sneak in Mika or Copp with the kid wingers if it's an offensive opportunity or simply let Copp center them all night & move Goodrow to second-line wing.
Concerned? Sure. Scared? Nope. It's a dangerous game to play but the Blueshirts have only thrived in these situations so far. It's certainly possible all this hockey is finally catching up to them. Of course the Bolts are capable of winning at MSG. But until they actually pull it off, this Rangers squad has earned my trust to do what they've gotta do tonight and guarantee themselves, at worst, a winner-take-all opportunity in their own barn next week.
It won't be easy but that's just how these Rangers like it.
VIVA LA BLUESHIRTS!!!!