Rangers Square Off With Lightning In Fight For Eastern Conference Crown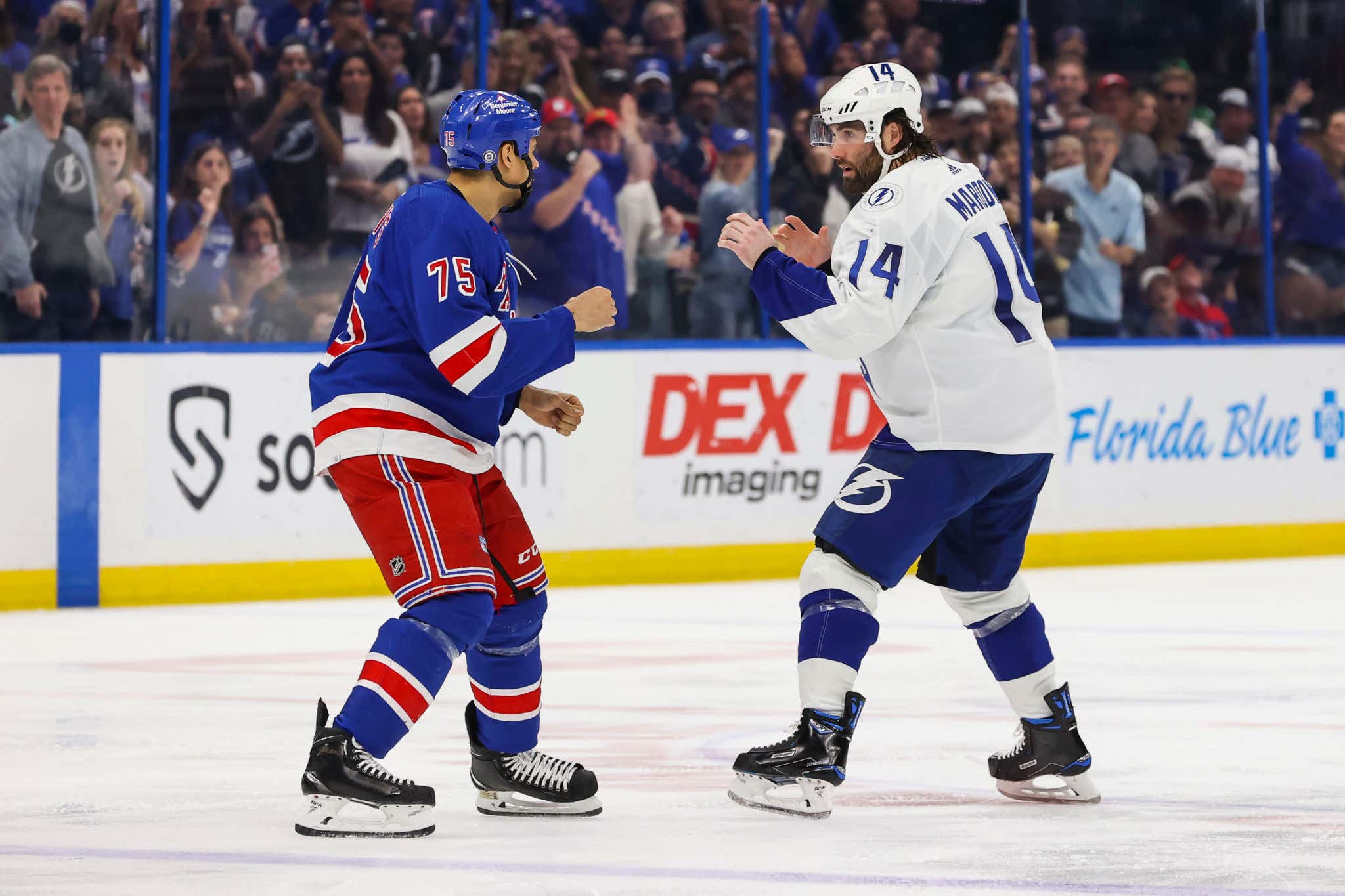 Mark LoMoglio. Getty Images.
It's June 1 and the New York Rangers are still playing, just like everyone anticipated when making their preseason predictions in the fall. An incredible run for such a young squad. Historical, actually. Only the Wild (2003) had won consecutive series after trailing by two games until these Blueshirts upended the Hurricanes in their own barn to advance to the Eastern Conference Final. Waiting for them (for 9 days)? None other than the juggernaut back-to-back defending Cup champs coming off a clean sweep of the league's regular season winners.
There's no disputing '21-22 has already been a huge success for NY. They finished with 110 points to make the playoffs for the first time in five years and have gone on to stockpile valuable postseason experience. Learning on the fly is one thing but the Rangers are skipping grades in bunches & winning along the way. Now just four more W's from the Stanley Cup Final it's MasterClass time taught by Professor Lightning. We all know how this series should go, but if you're still prematurely writing off the Blueshirts then you're just an idiot.
The West has McDavid vs MacKinnon. In the East it's Shesterkin vs Vasilevskiy and regardless of whatever else happens, Igor will have to outduel the current undisputed #1 high-stakes goalie there is. That's a tall order. The 27 year-old reigning Conn Smythe winner is far from a "passing the torch" point of his career as evidenced by ceding just 3 goals on 154 shots against the NHL's top offense in Round 2. The Rangers have hit their scoring stride though with 11 goals in 2 win-or-go-home tilts vs the top regular season defensive squad so it's safe to say they'll do a little better than that. But the Bolts have plenty of high-octane on their end with names like Kucherov, Stamkos, Hedman and (maybe) Point. Shesty will need to be borderline perfect but the Vezina/Hart finalist is capable. Outside of two aberrations early in the Pittsburgh series, Igor's posted a .942 save percentage over his other 12 contests.
Zibanejad & Fox are carrying the offensive load. Kreider leads the East in goals and despite a lackluster stat line, Strome is creating more 5x5 chances than anyone else in the top six and it's not even close. Chytil was tops on the team in goals and shots for the Carolina series as the Kid Line continues to impress. The one name missing here is Artemi Panarin. He's struggled all playoffs and it's almost certain he's fighting through some sort of injury because what we've seen over these 14 games is not the Breadman we're used to. Just one even strength point in the Carolina series - a no-look backhand bounce pass off the boards from the d-zone to spring Strome on an odd man rush - is a problem. It's hard to imagine the Blueshirts stomping out a potential dynasty if their most skilled weapon is a passenger again. If nothing else he'll need to ensure the PP continues to convert at its 33% clip as Tampa Bay loves skating shorthanded just as much as the Canes did.
For as long as the Bolts were able to rest after dismissing the Cats so quickly, it looks like they'll still be missing some key pieces. Brayden Point hasn't been skating and Brandon Hagel couldn't make it through practice yesterday. That's not a good sign after over a week to recuperate. Depth will certainly be an issue for a squad that relied on it (Coleman, Gourde & Goodrow - all gone now) during their Cup runs just as much as any of their superstars. Names like Colton & Paul have stepped up for them so far while Corey Perry did some heavy lifting in an expanded role vs Florida so they've been able to make due. Still, Point and Hagel are two energy & determination guys Tampa Bay is easier to contend with when they're on the shelf.
Everyone's made every excuse to shoot down the Rangers run. Refs, injuries, backup goalies, blah blah blah. Can't wait to hear the next one when the Blueshirts once again get it done in 7…
"Maybe try beating a team that isn't exhausted from winning back-to-back Cups…"

- #NYR haters in two weeks

— 610 (@610Barstool) May 31, 2022
VIVA LA BLUESHIRTS!!!