The Yankees Are Absolutely Terrifying & Pete Alonso Hit A Baseball Into My Chicago Backyard (MLB Round Up Blog)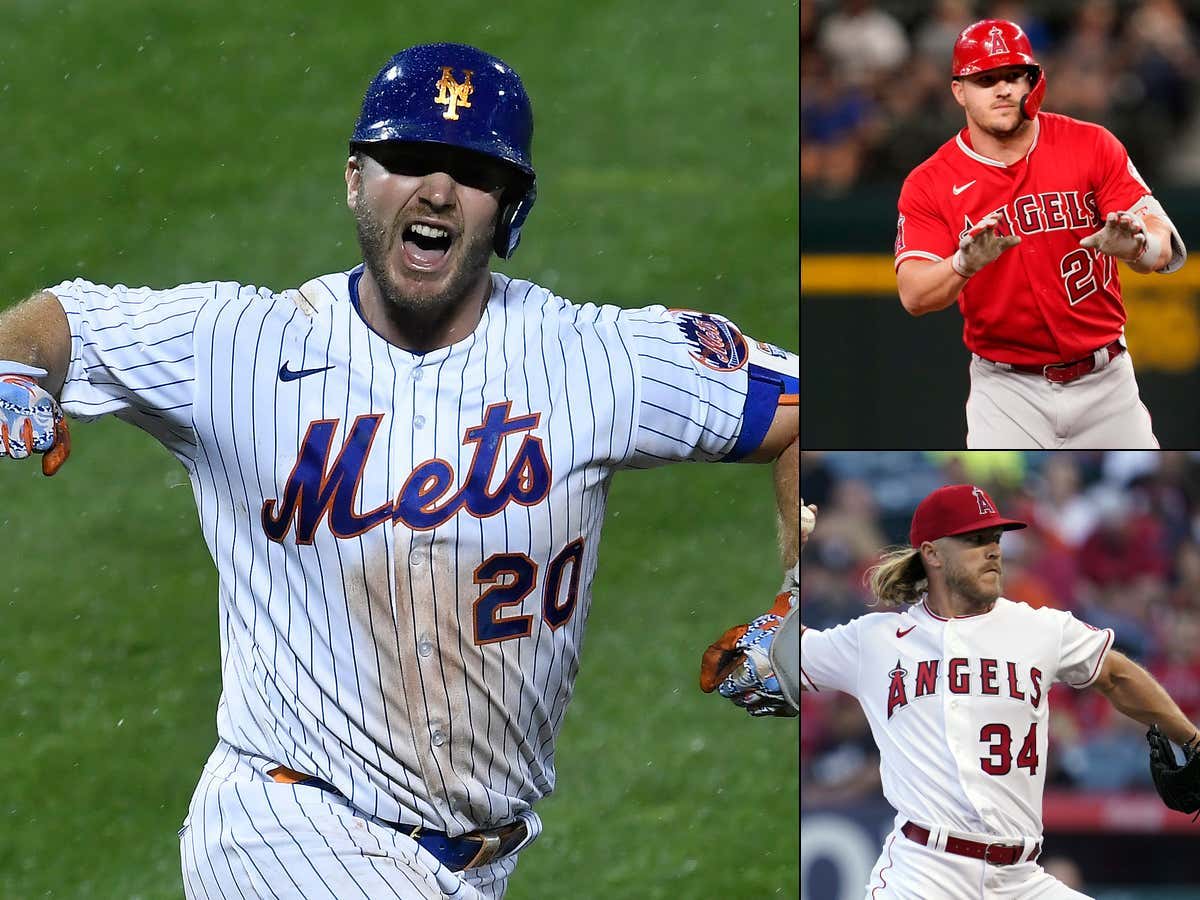 I owe you guys more of these but have been a little busy getting the new schedule figured out with Starting 9. Not exactly an exhaustive project to work on but same time there's just a lot more behind the scenes stuff going on. As we get the show up and running there should be more blogs and videos. On that night go so subscribe to our shit so we don't get fired like Brandon's wrestling show. Link here.
Today's Friday which means it's a good opportunity to level set going into a big weekend. We had some fireworks last night and hilarious walk off in Baltimore. But first let's round up some standings. 
NL
- Don't hit the panic button in Atlanta just yet. The Mets have been so hot and now they're down another Ace. Sucks to get two of them and they both get hurt. To me the Phillies still need to pitch and catch it to be a real threat and Miami could be the one to make the August run. Somebody always does. But for now the Mets are in control with an extremely balanced lineup. I think this division is subject to the most change 2-4 than any of the other divisions the remainder of the year.
- Classic snooze fest in the Central. People were surprised I didn't put the Pirates in my bottom 5. But that would mean the Cubs also being in my bottom 5 and I don't think the Cubs are nearly as bad as the record suggests. In either case, the Reds still suck and the Brewers are clearly the big boy on the block with that nasty, filthy, disgusting rotation. 
- The West reminds me of the AL East when you had 3 teams winning 90+ games year in and year out. Absolute fucking wagon of a division where even the Dbacks have dominant starting pitching and Colorado is historically one of the hardest places to play. Absolute death trap going on in the NL West. 
AL
The AL West is gross to me. Houston is dirty. The Angels have such unproven starting pitching. The Rangers look disheveled or dominant. Seattle has been a robust disappointment and I'm pretty sure Oakland would rather be dead. Seriously. 
- The AL Central is interesting because the White Sox have been categorically terrible relative to expectations. I mean downright TERRIBLE. The lineup has been atrocious outside of Robert and Tim Anderson. The front office took some risks and they're getting killed for it now by the fans. This is the complete opposite of how White Sox fans wanted to start the season. Now it's getting hot out and you know the fists will be flying. Unique situation here as the stadium will draw huge crowds this summer, but will the team be worth the watch? For public safety purposes, let's hope so. Otherwise the Twins can keep building a lead that might not collapse as fast as people expect. Chris Paddack going down for the year doesn't help. Baseball would be better off if the White Sox reached their potential so let's stay positive and hope for that. 
- Meanwhile the Red Sox are about to get scorching hot. At least that's what Elio says and I'm inclined to believe him. The Rays continue to be productive and steady. The Yankees are a fucking wagon. But all good things come to an end, or as they say in baseball regress. And at some point I think we see that at the top of the division with the Red Sox moving back up. Otherwise it's fire sale time in Boston which I was nearly quick to declare this week on Starting 9. But I'm cooling off now and reading the tea leaves aka listening to Elio. They could get hot. 
- Wild Card should be juicy this year. Make it a best of 2-game series aggregate score like soccer. There's your fix now let's get to the news. 
Pete Alonso hit a baseball into my living room yesterday
It was also hilarious watching the Yankees lose on a walk off over the LF fence that they've relentlessly bitched about
Tough for me taking the Yankees -1.5/o8 for +200. They were up 5-3 going into the bottom of the 6th. I was feeling extra dangerous but no. That's okay. I stay ice cold while Trevor Story gets red hot.
Honestly the Red Sox can probably just directly correlate their 2022 season success with his wRC+. Like if Story sucks then that team is going to flop. If he's a stud, they take off. There's your hard hitting Red Sox news.
Here's your hard hitting reminder that Paul Goldschmidt hits fuckin BOMBS. Even though they lost. Just watch this man drop the barrel on a fastball. It's a thing of beauty: 
Also beautiful, a nondescript hidden ball trick from a non MLB game:
Let's stay outside MLB once again and shoutout the boys at Millard West. They play unbelievable HS baseball at the Millards in Nebraska and I say that without an ounce of hesitation or irony or whatever. Millard North. Millard West. Millard whatever. They're always fucking people up in Nebraska high school baseball. Congrats to West on this epic moment that will surely live at the front of these boys' memories for the rest of their lives
Some pretty solid lettuce in that video too. 
Lots of floppy salad. We like that. Again - congrats to the boys on both sides. Even the losers. Nothing you can do about a 450 foot bomb to walk off a state championship. 
In closing thoughts - reminder that Robinson Cano is still playing. 
That probably pisses off a lot of you weird Mets fans but what doesn't? 365 hits away from 3,000. Should be interesting to see how long he's willing to grind that out. Odds are looking slim but I want to be optimistic. 
Speaking of good vibes, maybe Robbie would be a great guest for Starting 9? New episodes are out every Tuesday and Thursday morning with me and Jake Arrieta. You can and should subscribe to the show for good baseball talk twice a week. 
Here's the most recent episode with Joe West. Great stories and insight. Give it a listen and leave a review.