The Only Thing Standing In The Way Of The Celtics Making The NBA Finals Is Another Postseason Demon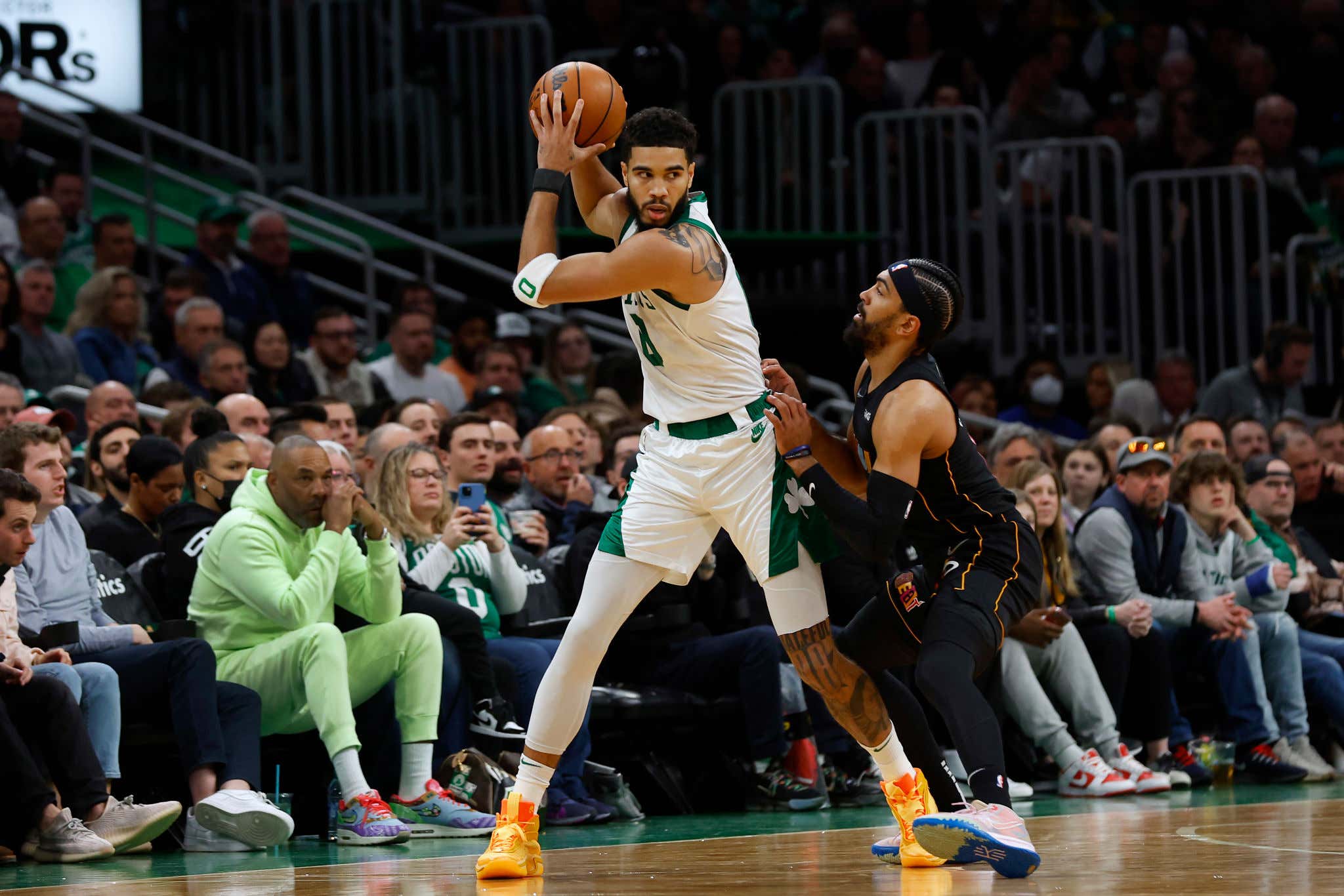 Winslow Townson. Getty Images.
They say the journey to the top of the NBA mountain is never supposed to be easy. To be the best, more often than not you have to find a way to beat the best. Now that the dust has settled on the Celts Game 7 victory, let's take a step back and see just how true that theory is.
In Round 1, they beat the best scorer on the planet and the supposed most skilled point guard ever 
In Round 2, they beat the best player on the planet and the defending champs
In Round 3, they are now tasked with beating the #1 seed in the Eastern Conference
To put it simply, it's hard to find a tougher path to the NBA Finals. Then if the Celts are fortunate enough to even get there, your reward is Luka or Steph Curry. Fair to say if they pull this whole thing off, it's the very definition of "earned not given". For my money, this will be the Celts' toughest challenge to date which sounds insane because of the series we just watched them win. The thing is, the Heat are a way more complete team than either the Nets or the Bucks. Yes, they don't have that generational talent who can win games by himself that you have to plan your entire defense around, but they don't need that. That's not how they win. Instead, they are balanced. They operate as a collective unit and do not rely on one guy. Think of everything you love about this current Celtics team. They defend at a high level, they are well coached, they can shoot (at times), and most importantly they are tough as shit and are in no way intimidated by whoever happens to be across them.
I also just described the Miami Heat.
That's what makes this series so great. Not only is there the bad blood from the 2020 Bubble collapse, but these teams are so similar in all the ways that make them successful. While Jimmy Butler may not be KD or Giannis from an individual talent perspective, is anyone still doubting his ability to play at that level at any given point of a series? He's a gamer. He's a guy with a level of confidence that can legitimately will his team to victory. Bam is a DPOY caliber defender who can guard 1-5, just like the Celts actual DPOY. 
Guys like Butler/Bam/PJ are going to be physical as hell with Tatum/Brown. PJ Tucker was put on this planet to be a tough as shit defender who will nail corner threes if you leave him open. He has championship experience. We saw early in the Bucks series how that impacted things before Tatum figured out how to adjust. Coach Spo is going to figure out how to actually make in game adjustments, which is to something either head coach in the previous series ever did. That alone makes this a more difficult challenge. Spo won't be stubborn. He'll change shit on the fly without hesitation.
Look, we can also talk about the fact that this play from Bam has haunted my entire existence for the last two years
But that's also why I keep going back to this Revenge Tour. The Celtics are taking down their demons one series at a time, and it's only fitting that their final step to getting into an NBA Finals is taking down the last team and the same players that killed that dream 2 years ago. That's some cosmic shit that at this point I've stopped trying to deny.
To do this though, a few things are going to be very important.
1. Guard the 3pt line/Bam in P&R
We all remember Bubble Herro. Well now he's even better. We all know that Duncan Robinson seems to be unplayable in every other playoff series yet somehow will find a way to go 7-12 from deep against this team. You know Max Strus has not forgotten that the Celts cut him in favor of Javonte Green/Tacko. While Lowry's health is up in the air, he's been known to make big time threes late. 
The Heat enter this ECF not really shooting up to their capability in my opinion. They are 10th in 3PM at 11.2 and only 13th in 3P% at 32.1%. I don't care. I've lived through what hot MIA shooting can do. Having discipline on the perimeter is key to winning this series. The Bucks had themselves a decent amount of open looks, they just stink at shooting. You give those same looks to the MIA shooters, you will not see them go 3-19 or whatever. 
The key will be to make this team beat you in the halfcourt, just like MIL. It's not as if the Heat have this devastating half court offense, in fact there are plenty of examples of them having issues breaking 100. Playing them is a rock fight, and that's exactly how they want it. They know that if they can keep a game close, Butler will come through in the clutch offensively and Bam will come through in the clutch defensively. 
If you remember the bubble series, the Bam P&R was a big time issue. As great as Theis can be, that is a matchup nightmare for him. Bam doesn't even acknowledge Theis defensively, he may as well not exist. That's why having Horford this time around is going to be so important. We saw the Celts struggle at limiting the Giannis P&R, and I can guarantee you Spo noticed as well. I expect to see a lot of Herro/Jimmy P&R with Bam until the Celts can prove they can stop it.
2. Remember how to beat a zone
In most cases when the Celts lose to the Heat, it's because they go brain dead whenever the Heat decide to unleash their elite 2-3 zone. It's not your typical zone given how they trap the corners, and it's something the Heat have down to perfection. So often we see the Celts forget that all you have to do is put someone on the nail. I don't care if it's Tatum/Smart/Horford, I just need this team to be ready for it. We're absolutely going to see it until the Celts can prove they can beat it, and the Heat will have no problem daring the Celts role players to knock down shots. 
The key here will be making sure the Celts make quick decisions. The worst thing you can do against a zone is hold onto the ball and wait. You need to move quickly and you need to be decisive. The second that Heat defense can sense you second guessing what you should do, it's over for you. They are too good defensively. 
The hope here is that given how often the Celts have seen this zone, they'll be prepared. It changed the ECF in 2020. It was also a big part of the Heat's win against the healthy Celts in March. They have length, they operate on a string, and they are versatile. The easiest way to hide their "worst' defenders is to unleash that killer zone, so how the Celts handle it will ultimately decide this series.
3. Keep your composure
This is also an area that did the Celts in during that 2020 collapse. It was something we needed to see them do against both the Nets and Bucks, who are other teams that have known to get the Celts off their mental game. Given how physical the Heat are, the Celts are going to feel like they get fouled A LOT. We know they also have a problem with the whole complaining to the refs thing. It's a fatal flaw unfortunately at the moment that more often than not gets them into trouble.
You simply cannot do that in this series. There will be plays you think Bam fouled you, but it's going to be a no call. There are times where Max Strus somehow has a great defensive stop against Tatum, and he'll complain. That shit will be your downfall. The Heat do a great job of staying mentally locked in, and that's what makes them so tough. The Celts, have composure issues at times. When that happens they begin to force things offensively because they play mad rather than play smart. Things then usually tend to balloon, and the next thing you know Herro has made back to back threes, and the lead goes from 6 to 12. 
My hope is that after what we just watched against the Bucks, that Ime is stressing this. That the same players who were part of that 2020 collapse understand that their mentality had a lot to do with it. The Heat want to dirty things up, make it a rock fight and prove that you can play that way over the course of 48 minutes. The good news is, so do the Celts. They welcome that smoke. They've proven they can handle it, but it absolutely remains a question for this series.
The Heat may have gone through most of the season and playoffs without the public love or the headlines, but who gives a shit. This is a very good team with deep playoff experience who will enter this series with home court and all the confidence in the world. We still have no idea what the deal is with Smart's foot or if Rob will play, and they are working through their own issues with Kyle Lowry's hamstring. Everything suggests that this is going to be an all time epic battle, and that's how it should be with two teams that are so evenly matched. 
For the Celts to get where they want to go, they are going to have to get past another previous boogeyman. This team feels ready, I think they understand what opportunity is in front of them, and all they've done this entire postseason is give you confidence that they are ready for this moment. We'll find out starting tomorrow just how true that really is.
Greenie Prediction: Celtics in 6