The Official Barstool 2022 PGA Championship Preview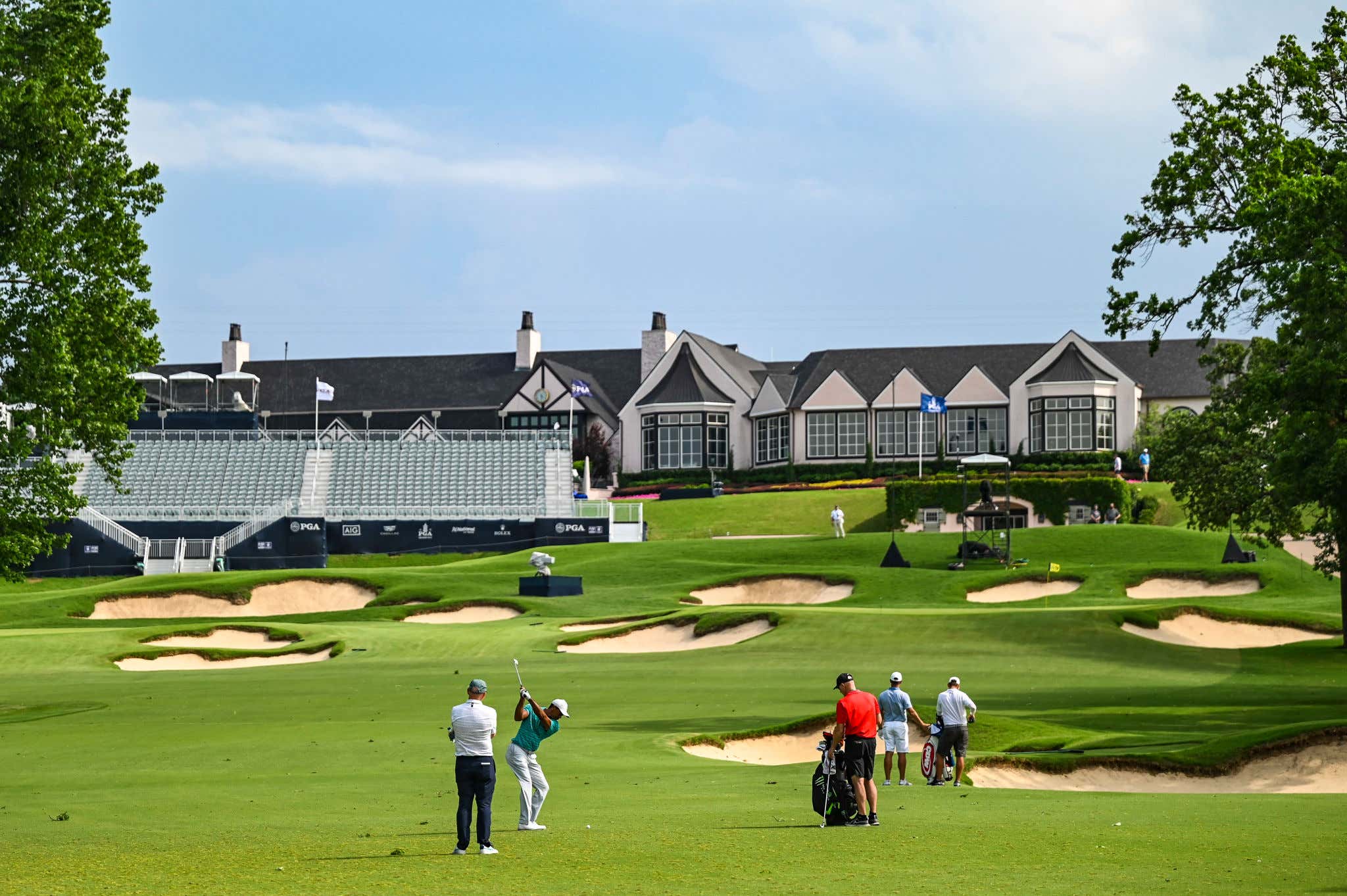 Keyur Khamar. Getty Images.
It's time for major championship golf baby! Welcome to PGA Championship week, the red-headed stepchild of golf's major championships. This year's edition brings us to Southern Hills Country Club in Tulsa, Oklahoma, one of the most exclusive clubs in the country. This is the 5th PGA Championship contested at Southern Hills, with the last having been played in 2007 when some guy named Tiger Woods took home the Wanamaker. Southern Hills has also hosted 3 US Opens and numerous other USGA championships, so you know it's a certified track. Should be a blast.
Last year we saw Phil Mickelson win the PGA in one of the great triumphs the sport has ever seen at Kiawah. He held of Brooks Koepka and Louis Oosthuizen on one of the more exciting major Sundays in recent memory. Of course, Phil is not defending his title as he's withdrawn and continues to go dark after saying some… not very smart things. Incredible how much can change in a year. Here's last year's leaderboard, along with the 2007 leaderboard that features nobody other than Tiger that will be a factor this week.
2021 Leaderboard
2007 Leaderboard @ Southern Hills
Recent Winners
The Course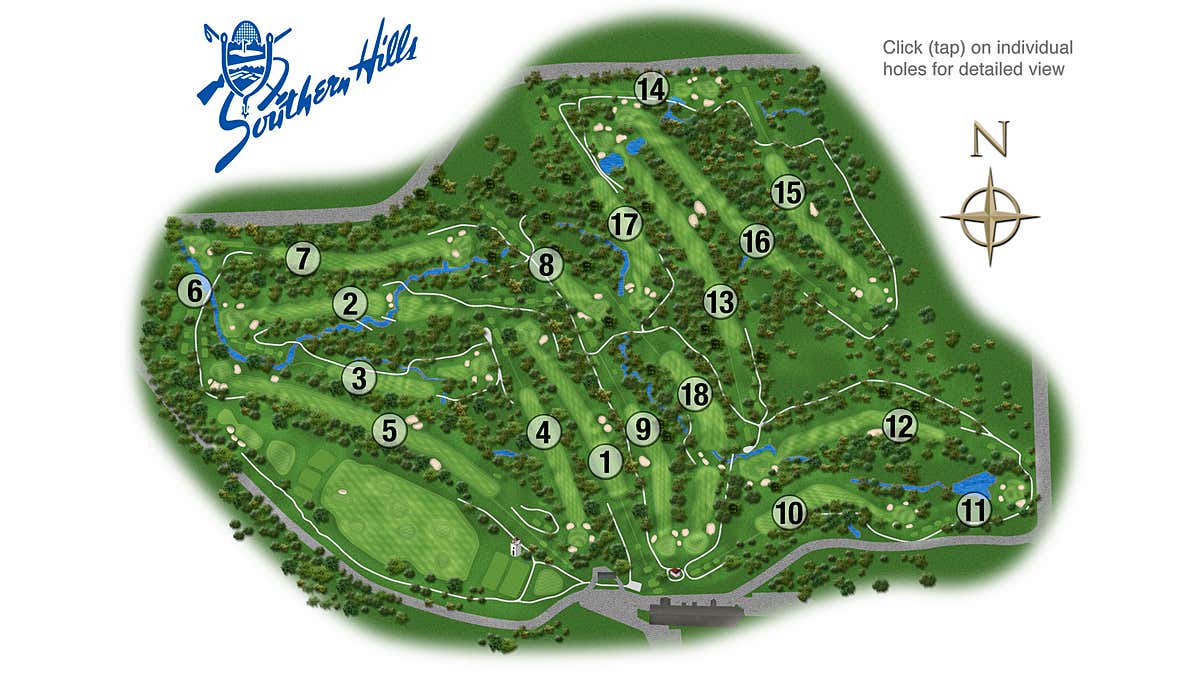 Southern Hills is a tremendous course playing as a par 70 for this tournament at 7,566 yards from the furthest tees. It was originally designed by Perry Maxwell and opened in 1936 and has gone through a variety of tweaks since, but most notably underwent a Gil Hanse renovation in 2019. His vision (as it often is with his re-designs) was to lengthen the course while shifting the course back towards its original design character. 
A huge part of that was a partial deforestation of the course - namely removing trees that had grown too large over the length of the club's history. Now that might make you think that would make the course a bit easier - and for schmucks that spray it left and right off the tee into trouble like you and me, that's probably true. But taking those trees out actually allows the hellacious winds that are typical of that region of the country to blow through and have more of an effect out there.
That's going to be a major factor this week as the greens at Southern Hills are smaller than most you see on Tour, and have tons of false fronts and swales that will run balls off the greens in a heartbeat. That makes the areas on which you can land and stop approach shots even tighter. The winds will only make that more challenging.
The greens are bentgrass and the surrounding areas are shaved razor tight. It's gonna be firm and fast, and a little bit reminiscent of Augusta National. Those who can chip and putt well are going to have a serious leg up. Obviously at 7,566 yards you're going to need some length too, but that's mitigated by the firm fairways that will allow tee shots to roll out a bit.
Of course, you'll notice that there are only 2 par 5's and they are absolute beasts, clocking in at well over 630+ yards. There are 7 par 4's clocking in at over 450+ yards and three of the 4 par 3's are over 225+ yards… so you're probably gonna need to use the full bag to get it done out here. Should make for a great test.
If you have 12 minutes to spare on a full hole-by-hole and love a lil drone footage, here ya have it.
Best Hole - 18th Hole, Par 4 491 yards
This is a great finishing hole, and I feel pretty confident this is gonna be a tight tournament down the stretch that comes down to this one. Long, uphill dogleg right par 4 back to the clubhouse where you're gonna see very few birdies this week. It's gonna make whoever is holding a tight lead SWEAT as they try to get home.
The "Caddie Note" from Southern Hills' website sums it up pretty well.
"A truly great finishing hole, this dogleg right requires a drive to a plateau on the left side of the fairway 200 yards from the elevated green. A long-iron or fairway-wood second shot must carry to the green. The severely sloping green from back to front will cause many three-putts. It is the most difficult par on the golf course."
From someone in the field:
The Format
Stroke Play, 72 holes, 156 golfers. The PGA Tour shifted to a 65-man cut a couple of years ago, but the PGA Championship has stuck with the Top 70 and ties cut.
This field is comprised of a variety of the world's best who have qualified on the merit of their current game, past PGA Championship winners, and 20 PGA professionals who are more or less club pros who qualified through their own qualification process. Typically only a couple (if any) of those guys make the cut, and when you factor out the Rich Beems and Shaun Micheels of the world, the true field size of this event is more like 125 golfers. 
The Weather
Nice and warm with a good amount of wind. Should benefit the more seasoned golfers who may or may not have had spinal fusions.
The Coverage
Real simple. ESPN and CBS. SVP and Nantz.
Also, there's a handful of tournaments of year where the PGA Tour website/app is not your best friend for the most updated leaderboard and lags about a hole behind the actual action. This is one of those tournaments. You can find the most updated leaderboard on the PGA website HERE. That's also where you can find the tee times and groupings for Thursday.
This threesome in particular has me rock hard.
The Trophy (as modeled by the GOAT in 2007)
David Cannon. Getty Images.
If this is your first time to my preview blogs, welcome. This is the section where I review the week's hardware. The Wanamaker is right up there with the best. It's just a classic design. Many other trophies emulate this design and come up short. Those aren't major championship trophies and they shouldn't try to be. Stay in your fuckin lane, RSM Classic. Anyways, it's an iconic trophy, it's got great size for the mantlepiece, and hopefully it stays in one piece thru the ceremony on Sunday. It's an 8.6/10.
Let's Talk About Tiger
Andrew Redington. Getty Images.
Every time Tiger pegs it in a tournament, he's gonna be the main storyline. All reports this week seem to suggest that Tiger has continued to improve the strength in his leg and (more importantly) his ability to recover and regenerate after a long day on the course. What we saw with him making the cut at Augusta was a treat, but it was clear and obvious how 4 days of tournament golf wore him down. Enough for him to be non-committal immediately after as to whether he would even be playing the PGA. So the fact that he's not only here but any and all doubt of him even playing was erased long before he got here is a great sign.
With that said, he grinded his way to the weekend at Augusta. Much of that result can be attributed to his intimate course knowledge of that property. While he does have that to some degree having won a PGA here at Southern Hills 15 years ago, it's hard to imagine it's anywhere near the advantage he had in Georgia. So it'll be fascinating to watch how his game and body holds up on a golf course where he doesn't know every nook and cranny of the property. 
There are certainly things working in his favor. First off, he's swinging it at roughly the same speed as he was pre-accident, so he's not really giving anything back to the field in terms of distance off the tee.
Second, the weather is going to be far warmer than it was at Augusta. That Saturday at the Masters was absolutely crippling for his body. It's easy to forget given so much attention paid on his leg that he's still got a fused back and numerous other ailments that come with being a 46 year old professional golfer. That should not be as much of an issue here, and hopefully he can play well enough on Thursday/Friday to earn himself a later tee time on the weekend when the weather is even warmer.
And lastly, he's Tiger fucking Woods. That's always working in his favor and always will. You're silly if you doubt his ability to do anything. Nothing could surprise me this week with him. Nothing.
The Board
World #1 Scottie Scheffler is your favorite at the Barstool Sportsbook at +1100 after winning the Masters (and 3 other tournaments) earlier this year. This is the first tournament Scheffler and Rahm have played together since that Masters and Scottie has finally overtaken Rahm as the guy Vegas views as the guy to beat out there. The conditions here in Tulsa are not too different from the Texas golf courses that Scottie is accustomed to playing on, and that should play into his hands this week. I took him 100/1 to win multiple majors this year so I'm in his corner yet again.
Otherwise, I'm gonna ride a hot hand here though and say that Jordan Spieth is going to get the career grand slam done this week. I love him at +1800. As more and more guys come off the course from their practice rounds this week, the buzz continues to build that the short game is going to be absolutely massive this week. That and course management, leaving your misses in the right places, stay below the hole etc etc. All of that SCREAMS Jordo. He's coming off a runner-up last week and a win in the tournament before that, and he's driving the ball as well as he ever has in his career, both accuracy and distance-wise. Hell, you can see here that Spieth is even out-driving the likes of Rory and DJ this year. What I said about Scheffler's local advantage goes for Spieth as well, so I'm gonna ride the Texas boy to a victory this week.
Other Plays 
Cameron Smith To Win +2800/Top 10 +250 - Another guy that fits the Spieth/Augusta/short game profile
Brooks Koepka To Win +4000 - Game has been very hit or miss this year but I can't lay off this price on Brooks in a major
Daniel Berger To Win +5500/Top 10 +500 - He's a better golfer than this price. He flies it low which should help in this wind.
Talor Gooch Top 10 +1100/Top 20 +350 - Good stick. Finished top 20 in half of his last 12 events on Tour.
Gary Woodland Top 20 +450 - This is a Gary kinda course. Stingers.
Harry Higgs Top 20 +1200 - Finished T-4 last year. Played at SMU which means he fits into that Texas/Oklahoma slant I've been leaning into.
Tiger Woods +100 over Sergio Garcia (Tournament matchup) - Fuck Sergio. Go Tiger.
Finish in a Playoff +350 - Speaking of Sergio, we haven't had a playoff in a major since he beat Justin Rose at the 2017 Masters. We're due.
Lastly… Join the Unders Club. If the winner's score is -10 or better, you cash. Tiger won this thing with -8 fifteen years ago, but players these days are so superior it's silly. He more or less said he expects the winner to go lower, so take it from someone who would know.
I'll be here all week. Feel free to follow @BarstoolBanks.
Enjoy the PGA Championship.