Mississippi is Suing Hall of Famers Brett Favre and The Million Dollar Man for the Welfare Money They Took
Joe Robbins. Getty Images.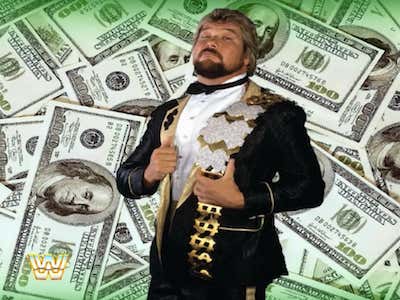 It's getting harder by the day to believe in anyone anymore. To find people you can look up to in this corrupt, compromised, morally bankrupt vale of tears we walk through each day. To the point we are disillusioned on an almost constant basis by even our most heroic figures. 
Take for example two of America's most recognizable icons: The Quarterback and the Businessman. There was a time not long ago, when a good man would teach his children to look up to figures such as these. To aspire to be like them. And nobody, but nobody, embodied the essence of these two Jungian Archetypes like Brett Favre and Ted DiBiase, The Million Dollar Man.
Brett Favre was The Gunslinger. The Mississippi Riverboat Gambler. "He's not just a quarterback," we all used to say. "He's a football player." Tougher than a $2 steak. "He'd play football for free," we used to say, every time he leveraged Green Bay, the Jets or Vikings for another top-of-the-market contract. "He's just out there trying to make a play," was our mantra every time he blew a postseason game with an inexcusably bad pick. 
The Million Dollar Man redefined the Wrestling Heel during the WWE's golden age. Making the heel turn from his former incarnation as a babyface, with his suit covered in gold dollar signs, his self-purchased Million Dollar Belt, his limo driver Virgil, and of course his signature Million Dollar Dream finishing move, where he'd stuff bills into the mouth of his defeated opponent. 
But that's all in the past now. Halcyon memories that now lay buried under a pile of allegations of plain old ordinary greed and garden variety corruption. First there was this:
And now there's this:
USA Today - The Mississippi Department of Human Services on Monday sued retired NFL quarterback Brett Favre and three former pro wrestlers along with several other people and businesses to try to recover millions of misspent welfare dollars that were intended to help some of the poorest people in the U.S.

The lawsuit says the defendants "squandered" more than $20 million in money from the Temporary Assistance for Needy Families anti-poverty program.

The suit was filed less than two weeks after a mother and son who ran a nonprofit group and an education company in Mississippi pleaded guilty to state criminal charges tied to the misspending. …  with prosecutors saying welfare money had been misspent on items such as drug rehabilitation in Malibu, California, for former pro wrestler Brett DiBiase. …

DiBiase is a defendant in the lawsuit filed Monday in Hinds County Circuit Court, as are his father and brother who were also pro wrestlers, Ted DiBiase Sr. and Ted "Teddy" DiBiase Jr.

Ted DiBiase Sr. was known as the "The Million Dollar Man" while wrestling. He is a Christian evangelist and motivational speaker, and he ran Heart of David Ministries Inc., which received $1.7 million in welfare grant money in 2017 and 2018 for mentorship, marketing and other services, according to the lawsuit.
I'll issue the usual, obligatory caveats that these are just allegations and that Brett Favre (I still follow the old network TV rule that insisted you never call him by just his last name, anymore than you'd call Superman "Man",) and the DiBiase's are entitled to their day in court. But they'll have to forgive me if my faith is shaken nevertheless. 
The Brett Favre I knew was just a Regular Guy, slapping dudes on the helmet to congratulate them for really laying the lumber to him with a big hit. Million Dollar Man was the very personification of success in our capitalistic system. Handsome. Supremely confident. A man who would defeat you and then humiliate you and then go bribe a hotel desk clerk to kick a couple out of the honeymoon suite so he could have it. Or pay someone 100 bucks to kiss his feet. And who could forget this classic moment?
I just never imagined these two men who dominated our culture for the better part of three decades could ever stoop so low as to take money intended to go to the most vulnerable people in America's poorest state. I hope it turns out not to be true. But if we've learned anything over these many years, it's that our heroes are frauds and capable of anything.