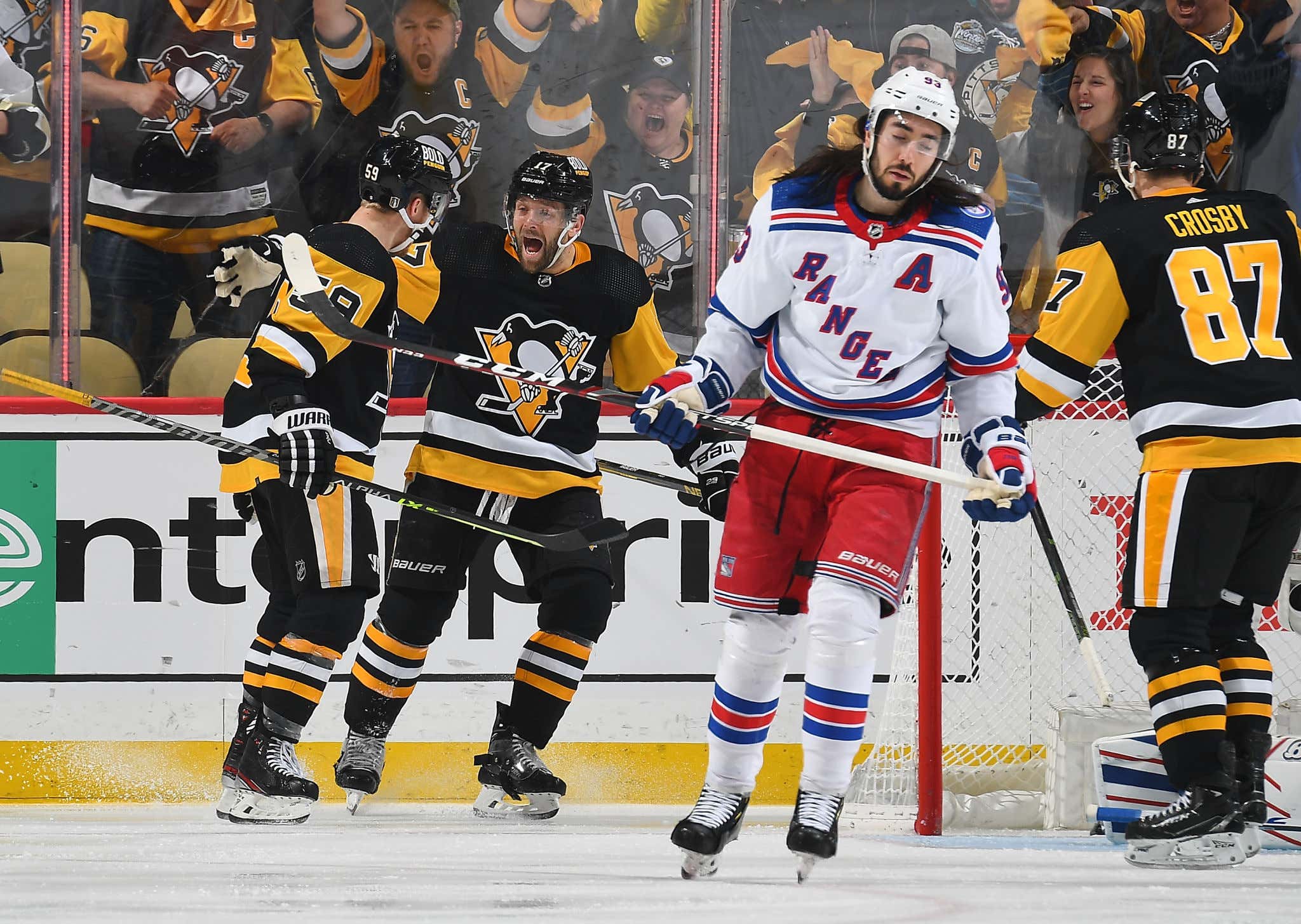 Joe Sargent. Getty Images.
What a fucking joke.
Listen, heading into this series I pointed out that perhaps the biggest advantage in this series belonged to the Penguins in terms of playoff experience. That doesn't mean age - a lot of the kids have been their best players. Most of the Rangers vets don't have a ton and a lot of what they do have isn't in their primes or current roles. I figured that'd keep the matchup closer than it should be but NY would still prevail. Boy did I severely underestimate.
With their backs against the wall in Pittsburgh, despite scoring first for the third time in four games, the Blueshirts absolutely choked. The second period was watching teams play two different sports. Gallant's squad looked lost. Paralyzed. Unsure. Scared. They were boys against men when it came to zone exits and when it was time to atone for their passiveness with the puck, they instead doubled down and decided not to defend. Sure they were "back" but just as a mere formality. No tying up sticks, no physicality, no assertiveness in protecting high-danger areas. Just a clusterfuck.
They must have at least shown some pride in the third period right?
Wrong.
The Pens continued their open skate, doing whatever they wanted to the point where Malkin didn't even bother celebrating their 7th goal. Like he was being a dick at a charity game or something. Shesterkin was far from Vezina form, but there's not a goalie in the world that can win with the lack of heart & composure in front of him. And it's shown itself all series in the face of adversity. Was the no-goal call in Game 1 bullshit? Absolutely. Did they have three more periods to win the game? They sure did. When they mounted a three-goal comeback Saturday night to dig out of a 4-1 hole, did they have 24 minutes and 3 powerplays to pull ahead? Sure did. After the first period ended tonight knotted at 1 on another tough luck goal that came thanks to video review, how did they respond?
The same.
They didn't.
It's obviously not over until it's over, but if this is how a team loaded with Zibanejads and Kreiders and Panarins and Foxs against Louie fucking Domingue handles adversity in Games 1-4 you gotta be smoking some otherwordly shit to think this same crew is all of a sudden gonna reel off three straight.
RIP NY RANGERS
10/13/21 - 5/11/22