A Way Too Early 2023 NFL Mock Draft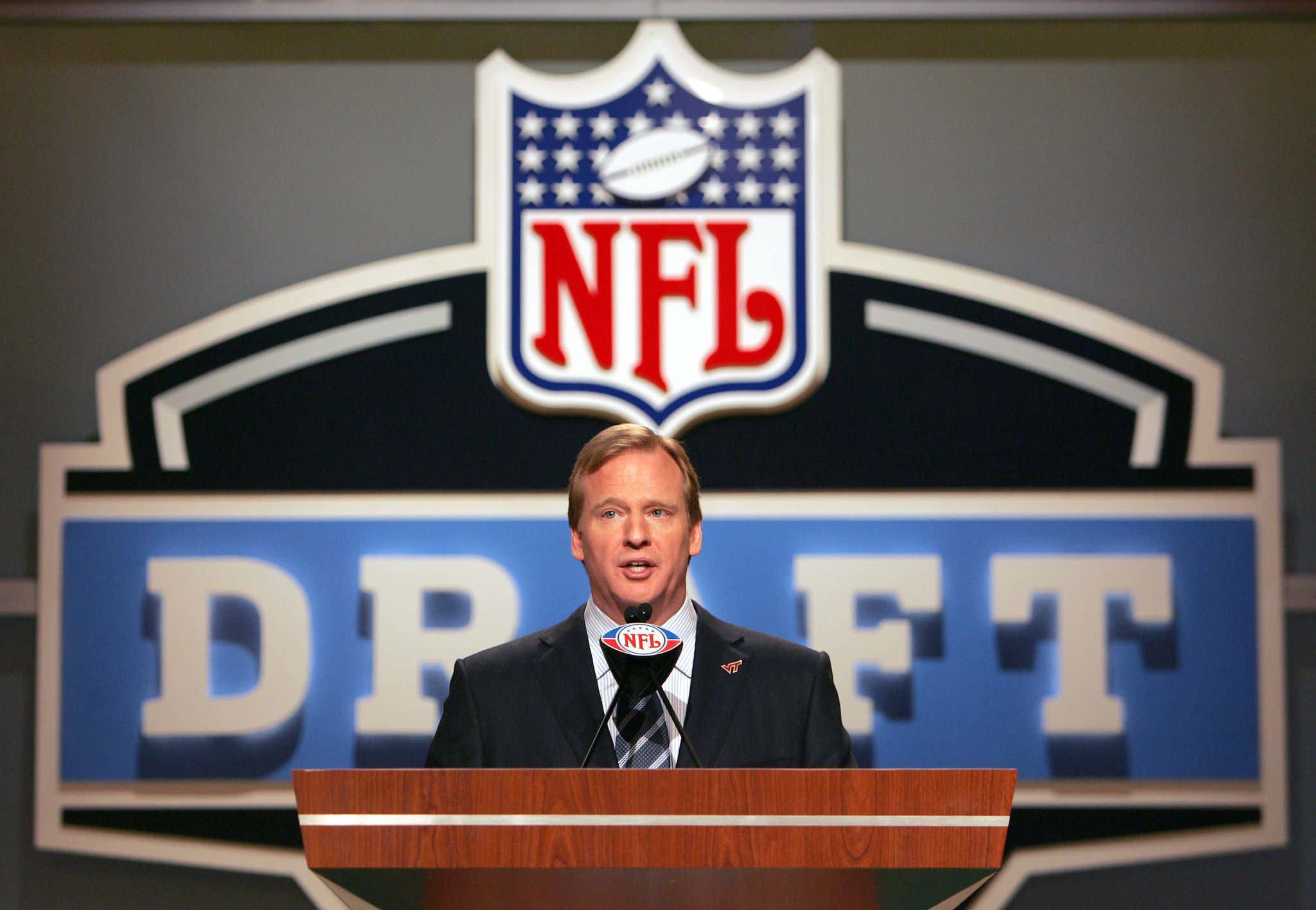 Richard Schultz. Getty Images.
I used the Super Bowl odds and went in reverse to get the Draft order for next year to formulate my way too early 2023 NFL Mock Draft:
1) Houston Texans - QB Bryce Young (Alabama)
The reigning Heisman winner has another year in Tuscaloosa, but should be considered the favorite to be the top pick next year. If the Texans are bad enough under Lovie Smith to get the #1 pick, it'd be hard to justify continuing to roll with Davis Mills.
2) New York Jets - EDGE Will Anderson Jr. (Alabama)
I actually think the Jets will be pretty good next year after the insane Draft Joe Douglas and his staff just put together. With 4 picks in the top 36, they took my #3, #5, #16, & #27 players in the Draft in CB Sauce Gardner, EDGE Jermaine Johnson II, WR Garrett Wilson, and RB Breece Hall. Will Anderson Jr. would have been the clear cut #1 player in this draft and could contend for the #1 overall pick even in a QB-heavy year.
3) Detroit Lions - QB CJ Stroud (Ohio State)
Stroud will also contend for QB1 in this class, but we'll see how he adjusts after losing both Garrett Wilson and Chris Olave. He's still got Jaxon Smith-Njiba, so I expect him to be ok. If he can continue his upward trajectory, he could be #1 overall next April.
4) New York Giants - QB DJ Uiagaelei (Clemson)
He hasn't been as consistent as you'd like to see, but I'm betting on a big turnaround season for Uiagealei. The Giants are reportedly not picking up Daniel Jones 5th year option, so they'll firmly be in the Quarterback market next year.
5) Jacksonville Jaguars - WR Jaxon Smith-Njigba (Ohio State)
He'll have a lot more opportunities this year, but Smith-Njigba would be a welcome addition to a team that just paid top dollar for Christian Kirk!
6) Carolina Panthers - QB Tyler Van Dyke (Miami)
Are we really buying that Matt Corral or Sam Darnold is the guy? Expect a new HC who will want to bring in his guy.
7) Atlanta Falcons - DT Jalen Carter (Georgia)
The Falcons have a ton of holes and continue to replenish talent along the Defensive Line.
8) Seattle Seahawks - EDGE BJ Ojulari (LSU)
The Seahawks need some help on the EDGE and Ojulari has some juice to make an impact Day 1. Keep an eye on them as a QB team as well.
9) Chicago Bears - WR Kayshon Boutte (LSU)
Finally they get Justin Fields some help! Boutte is a dynamic playmaker that could give Jersey Jerry's arch nemesis a legit #1.
10) Pittsburgh Steelers - OT Paris Johnson Jr. (Ohio State)
The Steelers have a makeshift OL and will need to build it up to protect new Franchise QB Kenny Pickett. 
11) Washington Commanders - CB Kelee Ringo (Georgia)
The Commanders to invest any premium capital in the secondary in the 2022 Draft, so I have them taking the Corner out of Athens, GA early in 2023.
12) Miami Dolphins - EDGE Robert Beal (Georgia)
They are going to need to get after the passer a bit more in a division with Josh Allen, Zach Wilson, and Mac Jones. Beal fits what they should need next year.
13) Philadelphia Eagles - CB Tony Grimes (North Carolina)
Darius Slay is getting up there is age and Grimes could inject some youth into the Birds secondary.
14) Minnesota Vikings - CB Eli Ricks (Alabama)
The Vikings went Andrew Booth Jr. in Round 2, but this could be Patrick Peterson's last year, so they'll need to continue to invest in the secondary. Ricks will get top flight coaching and could go even higher in 2023's Draft.
15) New England Patriots - DT Justin Rogers (Kentucky)
The Pats get a big run stuffer from Kentucky in Rogers who helps them get back to their roots on D.
16) Las Vegas Raiders - LB Trenton Simpson (Clemson)
This is of course assuming Will Compton announces his retirement after this upcoming season.
17) Philadelphia Eagles (via New Orleans Saints) - OT Zion Nelson (Miami)
The Eagles continue to build up the trenches which is an area they didn't address in the 2022 Draft. Lane Johnson is starting to get long in the tooth, but they can always kick Nelson inside to start.
18) Tennessee Titans - EDGE Nolan Smith (Georgia)
Surprisingly the Titans didn't take an EDGE rusher in the 2022 Draft and choose to stand pat on Bud Dupree and Harold Landry. Smith gives them a shot in the arm at the position.
19) Indianapolis Colts - QB Will Levis (Kentucky)
Matt Ryan is not the long term answer. Levis has some buzz around him and this could be a good match in the middle of the 1st round.
20) Arizona Cardinals - DT Bryan Bresee (Clemson)
The Cards continue rebuild their Defensive Line and Bresee can help them get some interior push and stop the run.
21) Cincinnati Bengals - OT/OG Nick Broeker (Ole Miss)
The Bengals will need to continue to build up the O-Line around Joe Burrow and Broeker has position versatility.
22) Baltimore Ravens - DT Siaki Ika (Baylor)
The Ravens were hoping for Georgia DT Jordan Davis and just missed out. Next year they could target Ika who is close to 350 lbs. so they can get back to their roots.
23) Los Angeles Chargers - S Jalen Catalon (Arkansas)
Derwin James will be a free agent after the season and this could be a cost savings move as while he's an incredible talent, it'd be tough to pay top dollar for a guy who averages 4 missed games/year.
24) Seattle Seahawks (via Denver Broncos) - OT Ryan Hayes (Michigan)
They did just draft Charles Cross 9th overall, but they'll need to continue to build up what has historically been a very porous O-Line.
25) Dallas Cowboys - WR Marvin Mims (Oklahoma)
Amari Cooper and Cedrick Wilson are both gone, so Dallas goes looking not too far from home to find Mims early in the Draft next year.
26) Houston Texans (via Cleveland Browns) - TE Michael Mayer (Notre Dame)
Texans GM Nick Caserio comes from New England where they really value Tight Ends highly. I'd expect 'Baby Gronk' Michael Mayer will be a coveted piece by the Texans.
27) Miami Dolphins (via San Francisco 49ers) - WR Jordan Addison (Pitt)
Tyreek Hill was a big get, but they'll need to continue to build up their weapons for Tua Tagovailoa and definitely not Tom Brady.
28) Detroit Lions (via Los Angeles Rams) - CB Joey Porter Jr. (Penn State)
Jeff Okudah can't seem to stay healthy so the Lions need more help at Corner. Porter Jr. makes sense here in this pick that was part of the Matthew Stafford deal.
29) Green Bay Packers - WR Josh Downs (North Carolina)
Will the Packers really draft a WR early to help out Aaron Rodgers? Nah probably not.
30) Kansas City Chiefs - CB Clark Phillips III (Utah)
Trent McDuffie was a great pick this year but they still need help at Corner. L'Jarious Sneed is also in the final year of his deal in 2023.
31) Tampa Bay Buccaneers - EDGE Derick Hall (Auburn)
At 6'3" 251 lbs. he had 9.0 sacks and 12.5 TFLs as a Junior for the Tigers. Joe Tryon-Shoyinka looks like a stud as EDGE, but Shaq Barrett is starting to get up there is age, so they take Hall round 1 as a rotational piece.
32) Buffalo Bills - RB Bijan Robinson (Texas)
The Bills took James Cook in the Draft this year, but he's more of a 3rd down back. Robinson can help carry the mail in Buffalo.