Steven Cheah's Best Players Available Headed Into Day 2 Of The NFL Draft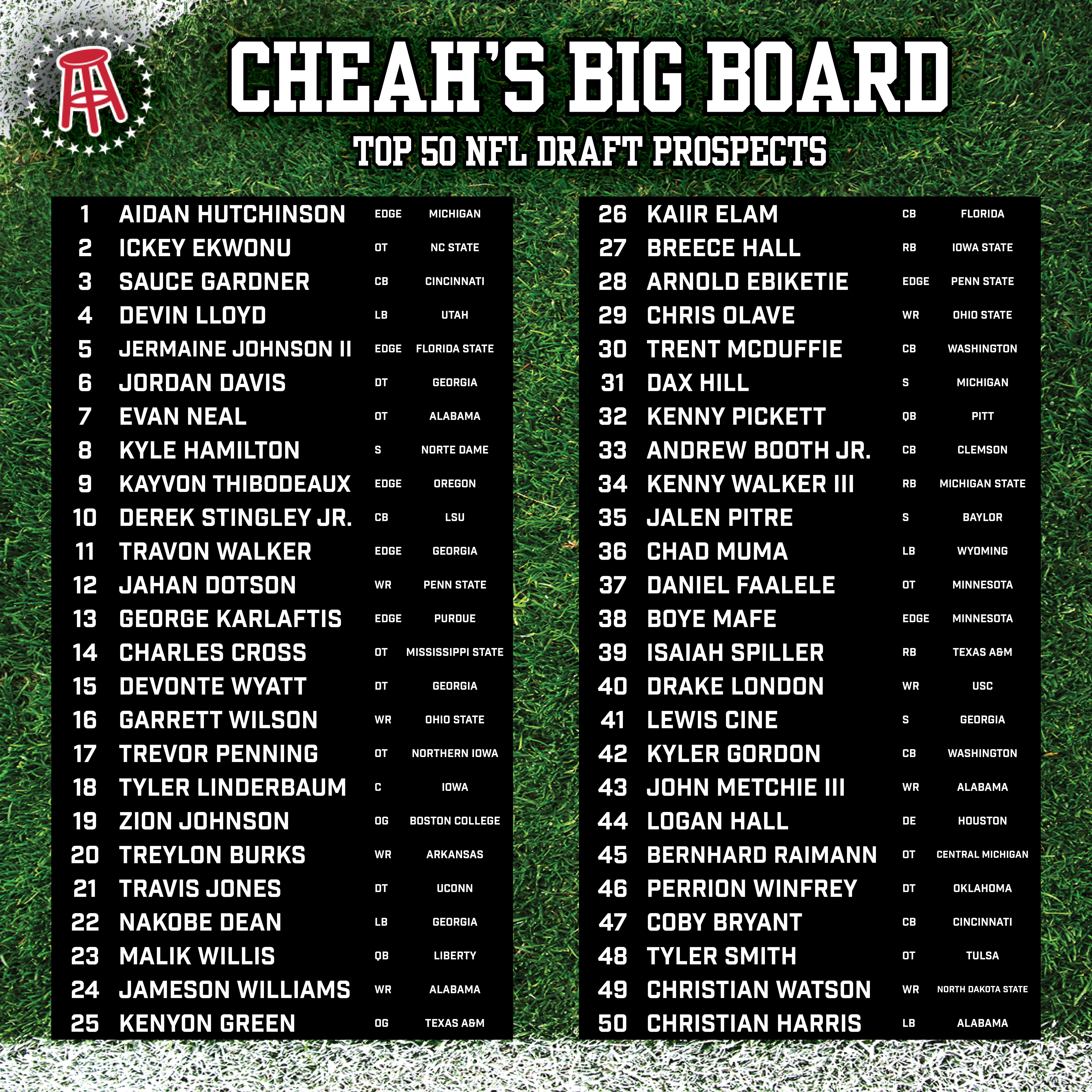 Round 1 of the NFL Draft concluded last night, but we've got a bunch more with Rounds 2 & 3 tonight starting at 7pm eastern and Rounds 4-7 on Saturday beginning at 12pm eastern. Here are my best players still out on the board that weren't selected on Thursday night (number reflective of their rank in my Top 50 Big Board):
21) Travis Jones - DT UConn
A big, powerful DT who can play over the nose at 6'4" 325 lbs. He was a Guard coming out of High School and lost the 2020 season with the pandemic, so he's got a lot of room to grow. But the foundation in there to be an excellent player at the next level.
22) Nakobe Dean - LB Georgia
The best player on Georgia's Championship defense that saw five players drafted on Thursday night. Projecting to the NFL, there are some size and speed concerns, but who cares if he runs a tick slower is he's always a step ahead?
23) Malik Willis - QB Liberty
A remarkable slide out of the first round has me thinking about Geno Smith today. With no teams trading up into the 1st round to secure his 5th year option, he may be sitting for a few more hours. But I LOVE this competitive toughness:
27) Breece Hall - RB Iowa State
A patient runner, almost to a fault. Think Le'Veon Bell. Hall is 5'11" 217 lbs. and like Bell, has outstanding receiving skills and hands. Look for him to be a Rookie of the Year candidate assuming he ends up in a good situation.
28) Arnold Ebiketie - EDGE Penn State
The Cameroon native transferred from Temple to Penn State in 2021, he's 6'2" 250 lbs. and has great length with 34 1/8" inch arms. His effort is relentless and while he's a bit raw, he's got a ton of upside.
33) Andrew Booth Jr. - CB Clemson
Booth is a fun player to evaluate cause he's a Corner that will really hit you in the mouth. There were some medical concerns that could be causing him to slide, but he's a 1st round talent in this draft.
34) Kenny Walker III - RB Michigan State
An instinctive, one cut runner, he's going to give some team an added dimension starting tonight. The knock on him is his lack of receiving experience, but he wasn't bad when targeted. It just didn't happen nearly enough.
35) Jalen Pitre - S Baylor
One of my favorite players to watch, Pitre has a lot of flexibility and blitzes a lot. He was the only player in FBS with 3 forced fumbles, 3 fumble recoveries, and 2 INTs.
36) Chad Muma - LB Wyoming
Wyoming is starting to churn out Linebackers as Muma sat behind Logan Wilson until 2020 when he grabbed the starting role and never let up. At 6'3" 239 lbs. he's got great size and speed for the way the position is played now.
37) Daniel Faalele - OT Minnesota
An absolute giant at 6'8" 384 lbs. with 11" inch hands he is a lot to even just run around. He has played at 400+ lbs., so weight will be a concern for him, but he if can harness it, he can be a monster.
38) Boye Mafe - EDGE Minnesota
He has outstanding size and length at 6'4" 261 lbs. with 34 3/4" inch arms. He's got great closing speed, but can he be an effective three down player?
39) Isaiah Spiller - RB Texas A&M
Spiller has 74 catches over three seasons which is great for a bruising runner, but he ran a disappointing 4.67 40-yard dash which is very slow for an RB and likely limits him to a timeshare role.
42) Kyler Gordon - CB Washington
The other Cornerback from Washington (Trent McDuffie was drafted in Round 1) he was an underachiever in college, but has the traits to be a better pro. Can he maximize his gifts?
43) John Metchie III - WR Alabama
Unfortunately Metchie tore his ACL in the SEC Championship game, but he led the Crimson Tide in catches with 96. He's not an incredible athlete, but he understands how to get open. He'll be a dynamite pro.
44) Logan Hall - DE/DT Houston
A jumbo DE at 6'6" 283 lbs. he has the positional flexibility to play as a 5-technique DE or kick inside on a 4-man line and play 3-technique DT. He is a fabulous athlete too, so I wouldn't be surprised to see him go very early tonight.
45) Bernhard Rainmann - OT Minnesota
He's a converted Tight End at 6'6" 303 lbs., but very raw. The traits and quicks are there, but he's got a lot of polish to add to his game before he can really make an impact.
46) Perrion Winfrey - DT Oklahoma
Winfrey is dynamic at 6'4" 290 lbs. with 35 1/4" inch arms and flashes a lot. He was the MVP of the Senior Bowl and can be a real asset with his ability to rush from the inside.
47) Coby Bryant - CB Cincinnati
Cincinnati's other Cornerback (Sauce Gardner went 4th overall), he saw a ton of targets last year and actually won the Jim Thorpe Award for the nation's top Defensive Back. He can also make catches like this:
 49) Christian Watson - WR North Dakota State
Incredible measurables at 6'4" 208 lbs. with 10 1/4" inch hands running a 4.36. There is a lot of refining needed, but he's got tools to be an elite WR.
50) Christian Harris - LB Alabama
Harris is like Nakobe Dean in that he's just a smaller guy for the position at 6'0" 226 lbs. but he's a football player. And look at him close on this tackle. My goodness…
I hope you all enjoy the Draft tonight. Truly one of the best weekends all year!