With The Nuggets Eliminated, This Is Now The 6th Straight Season That The NBA's MVP Will Not Make The Finals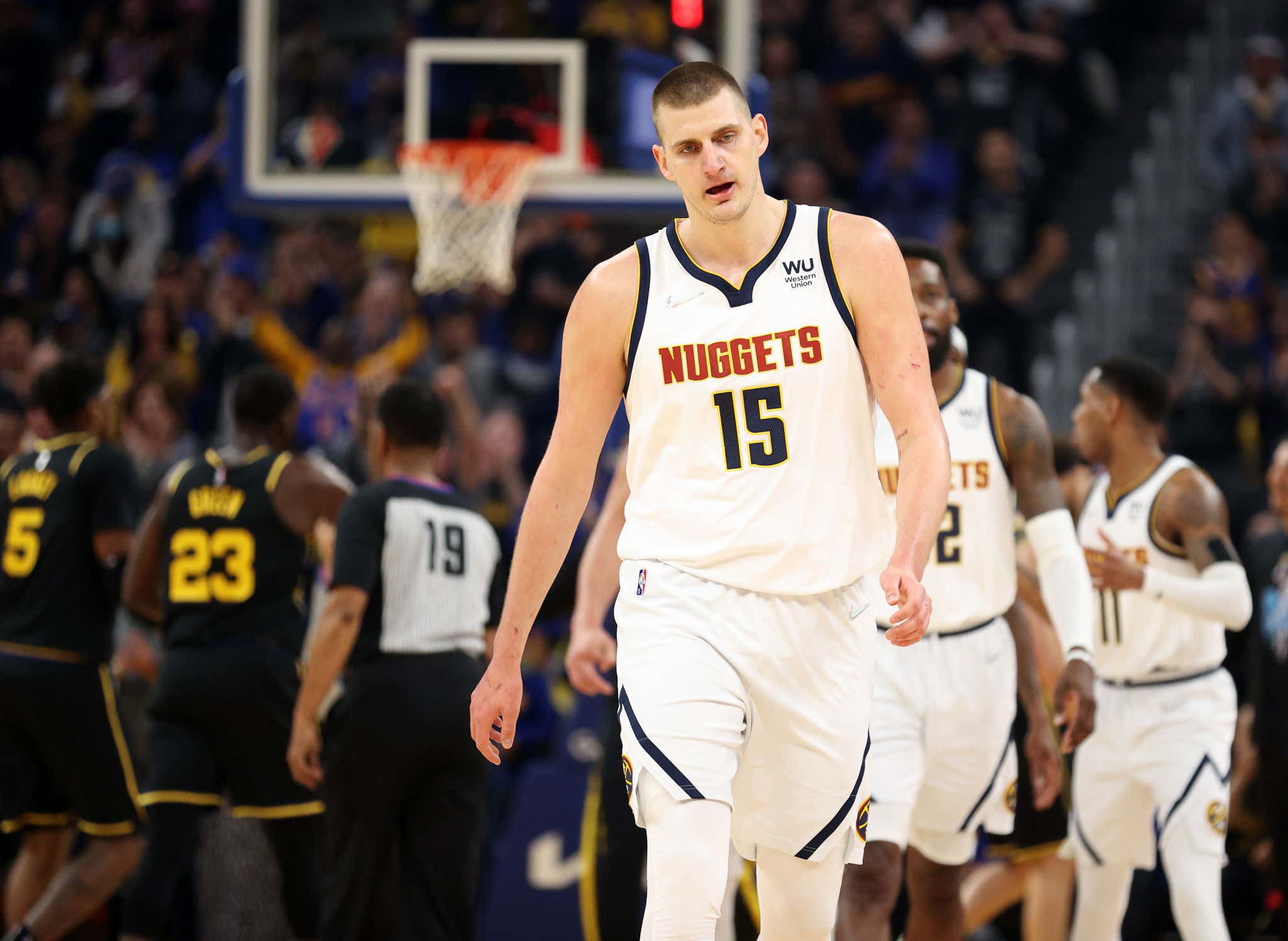 Ezra Shaw. Getty Images.
I'm sort of assuming that Jokic is going to go back to back this year for MVP, mostly because of what his lead looked like with all the publicly available ballots that got released. His lead was massive, so I feel like that's a safe assumption. Despite a hell of an effort last night in Game 5 on an injured hammy
ultimately the Nuggets ran out of gas trying to hang with the Warriors, scoring just 20 points in the fourth quarter (32-20) as they watched their season come to an end. As I'm sure will happen, certain fanbases will clown Jokic for being an MVP and losing in the first round. In reality, everyone else with a brain and eyes could see how this series actually confirms what a worthy MVP Jokic actually is given the caliber of talent he had to carry all year. The dude went 12-18 from the floor last night and could barely run, if you're slandering Jokic today, grow up.
But once the Nuggets were eliminated, it did perk my interest about something in regards to the MVP. Did you know this is now going to be the 6th straight season in which the MVP doesn't even make the Finals? We haven't seen it since Steph went back to back from 2014-2016, and if you wanted to expand it even further in NBA history things get even more interesting. Let's just take the last 20 years, that feels like a pretty good sample. Since the 2001-02 season, there have been 13 different MVPs. Here's how they did once we entered the postseason
2001-02: Time Duncan / lost in Round 2
2002-03: Tim Duncan / Won NBA Finals
2003-04: Kevin Garnett / lost in WCF
2004-05: Steve Nash / lost in WCF
2005-06: Steve Nash / lost in WCF
2006-07: Dirk Nowitzki / Lost in Round 1
2007-08: Kobe Bryant / Lost in NBA Finals
2008-09: LeBron James / Lost in ECF
2009-10: LeBron James / Lost in Round 2
2010-11: Derrick Rose / Lost in ECF
2011-12: LeBron James / Won NBA Finals
2012-13: LeBron James / Won NBA Finals
2013-14: Kevin Durant / Lost WCF
2014-15: Steph Curry / Won NBA Finals
2015-16: Steph Curry / Lost NBA Finals
2016-17: Russell Westbrook / Lost in Round 1
2017-18: James Harden / Lost in WCF
2018-19: Giannis Antetokounmpo / Lost in ECF
2019-20: Giannis Antetokounmpo / Lost in Round 2
2020-21: Nikola Jokic / Lost in Round 2
2021-22: Nikola Jokic / Lost in Round 1
So, unless you're Duncan, LeBron or Steph, no other MVP has won the title dating back to 2001-02 with Kobe being the only other one that even played in a Finals. There are some deep runs in there with some WCF/ECF appearances, but over the last 6 seasons, it was more likely the MVP lost in Round 1 or 2 as it is they made a Conference Finals. Of course, there's context with that with injuries being the most obvious, but it's still pretty nuts that in a league where so often it just comes down to who has the best player, that the best player in the league those years basically never even made the Finals.
What this does tell me is that as we move forward, the talent in the league is so good that just having an MVP might not be enough anymore. You need depth. You need a roster built for playoff basketball. You'll always need injury luck. I know this isn't unique to basketball, the NFL Superbowl/MVP curse is also very real. Only 10 players ever have won both in the NFL, but I see that being a little different. There are so many moving parts in football. In basketball, it's 10 dudes. One guy can make much more of an impact on how a game goes. 
I'm not going to suggest there is some sort of correlation between winning the regular season MVP and then not making the Finals, I just find it pretty interesting that it seems to be this weird kiss of death. At the same time, I don't think anyone in their right mind actually thought the Nuggets were going to make the NBA Finals, especially with Jamal Murray and MPJ nowhere in sight. My question is this though. Who will be the next MVP we see in the Finals? Moving forward you have guys like Giannis, Embiid, Jokic, Luka, Tatum, Ja, Booker etc that all should be competing to win the award over these next handful of years, and all play for teams that should be competing for titles as well (if fully healthy). 
For my money, who gives a shit about the regular season MVP. You know what trumps that? A Finals MVP. I bet if you ask any of the previous winners if they could swap their MVP with a Finals MVP, every single one of them is saying yes. Well I guess other than LeBron and Steph. They did both.