Steven Cheah's 2022 Final NFL Mock Draft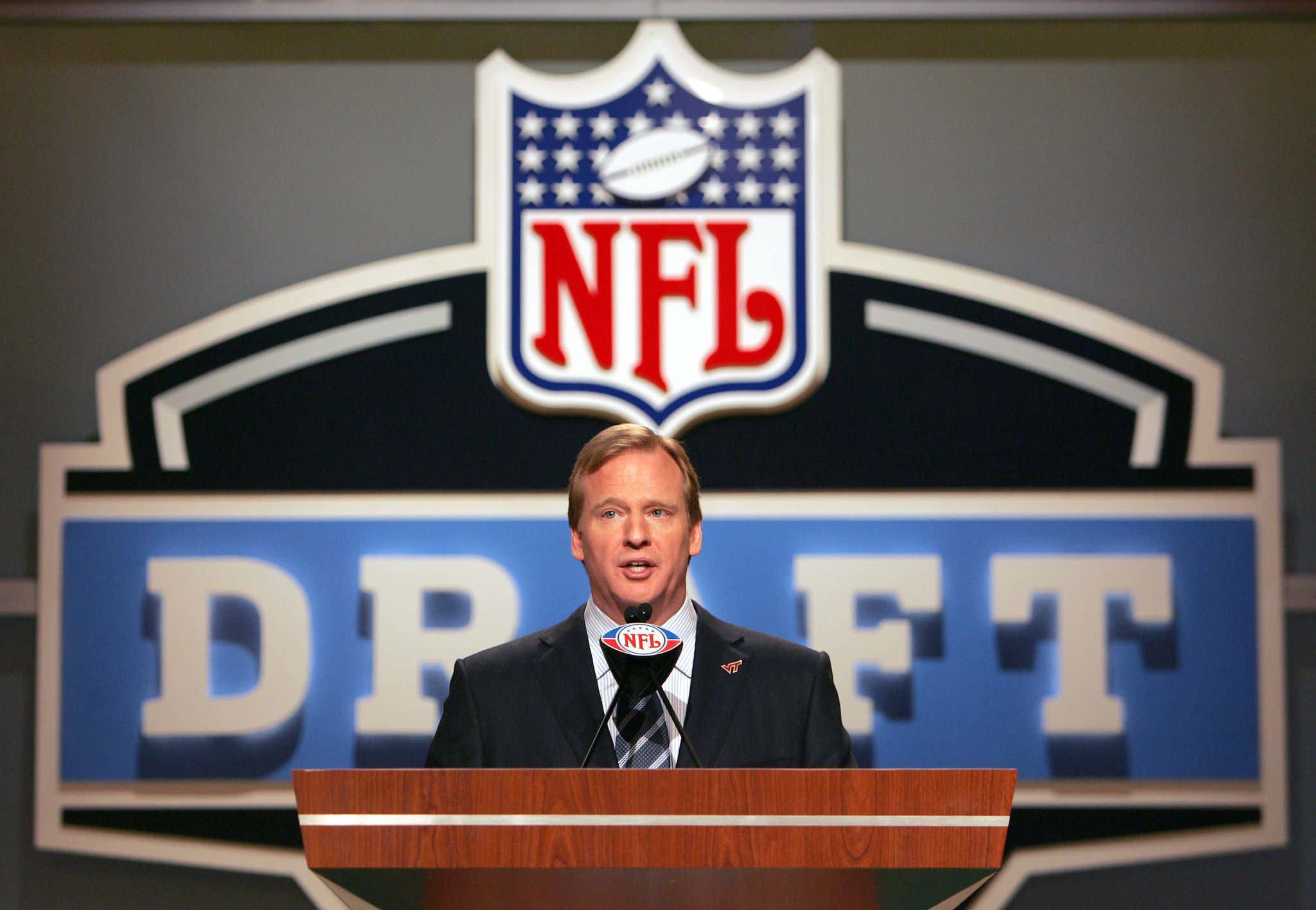 Richard Schultz. Getty Images.
It's Draft Day! Brandon Walker, Rone, myself will be hosting our annual EnEffEl Draft Show on tonight starting at 8pm eastern with a ton of awesome guests. We'll have wall-to-wall coverage presented by Mamita's.
For reference, previous Mock Drafts: 1.0, 2.0, 3.0, 4.0, 5.0
1) Jacksonville Jaguars - EDGE Travon Walker (Georgia)
The Draft is a traits > production based event, but this is wild. Walker is a create-a-player at 6'5" 272 lbs. with 35 1/2" inch arms running a 4.51 40-yard dash. But his production leaves a lot to be desired. He was a one year starter for the Bulldogs and racked up 6.0 sacks and 7.5 TFLs on the year. For his entire career (three seasons), he has 9.5 sacks and 13.0 TFLs. He had three games this past season with one tackle or less. The traits are certainly there. But this is putting an enormous task in front of the Jags coaching staff and I have no reason to believe they'll turn him into a Pro Bowler. Maybe I'll be wrong in a couple year, but I absolutely hate this pick by the Jags. Here are some clips of Alabama LT Evan Neal (another fine option for the #1 overall pick) absolutely dominating him.
2) Detroit Lions - EDGE Aidan Hutchinson (Michigan)
Hutchinson is one of the safer players i this watered down Draft. I'd have to think if he's here, the Lions are running the card up for the Michigan kid. It'll be a nice story for sure, but he also fills a need for his hometown Lions and outside of his shorter than desired arms, offers almost everything you'd want in an EDGE rusher. While he doesn't have the ceiling of a Myles Garrett-type player, he could certainly blossom into a Jared Allen or even a T.J. Watt type which is pretty darn good.
3) Houston Texans - CB Derek Stingley Jr. (LSU)
This pick is a bit surprising, but this is the favorite as of the moment. Stingley was elite in 2019, but hasn't been the same guy since that magical season for the Tigers. The Texans are in desperate need of a Corner and Nick Caserio and Lovie Smith make a bold play here with Stingley.
Let me stop you quickly. I want to let you know that if you like that top 3 order, you can bet on it right here in the Barstool Sportsbook.
4) New York Jets - CB Ahmad "Sauce" Gardner (Cincinnati)
This is my favorite CB in the Draft. Speaking of create-a-players, he's 6'3" 190 lbs. with 33 1/2" inch arms and ran a 4.41 40-yard dash. But he is also ALL BALL. No smoking, no drinking, he's just about ball. I love to hear things like that. Then when you throw in his measurables and his production (0 TDs allowed in his college career, only thrown at 11% of the time last year because he locked down half the field), this is an easy one for the J-E-T-S Jets Jets Jets.
5) New York Giants - OT Evan Neal (Alabama)
The Giants have their choice of the Tackles here and they all offer versatility in their own right. Andrew Thomas is their Starter at Left Tackle, but he has experience in College playing on the right side. Neal played LT, LG, & RT in college which is a plus. He's also plus sized at 6'7" 337 lbs. but a dominant force against the pass and the run. He'll help them find out if Daniel Jones is the real deal or not.
6) Carolina Panthers - OT Ickey Ekwonu (NC State)
The Panthers are putting out word that they like two QBs at #6, but remember, it's lying szn. They need to improve their Offensive Line play and here they go with the local kid in Ickey Ekwonu. Speaking of position flexibility, he can play outside at Tackle or kick inside to Guard and be excellent. Solid pick for the Panthers.
7) New York Giants (via Chicago Bears) - EDGE Kayvon Thibodeaux (Oregon)
Thibodeaux was projected to go #1 overall earlier this year, so while #7 seems like a far drop, it's a good situation for him. KT has great get-off and can really disrupt an offense with it. The major concerns with him are that his effort tends to wane and he has other interests outside the game. He seems like an interesting dude, he created his own cryptocurrency ($JREAM). I'm sure he'll like New York.
8) Atlanta Falcons - WR Drake London (USC)
Calvin Ridley is suspended for the season and Russell Gage is now on a team with a real future in the NFC South. Even with Marcus Mariota at QB, he'll need guys to throw to and right now it's really just Kyle Pitts. Rumor has it the Falcons are sweet on Drake London who has a Mike Evans type body at 6'4" 219 lbs. 
9) TRADE: Los Angeles Chargers (via Seattle Seahawks via Denver Broncos) - OT Charles Cross (Mississippi State)
The Chargers get aggressive and move up to #9 and give up next #17 overall, their 3rd rounder this year, and next year's 2nd rounder to move up for Cross. They nailed their OT pick last year in Rashawn Slater, if they can shore up the Offensive Line and let Justin Herbert operate, they could go a long way next year. Especially after the additions of Khalil Mack and JC Jackson. This team is going to be scary.
10) New York Jets - EDGE Jermaine Johnson II (Florida State)
I'm hearing that the Jets like Johnson and may take him at #4. But in this scenario, he falls in their laps at #10. And while they don't get their Receiver early, they still have three more picks on Day 2 to address that need. Johnson is an ass-kicker who plays with a chip on his shoulder.
11) Washington Commanders - S Kyle Hamilton (Notre Dame)
Hamilton has one of the widest ranges you'll see for a blue chip prospect. He could go as high as #2 to Detroit, but he could also very well fall out of the top 10 merely due to the perceived positional value (or lack thereof) of the Safety position. The Commanders are parting ways with S/LB Landon Collins, so a move to a younger prospect with similar scheme versatility makes sense at #11.
12) Minnesota Vikings - CB Trent McDuffie (Washington)
The Vikings have a lot of needs, but Cornerback may be the most pressing (pun INTENDED). McDuffie may have a little trouble with that though as he's got short arms (29 1/2" inches). But if he can overcome that deficiency, he's got a bright future as his tape is stellar.
13) Houston Texans (via Cleveland Browns) - WR Garrett Wilson (Ohio State)
Garrett Wilson is the favorite to be the top WR drafted, but he doesn't check all the boxes physically that you'd like in a Top 10 WR. Despite his smaller size (6'0"183 lbs.), he can go get the ball. He's a tremendous athlete that compares somewhat favorably to Odell Beckham Jr. coming out.
14) Baltimore Ravens - DT Jordan Davis (Georgia)
The Ravens have thrived historically with big Defensive Tackles that eat up blockers; see: Tony Siragusa, Sam Adams, Haloti Ngata, Brandon Williams. Davis would absolutely fit that bill. The 6'6" 341 lbs. is a freakshow athlete who ran a blistering 4.78 40-yard dash at the Combine. He'll let the rest of the defense eat and help bolster their run defense.
15) TRADE: Tennessee Titans (via Philadelphia Eagles via Miami Dolphins) - QB Malik Willis (Liberty)
Surprise!! Ryan Tannehill has one more season of guaranteed money on his deal so the Titans give up next year's 1st and a 4th this year to the Eagles who continue to load up on picks next year for Jalen Hurts insurance. On the field Willis isn't ready yet, but he can essentially take a redshirt year behind Ryan Tannehill. But what does show through in his tape is his competitive fire. Look at this incredible clip!
16) New Orleans Saints (via Philadelphia Eagles via Indianapolis Colts) - OT Trevor Penning (Northern Iowa)
In this scenario the Saints don't trade up for a QB, even though they've been meeting with a bunch of them. They also have a glaring need at Left Tackle after Terron Armstead took his talents to South Beach. Penning's technique needs refining, but he is a nasty dude.
17) TRADE: Seattle Seahawks (via Los Angeles Chargers) - DE/DT Logan Hall (Houston)
Hall would be a bit of a surprise pick in the 1st round, let alone at #17. But the Seahawks are not afraid to make bold, unpopular picks and Hall has been working his way up boards and into the 1st round conversation. He's a natural 4-3 DE that can kick inside and provide some interior rush. A valuable tool that reminds Seahawks brass of Michael Bennett.
18) Philadelphia Eagles (via New Orleans Saints) - WR Jameson Williams (Alabama)
The Eagles have had mixed success taking Receivers early in the Draft the past few years with the likes of J.J. Arcega-Whiteside, Jalen Reagor, and finally DeVonta Smith. Smith is the only one to really get excited about, but Williams is a different type of player that can take the top off an opposing defense. Only issue is he may need to start the year on the PUP list after tearing his ACL in the National Championship Game.
19) New Orleans Saints (via Philadelphia Eagles) - WR Treylon Burks (Arkansas)
The Saints get their Wide Receiver in Burks who is more of an Offensive Weapon. He's an absolute monster-sized WR that can also carry the ball in a Deebo Samuel-type role. Burks ran 68% of his routes within 10 yards of the line of scrimmage but should open things up with a talented roster and likely being the #1 WR.
20) Pittsburgh Steelers - QB Kenny Pickett (Pitt)
The Steelers stay pat and get the hometown kid in Pitt's Kenny Pickett. He's almost universally viewed as the most 'pro ready' QB in this draft which is a god thing for Steelers fans because they don't really have any other good options.
21) New England Patriots - LB Quay Walker (Georgia)
This may come as a surprise as Nakobe Dean was the star amongst the Georgia LBs. But again, the Draft is traits > production and Walker is dripping with traits at 6'3 1/2" 241 lbs. running a 4.52 40-yard dash. He is an outstanding athlete with ideal size for the position, but he is raw as he was just a one-year starter. The Patriots take him in the back half of the 1st here and look to develop him to reach his full potential.
If you think Quay Walker will be the 1st Linebacker Drafted, that is a fun prop I got a +600 the other day.
22) Green Bay Packers (via Las Vegas Raiders) - WR Chris Olave (Ohio State)
The Packers need to replace Davante Adams and that will be no easy task even after the selection fo Chris Olave here. Olave is a smooth route runner who burned up the Combine in what turned out to be a 4.39 official 40-yard dash. He can play inside or out and give Aaron Rodgers a legitimate pass catcher.
23) Arizona Cardinals - WR Jahan Dotson (Penn State)
Dotson is actually my pick for the best WR in the Draft. He does it all despite his smaller size of 5'10.5" 178 lbs. For a guy that size, you can't really tell on 50/50 balls as he is outstanding at timing his leaps and naturally catching the football. He'll be an outstanding compliment to DeAndre Hopkins in the desert.
24) Dallas Cowboys - S Lewis Cine (Georgia)
Cine is another one of these late risers in the Draft that lands on his feet on Thursday night. He will pop you in the mouth and he can run like the wind having put up a 4.37 40-yard dash. He'll be a welcomed addition to the Cowboys back half.
25) Buffalo Bills - CB Kaiir Elam (Florida)
As evident by how their season ended in Kansas City, the Bills just need to get stops. Hopefully Tre' White makes a full comeback, but here they take Elam who is rising through the process having gone from an O/U draft spot of 35.5 on Tuesday all the way up to 25.5 on Wednesday.
26) TRADE: Philadelphia Eagles (via Tennessee Titans) - EDGE George Karlaftis (Purdue)
The Eagles get a good player who fits a need here in Karlaftis who is a prototypical 4-down Defensive End. He's got defibrillator hands meaning when he gets his hands on your, you rock back because he's so powerful.
27) Tampa Bay Buccaneers - DT Travis Jones (UConn)
I'm pointing this back to the Bucs have a ton of needs on Defense, but most notably along the Defensive Line where Ndamukong Suh is yet to be re-signed and JPP is apparently wishing Tampa goodbye in his IG story. Jones is a big, run stuffer who offers a little pass rush upside. His presence will allow the Linebackers Devin White and Lavonte David to run free.
28) Green Bay Packers - WR Christian Watson (North Dakota State)
The Packers get not one, but TWO first round Wide Receivers. Watson is a dynamic playmaker from all over the field, even from the backfield.
29) Kansas City Chiefs (via Miami Dolphins via San Francisco 49ers) - WR Skyy Moore (Western Michigan)
It's going to be impossible to replace everything Tyreek Hill brought, but the Chiefs try here with Skyy Moore who is similar stature to Hill and also plays with a ton of juice. Chiefs GM Brett Veach brings in some of the cavalry after that major deal.
30) Kansas City Chiefs - EDGE Boye Mafe (Minnesota)
Playing in the AFC West, you've got to heat up the Quarterbacks. Frank Clark had a big down year last season and Chris Jones plays inside. Mafe had a big off-season circuit and has worked himself into back end of the 1st round discussion.
31) TRADE: Washington Commanders (via Cincinnati Bengals) - QB Matt Corral (Ole Miss)
Another surprise! Washington gives up their 2nd rounder (#47 overall) and their 3rd rounder next year which should be unaffected by the Carson Wentz deal. Word on the street is the Commanders have been doing a lot of work on Corral and think quite highly of him. By trading into the 1st to secure his services they get that valuable fifth-year option.
32) Detroit Lions (via Los Angeles Rams) - LB Devin Lloyd (Utah)
One of my favorite players in the Draft he may drop a bit due to some medical concerns, but on the field he is lights out and is always around the ball and getting his hands on the ball.
And if you liked any of those picks and would like to bet the draft, check out my NFL Prop Bet Draft primer.
TLDR: