TRUST THE DATA: NFL Draft Prop Bet Primer
Chris Trotman. Getty Images.
The NFL Draft is one of my favorite sporting events of the year. Even though it consists of literally days of sitting on a couch listening to an older man say one sentence every 10 minutes at a podium in front of a live studio audience. But what makes it fun, even if you're a casual fan, is that you can bet on it (if you're in AZ, CO, IL. IN, LA, MI, NJ, TN, or WV). But who to put some moolah on? Let me help you out with that! I've been digging around and this is what I like based on what I've been hearing:
Before we start
All lines provided by $Penn Gaming/The Barstool Sportsbook and are subject to move
Also, for terminology:
OVER = picked at lower in the draft, so FARTHER from the #1 pick
UNDER = picked higher in the draft and CLOSER to the #1 pick
Without further ado, here are my Favorite NFL Draft Props:
5) Georgia LB Nakobe Dean's Draft Position to be OVER 32.5 (-114)
From what I'm hearing, he isn't likely to go there. He was a lights out player and tremendous for Georgia and the leader of that defense, but the Draft is a Traits > Production event and Dean is a small Linebacker at 5'11" 229 lbs. who didn't run at The Combine or his Pro Day. He did that for a reason as he wasn't expected to run a blazing time and he was hoping to just stand on his film. I just don't think that'll be good enough for him to get his name called on Thursday night. 
4) Florida CB Kaiir Elam to be Drafted in the first 35 picks (-114)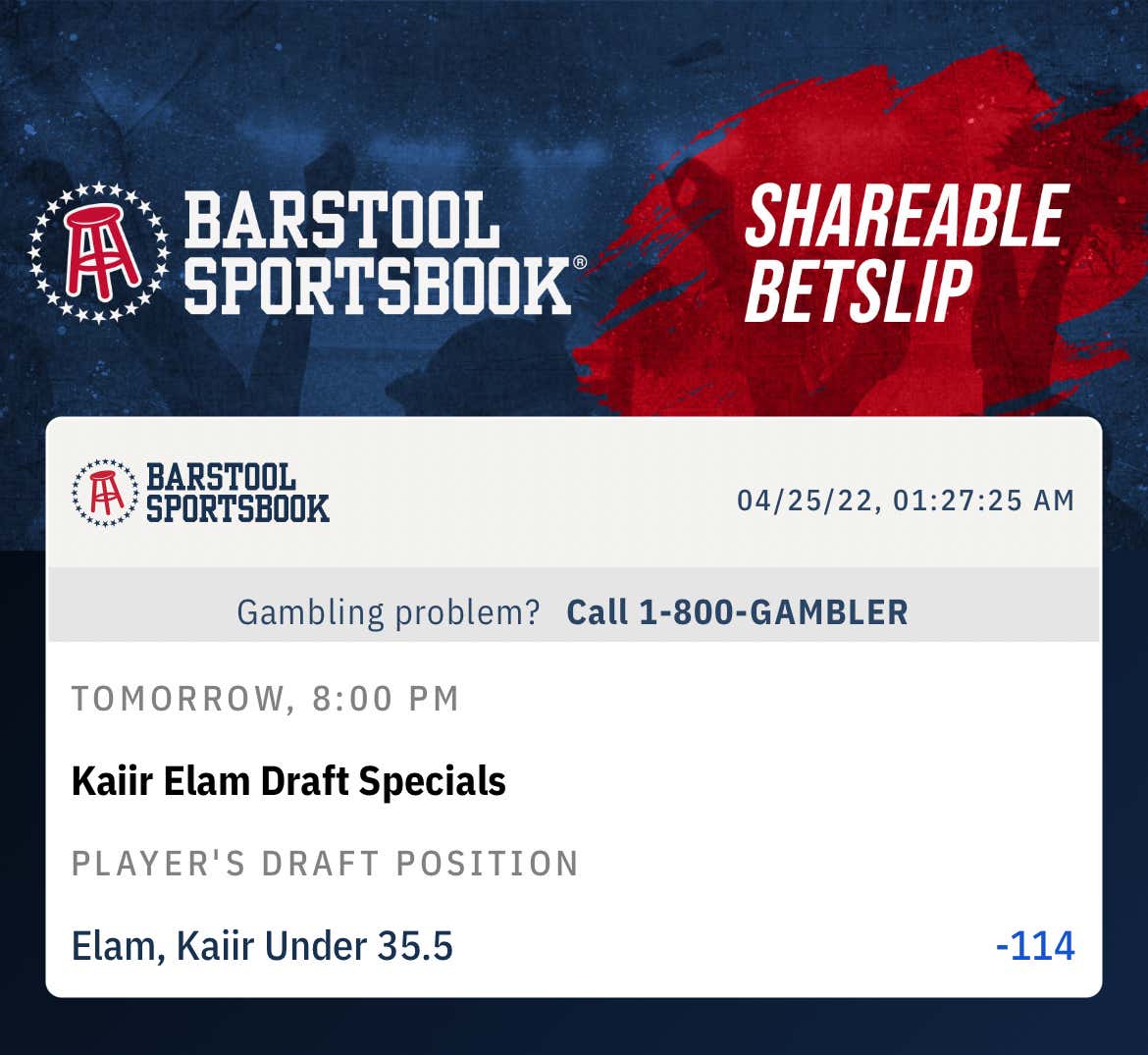 I'm hearing he should be a 1st rounder. The face that I'm getting an extra 3 picks here is very favorable, especially if the CB-need Jets, who pick at #35 don't go Cornerback with one of their two early 1sts.
3) The Tampa Bay Buccaneers to Draft a Defensive Player with their first selection (-104)
This makes a ton of sense. For some reason, the bookmakers have the Bucs slated to take an Offensive Lineman. I'm telling you, I do not see that. Yes, LG Ali Marpet retired and yes, RG Alex Cappa got a bag from the Bengals. But they Bucs traded for Shaq Mason to fill one hole and they will role with Aaron Stinnie, who played for Alex Cappa in the playoff run two years ago after Cappa got hurt in the Washington game at the other Guard spot. They also drafted Robert Hainsey as a Day 2 pick last year and he has Guard/Center flexibility, so I'd be surprised if they picked an Offensive Lineman that high. On defense, they have some holes with Ndamukong Suh yet to be re-signed and JPP likely gone. They also lost Safety Jordan Whitehead in Free Agency and could use an upgrade there. Their #2 & #3 Cornerbacks are also slated to be free agents after this season and the front office is always thinking ahead. I am very confident about this one.
2) Washington CB Trent McDuffie to be drafted BEFORE Utah LB Devin Lloyd (-152)
I'm hearing McDuffie could go as high as #11 to Washington. His O/U is 17.5 while Lloyd's is at 19.5. I also heard Lloyd could fall a bit due to his medicals. I like Lloyd a lot as a player, but even with a lot of juice, I'd be hard pressed to see him going off the board before McDuffie.
1) Georgia LB Quay Walker to be a 1st round pick (-114)
Kind of a surprise here, but he's a lot of team's LB1 over both his college teammate Nakobe Dean and Devin Lloyd. But the beauty of this is, he doesn't have to be LB1, he just needs to get drafted on Thursday night and I am hearing it's very likely that it happens. It's my favorite play of the night. LFG!
The below are my five favorite long shots that are worth a sprinkle. BET VERY RESPONSIBLY WITH THESE. A good hit rate here would be 2/5.
5) Georgia LB Quay Walker to be the 1st LB Taken (+600)
Like I said above, he's a lot of team's LB1…Ride here.
4) The Seahawks to Draft a Defensive Lineman with their First Pick (+250)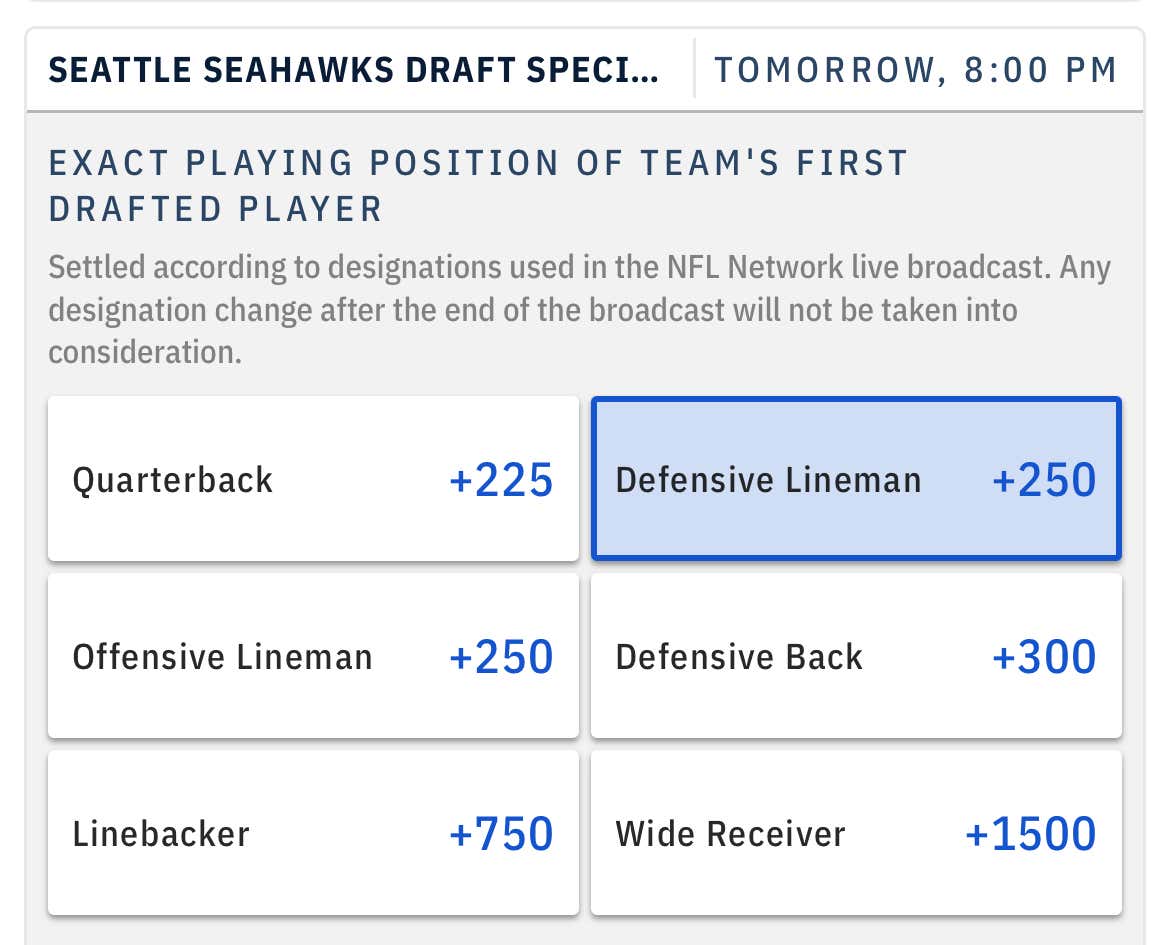 The Seahawks have been linked most to Kayvon Thibodeaux and Jermaine Johnson II. If Thibodeaux falls, I think he's the pick, but the assurance of Johnson here is pretty nice. At +250 it's the most likely scenario in my mind as #9 is too rich for a QB. If they trade down also, there are additional rushers in that second tier like George Karlaftis, Boye Mafe, Arnold Ebekite, and Logan Hall that could fit nicely up in Seattle.
3) USC WR Drake London to be the first WR drafted (+200)
There is a ton of love in the streets for Ohio State's Garrett Wilson and rightfully so. But a lot of teams in the Top 10 have been linked to London who is a Mike Evans-type big bodied WR. I'm hearing he could go as high as Top 5, but more likely in the 7-11 range. Garrett Wilson is certainly an option, but at +200 I like London's odds here. Ride here.
2) The Tampa Bay Buccaneers to take a Defensive Lineman with their first selection (+250)
Reasoning is really above with why the player will likely be on the Defensive side, but Defensive Line is where they have the most holes and that's where they butter their bread with their elite run defense. Guys like Travis Jones, Devonte Wyatt, Logan Hall, Boye Mafe, Arnold Ebekite all figure to go around this area, so I love the value here.
It is lying szn, but this is where things are favored. Travon Walker (unbelievable) is the odds on favorite to be the #1 overall pick. After that, the Lions should be running the card in for Aidan Hutchinson and the word on the street is that the Texans LOVE Derek Stingley. That is the riskiest part of this bet. Garrett Wilson could be a surprise there. Kayvon Thibodeaux could also go. Sauce Gardner would be my preference. But let's take the chalk and get that at +400.
And be sure to tune in Thursday night for the En Eff El Draft stream presented by Mamitas beginning at 8pm.