Rico Bosco Has Invented The Hottest Gambling Show In The History Of Barstool Sports
No blog about Hot Ice can start without immediately acknowledging the 3-0 debut for the Hit Parade. That's +6.7 units since the MLB started and we're back tonight under the exclusives tab on the sportsbook. I patiently sit around all year listening to people talk about college football totals and Thursday Night Football underdogs just to get to this point on the calendar. And now we're here and it's absolutely glorious with another fresh one coming tonight. That's Villar, JP Crawford and Tyler O'Neil tonight. All favorable match ups that don't start til later in the day so be sure to go play the 4th hit parade. We're building a community and you don't want to miss it. 
In other news, Miguel Cabrera goes for his 3,000th hit today. Numbers suggest Robinson Cano will be doing the same in 2024 and then Juan Soto again 13 years from now. Point being this is pretty fucking rare so maybe tune in and give the man a golf clap. At his very worst, he was the best right handed hitter in the American League after Manny passed the torch. Miggy fucking rocks. 
But you're not here for Miggy support. You're here for the plays and boy are we sharp today. Let's start with some dogs. 
Dog Of The Day: 
Ev - San Francisco Giants +120 

Rico - Cardinals +106

Carl - Tigers +135
San Francisco will always be underrated by the public when playing the Mets. That's just a simple fact based on the public's unwillingness to buy into the Giants success. Truthfully, Desclafani just simply shouldn't be that high of a dog and I'll take that to the grave. 
Rico and Ev find synergy on the Cardinals. They own the Marlins and are looking for a sweep after outscoring them 7-1 through the first two. I hate this club but understand the logic. 
Personally I'm taking the Tigers in a 3,000 hit game because they don't come around very often. They're actually extremely rare and I feel stupid overlooking the value. Maybe that's too simple minded but I'm a simple minded guy so let's just keep it moving. Yankees need a win but the Tigers are showing up to the park today with a ton of excitement in the dugout. 
Best Bet Of The Day:
Ev - Cardinals +106

Rico - Mets -139

Carl - White Sox/Indians over 8.5
Ev loves the Cards. That's a fact and I'm ready for it all season. Stacked lineup that is capable of getting hot for 2-week stretches and destroying teams. Pitching always gets hot in the 2nd half and their farm system is an unheralded wagon. Sweeping any team is hard but the Cards are certainly capable of that today in Miami. 
Rico is on the Mets because he knows the Mets well. I'll never talk one of my guys out of a read on their own team. So don't expect me to do that here even if I love the Giants. Rico likes the momentum and the fact the Giants are on the back end of a long trip. Mets -139 is his absolute best bet of the day. 
And then this is really stupid but I actually like the White Sox and Indians over despite every reason suggesting to play the under. Plesac and Cease are studs. They're coming off a doubleheader yesterday that went horrible one way and amazing the other. On it goes, all pointing at the under. But then I remember TLR sat a bunch of his superstars in game 2 based on their dogshit performance in game 1. They couldn't have looked any worse and for that reason I think we get an old fashioned 6-5 AL Central game today. Lots of innings with runners on even though there's huge strikeout numbers coming. I could very much be overreading this but 19% of the ticket volume is on about 55% of the money. So somebody knows something and I don't mind following them to the bank.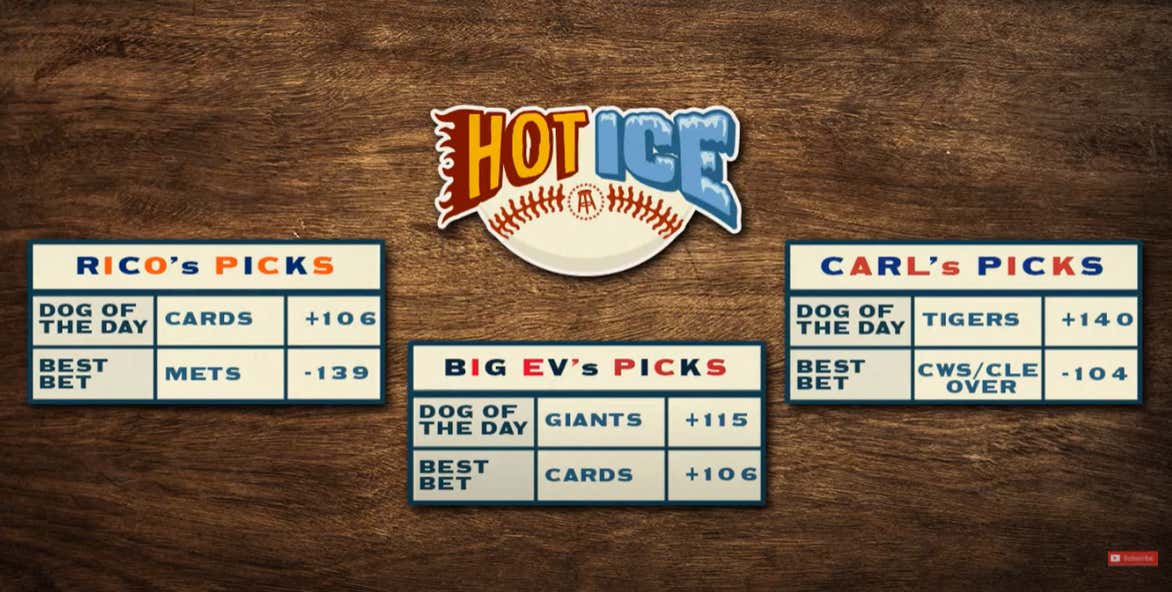 Subscribe to BSSportsbook YouTube for all the action: 
And don't forget to play the Hit Parade. The thing is on legit fire. Should be up on the sportsbook in a little bit.