Get Your Post-Masters Fix With The Heritage At Harbour Town Golf Links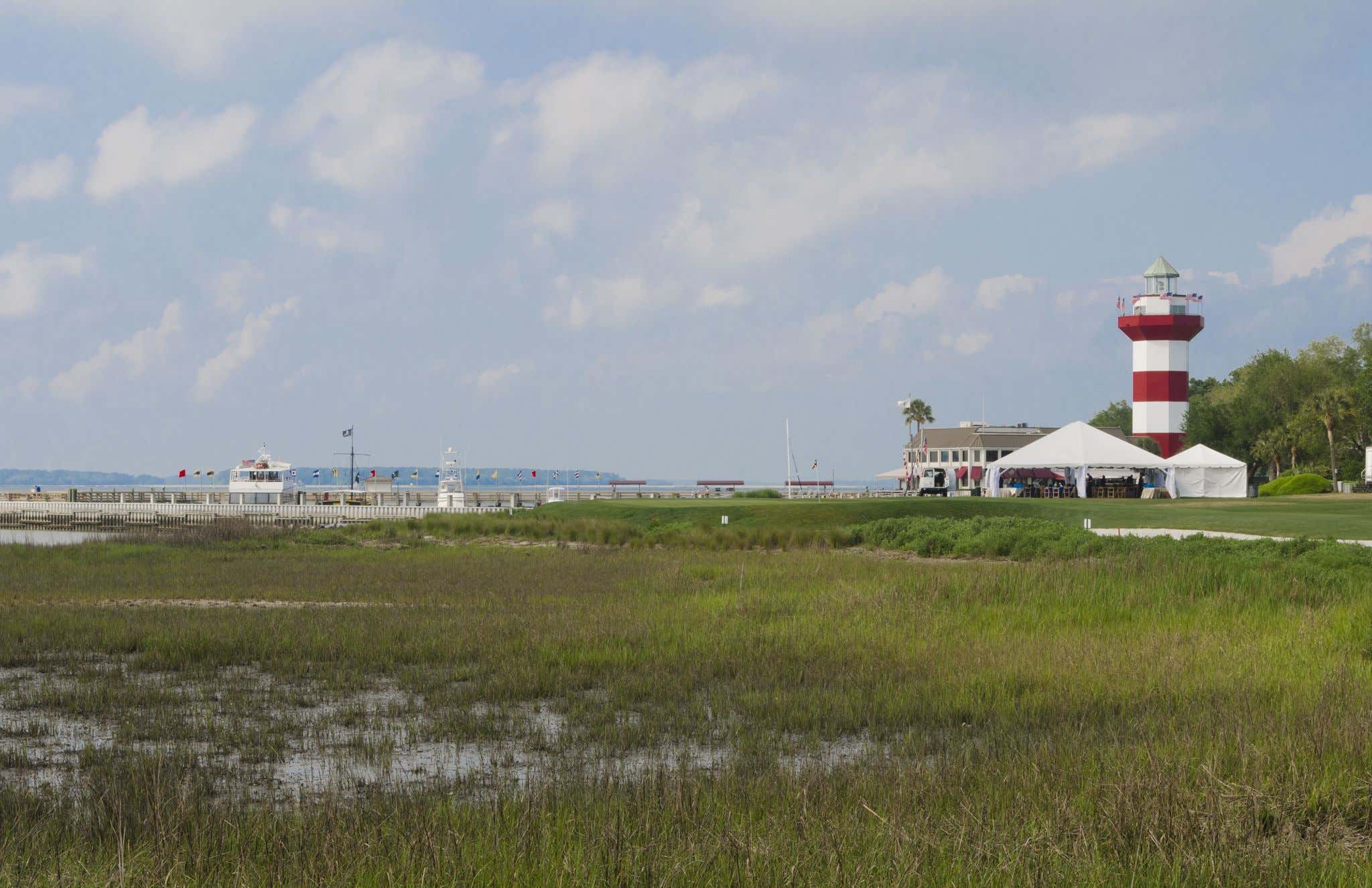 UniversalImagesGroup. Getty Images.
We're back baby! PGA Tour can't stop won't stop. After another exciting Masters we move on to the Heritage at Harbour Town Golf Links in Hilton Head, SC. As a preface to the blog that follows, I will be refraining from naming the sponsor of this event due to spite. Some brokerage firms produce better formatted 1099's than others, and one brokerage firm is the worst of the worst. This disgruntled CPA isn't naming names.
But I digress. The Heritage is generally rated as one of the players' favorite stops on Tour. It's a great course with an iconic finishing hole. In spite of that, this is a tournament that often fell victim to its spot on the schedule directly following The Masters. Recently though, that narrative has been changing. We've ourselves a very solid little field here. JT, Morikawa, Cam Smith, DJ, among plenty others have made the trek east from Augusta to the island of Hilton Head.
Stewart Cink turned back the clocks with a couple of 63's to kick off the week, making the weekend rather drama-free. It was his 3rd victory at Harbour Town, with his most recent coming allll the way back in 2004. That win 18 years ago moved him up to 22nd in the world, with players like Nick Price and Jay Haas ahead of him in the world rankings. So yeah. Pretty big gap between W's.
Last year's leaderboard and recent winners at the Heritage.
2021 Leaderboard
Recent Winners
The Course
Harbour Town Golf Links is a par 71 measuring 7,099 yards designed by….. none other than Pete Dye. I feel like I'm blogging a Pete Dye course every damn week. What a legend that guy was. Predictably, it's a track that encourages target golf. There are a lot of holes here where players will be hitting less than driver simply because the fairway runs out - they have no other choice. You can't just spray and pray here. There are other holes where positioning in the fairway is crucial in terms of getting clear angles at the greens. These greens are some of the smallest on the PGA Tour and carry a GIR rate of 58%, so you're going to want a ball-striker and a guy who can scramble around the greens. You'll also see one of Pete Dye's trademarks - bulkheads. That's how you end up with creative shots like these. 
Lastly, given that it is a links course by the water, this course is best protected by the elements. At this time of year the wind is usually a factor. When this tournament was played in June a couple years ago due to COVID, the wind was down and the scores went low. The course bounced back a touch with more wind last year, and I think they'll drop further again this year. Expect the winner to come in around -15.
Best Hole - 18th hole, Par 4 472 yards 
This is probably the easiest pick of any of the previews I've done so far. When you think of Harbour Town, you think of that lighthouse behind the green that serves as a target line off the tee. As picturesque as it is, it's got some teeth too. You've gotta hit the peninsula that juts out there with your tee shot, and then you've got to carry move of the junk on your approach. All of it is susceptible to the wind coming off the water to the left. And all of it is awesome. One of the best golf holes in America that I'm dying to play some day. 
The Weather
Pretty consistent temps with some wind in the mix. Hopefully those thunderstorms keep to themselves.
The Coverage
Tiger's Silly Shot of the Week 
So stupid.
The Trophy
Sam Greenwood. Getty Images.
Alright so this is an interesting one. I've seen this trophy a bunch of times over the years and didn't think too much of it. It's just some fancy lookin fella wearing some type of top hat. Figured it was Sir Walter Raleigh or one of those other pre-Revolutionary War settler names that seem to be synonymous with that corner of the country or something. Seeing as I've made trophy-evaluation my duty, I decided to do some research. From hiltonhead.com: 
Sir William Innes was a wealthy Scottish golfer. In 1790, the first golf print was published of Sir William Innes, the Captain of the Society of Goffers at Blackheath in Scotland. It was based off an original oil painting by Lemuel Francis Abbott in 1778.

Some say that Innes moved to Blackheath to be close to the golfing society there and that he loved golf so much, he had the iron railings and gates at his house shaped like golf clubs.
Oooook. So it would seem that years and years ago, the Heritage just adopted some rich Scottish dude from a couple hundred years ago that really loved golf as the mascot of this Tournament. It's a bit odd, but I love that the way that they've gone all in on it. They've got a guy running around in his plaid giddy-up getting people excited about golf. They've got the cannon to kick off the event.
And the best part of all, the winner gets the plaid jacket to go with his trophy. So all in all, a lot of bonus points earned back for a trophy that, on it's face, is pretty bizarre. I'll give this a 7.2/10.
The Board
JT is the betting favorite at the Barstool Sportsbook at +1100. Morikawa and Cam are right there behind him at +1400. And good news! You can bet those two plus Sungjae to make the cut at boosted odds at +120. What a phenomenal deal that is.
I like Morikawa at that number at +1400. He played phenomenal golf on Sunday at Augusta by shooting 67, which was only tied for 2nd lowest round of the entire tournament. But he was overshadowed by his playing partner's 64. Would've been a real tough H2H beat to back Collin on (and if you listened to me, you were on Rory).
Morikawa was right there in position to make a move here last year, but faltered with a final round 72. I'd read more into those first 3 rounds of 65, 68, and 67. This is a ball-striker's course and he's one of the best. He hasn't won on a Pete Dye track yet, but I feel like it's only a matter of time until he does.
Other Plays
Tyrell Hatton To Win +3300 - My man was on tilt last week at Augusta, but has been having a sneaky good year otherwise. I think he bounces back here and this number is an overreaction to his weekend in Georgia.
Kevin Kisner To Win +4000/Top 10 +400 - There's a half dozen courses to bet Kiz on. This is one.
Si Woo Kim To Win +5500/Top 10 +500 - If there's one thing I've learned about Si Woo, it's to bet him on Pete Dye courses. Lost in a playoff here to Satoshi Kodaira in 2018.
Harold Varner III To Win +6000/Top 10 +550 - I liked him here last year and he only backed it up with a T-2 performance. I think he nabs a win somewhere soon, why not at a place where he's already had success?
Anirban Lahiri Top 20 +450 - Followed up that runner-up at Sawgrass with a T-13 at Valero and Top Asian +750 for ya boy. He might've found something at THE PLAYERS.
Charl Schwartzel To Win +20000 - There's a history of longshots and old farts winning this tournament and I'm taking Schwartzel's blip on the radar last week as meaning something more.
Graeme McDowell To Win +35000 - Same here. Old fart. That jacket would look great on him too.
One last thing. Morgan Hoffmann is in this field playing his first event in 2 and a half years on a medical exemption. He's got 3 starts to earn 238.42 FEC points (roughly a T-2 in a single event) to keep his Tour card. Incredible story if you haven't read this great piece by Daniel Rapaport. Highly recommend.
Helluva uphill battle, but I'll be rooting for him.
Alright gang. Better late than never. If you're down on HHI, enjoy the hell outta the Triangle and enjoy the Heritage.