Patriots 2022 Draft Preview: Linebackers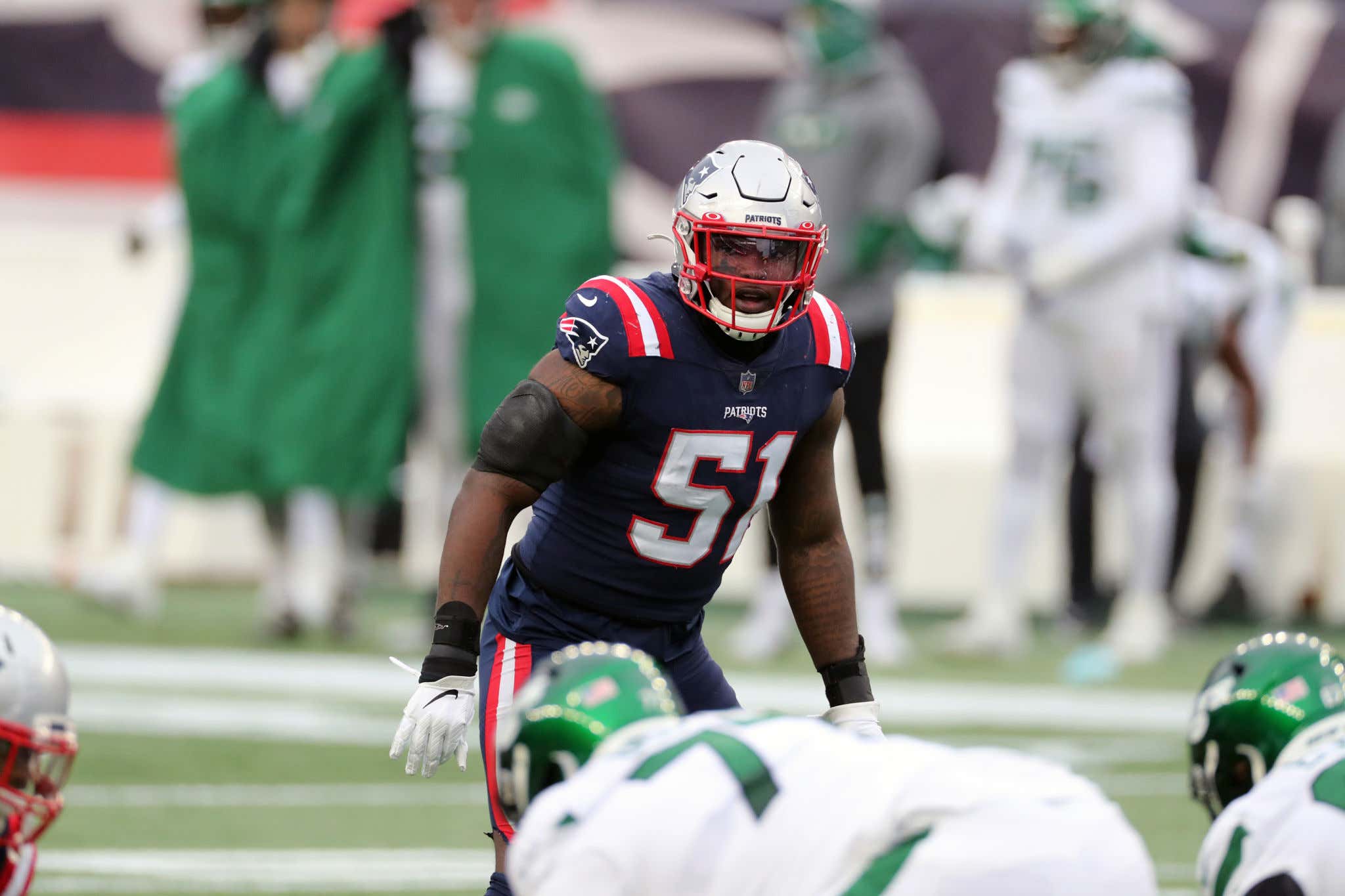 Al Pereira. Getty Images.
Current roster: Ju'Whaun Bentley, Harvey Langi, Mack Wilson, Anfernee Jennings, Ronnie Perkins, Cameron McGrone (Don'ta Hightower, Jamie Collins still unsigned)
Positional overview: Even if every name I just listed ends up on the active roster when training camp begins, linebacker is still a major area of need on this team. And by that I'm going by the traditional definition of an off-the-ball linebacker. However you define it now in a league where most teams are playing a base nickel, including this one. And where, with very few exceptions, your father's idea of a massive, superhuman, 4-3 middle linebacker in the mold of Jack Lambert, Mike Singletary or Ray Lewis is on the Endangered Species list, and heading toward extinction. 
That's what makes this process so hard when you're assessing where the Patriots intend to go at this position moving forward. Until now, Bill Belichick's type has been the big bodies. Guys 6-2 or bigger, 255 pounds or bigger. Like Bentley, Hightower and Collins, who can play an "Okie" odd front, which leaves guards uncovered and expects the ILBs to blow them up along with the few remaining fullbacks still in existence. Jennings and Perkins fit that mold, though neither has seen the field in the one and two years since they've been drafted, respectively. McGrone is smaller and more athletic, so he fits better into the Johnny Bravo suit of the contemporary NFL apostrophe Backer. 
The question no one who works outside the building at One Patriots Place can answer is, "Which is their type now?" Anyone who saw the way Josh Allen snap this defense into ash three of the last four times they've faced him can be forgiven for thinking that maybe the Hulk isn't the answer for stopping him, and they need a Spider-Man. (Never seeing the Bills punter will do that to a fan base.) The fact they traded Chase Winovich for Wilson would suggest they see the need to go smaller and faster. But since they re-signed the 6-2, 255 lb Bentley (a team-leading 109 tackles in 2021) to the coveted second contract indicates they're not ready to go full Ant-Man just yet. My guess is, they want both types of linebackers in order to stay gameplan-specific and respond to whatever offenses throw at them. 
In short, assessing this position this year - even in an especially deep class with a possible double digit number of prospects going in the Top 100 - is an impossible task. But cover me; I'm going in. 
Likely Round 1 & 2 Picks the Patriots Met With at the Combine:
Devin Lloyd, Utah. 6-foot-3, 237 pounds, 4.66 40-time
If it's a sleek, showroom new, versatile, sideline-to-sideline type of linebacker that fits the modern game, well then brother, come and take a test drive in this little model. Lloyd is a converted safety and wide receiver who started 31 games in Utah, led the Utes in everything and had 43 tackles for loss in his career, with 22 last year, which was second in the nation. Utah's defense ran through him as we was earning Pac 12 DPOTY honors. Lloyd's 40-time doesn't match up to the speed he shows on tape. And besides - to use the cliche that made its way into the 2022 draft vocabulary - he ROCKED UP, so that's a good 40-time for a man of his size. He can accelerate to close on receivers and cover in space, and a smooth mover when he has to change direction. But he can also take on blocks and leverage the point of attack. He got a lot of sacks out of A-gap blitzes. There's some question about how powerful he is at taking on bigger backs. But still he's a big film room guy with the 'tweener traits that teams are lusting after now. And it'll be a shock if he falls out of the Top 10. 
Compares to the Other Leading Brand: Willie Gay
Nakobe Dean, Georgia. 5-11, 229 lbs, 4.55
Dean pulled off the rare Quinella of winning The Butkus Award in high school and again last year,, becoming just the third human being to accomplish the feat. (Though to be fair, Dick Butkus probably named himself the winner when he was in school.) He's a product of Belichick Bro Kirby Smith's system. And when those two text, the X's & O's they sign with are both schemes and hugs and kisses, they're that close. (Not really.) Dean said this week that when he talked to the Pats in both Indy and Athens, he not only understood the concepts and calls they discussed, but he was told his lack of size (relative to their usual LBs) didn't matter because, "If you can ball out, you can ball out." And that he can. The phrase you hear most often about Dean is that he was "the heart and soul" of the Bulldogs defense. But he was also the legs, arms and shoulders, given he posted 175 tackles, 26 for loss with seven sacks for the National Champions. Stationed in the middle of the UGA defense, he attacked the interior line, covered the underneath zone between the hashes with his good closing and was highly effective A-gap blitzer. He stacks blocks well, has elite play recognition and as his numbers would indicate, he's remarkably consistent. And for those of you who care about such things (like the guy running the Patriots War Room, for example), the 4.3 GPA he carried with him from high school translated into a 3.55 at Georgia. In Mechanical Engineering. Small, but a total package. 
Compares to the Other Leading Brand: Patrick Willis
Quay Walker, Georgia. 6-4, 241 lbs, 4.52
Jaquavian Jy'Quese Walker was a one-year starter playing the Bulldogs' Money position with the skills that you would normally look for in a defensive end but playing even front, off-the-ball LB. Meaning quick twitch ability, rushing the passer from the second level, the length to get his hands up into passing lanes, and covering ground. He's an outstanding tackler in the open field. And despite his relative lack of experience, can serve you up the Athleticism/Size/Speed Combo Platter to become a 4-down contributor from Week 1 of his rookie deal. He's commonly projected as a 2nd or even 3rd rounder. But his upside compares with any LB in this draft class.
Compares to the Other Leading Brand: KJ Wright
Christian Harris, Alabama. 6-1, 226 lbs, 4.44
I confess that like most of the pundits going into Harris' final year at Bama,  I had him as a mortal lock to be a Top 10 pick coming off his 2020 season on the National Champs. But ultimately that season ended up being the trailer for The Batman: Really effective at getting you excited for the coming attraction. But the real thing didn't live up to the hype. And like Robin Pattinson (The Patman), he was good and all, right for the part, but overall body of work just left you wanting more. Another safety who started for Nick Saban at the Will spot as a true freshman, he ended up with 40 starts in 41 games, and yet is still developing. What seemed to be lacking this past year was his read and reaction time, often seeming slow to hit the hole. But he's got the speed teams covet in the modern NFL. Made plays in the backfield. Projects to be a 3-down 'backer you won't have to take off the field on passing downs due to his coverage skills. And he has tangibles that are off the charts, as they often are. Because how do you chart something not tangible? All in all, he's an intriguing prospect whose draft position will depend entirely on how teams value a linebacker of his size in the modern game.
Compares to the Other Leading Brand: De'Vondre Campbell
Chad Muma, Wyoming. 6-3, 239 lbs, 4.63
Muma is yet another converted safety in a LB class lousy with them. He's more physical than Harris, though not as quick. And he best tackler in this group, evidenced by his insane 142 tackles. Consider him the strong safety to Harris' free safety. he's explosive. High level recognition skills allow him to put his targets on missile lock. While he's no behemoth, he collides with blockers and ball carriers like animated coins will come exploding out of them. Recruiters missed him, but between his run-stuffing abilities and his skills in zone coverage, NFL scouts won't. He's likely to come off the board in the early third round, at the latest. 
Compares to the Other Leading Brand: Logan Wilson
Next Tier of Guys the Scouts are Totally Split On:
Leo Chanel, Wisconsin. 6-3, 250 lbs, 4.53
Comb the Dark Web that is the draft internet long enough, and you'll find people who think Chanel is one of the top linebackers on the board. He's certainly the strongest. The 2021 Badgers defense led the nation. And he led the Badgers defense, with 115 tackles, 18.5 for loss, eight sacks and two forced fumbles. There were concerns about whether he has the agility to make the jump to the pros, but put a lot of that talk to bed with his Combine workouts. Regardless, he can blow up blocks and finish plays with anyone in his class. He'll also benefit from the NFL's new rules about uniform numbers, since an endorsement deal from Chanel No. 5 is a mortal lock. 
Compares to the Other Leading Brand: Reggie Ragland
Brandon Smith, Penn State. 6-4, 250 lbs, 4.52
There's a line from my favorite all time Chick Flick Say Anything, in which the hot girl/valedictorian is described as a brain, in the body of a game show hostess. I mention this because Smith is an ILB from Linebacker U., in the body of a defensive end. Highly sought after coming out of school, he has all the athleticism to to make you see a guy with a high ceiling. But his production never seemed to match the potential, with 81 tackles, nine for loss, two sacks and five PBUs. He certainly didn't dominate the way the previous names on this list did. His play recognition skills appeared to be slow. He's not fundamentally sound. He's sort of a guy with a great tool box but no carpentry skills. On the other hand, he was only at PSU for two seasons. So with some patience and the right coaching, he could realize the potential he had as a 5-star recruit. But for now, he's a boom/bust prospect who'll probably come off the board as a value pick on Saturday.
Compares to the Other Leading Brand: Jacob Phillips
Brian Asamoah II, Oklahoma. 6-2, 226 lbs, 4.56
One odd thing about Asamoah is the fact he's from Ohio, but wasn't recruited by Ohio State, who have an Old Testament-like policy of sending people through the state knocking on doors to scout the first born male child in ever household. He was All Big 12 as well as a Butkus finalist for the Sooners, with 90 tackles in 12 games. I've seen him rated as high as the third best linebacker available and peaked as a Top 50 pick. But a lot of scouts see him as more of a hybrid strong safety or nickel, based on his decent speed, lack of size, and absence of play strength. Right now he's projecting as an early fourth round pick. 
Compares to the Other Leading Brand:
Kamu Grugier-Hill
Mid-Level Prospects the Pats Used Their Limited Visits On:
Troy Andersen, Montana State. 6-4, 243 lbs, 4.42
Andersen is possibly the most versatile athlete in this entire draft. A throwback two-way player, like a modern day Bronko Nagurski. As a freshman, he ran for 5.7 yards per carry and five touchdowns on 90 rushing attempts, then the next year was the Big Sky All-Conference QB. The next season he was first team again, but as a linebacker. And as a linebacker, he's got the size/speed prototype for the majority of systems NFL teams are running now. Even if he's a few Bacon Double Cheeseburgers shy of how New England has drafted LBs. What he lacks is experience. All that offense stunted his growth as a defender. So he's still raw, with a lot of bad angles, missteps, and taking the cheese on play fakes and misdirections. So like Smith, he needs time, patience and coaching. But there's no question he's a natural at the game. One of those guys TV analysts will soil their seats over as they get to remind us he's … waaait forrr iiittt … a football player. One who'll probably be available as a draft-and-stash player or a rookie special teamer as we get to the end of the Top 100 picks.
Compares to the Other Leading Brand: Isaiah Simmons
Aaron Hansford, Texas A&M. 6-3, 239 lbs, 4.63
By this time, what I'm about to say about Hansford might sound familiar. He's a converted offensive player. Has just a couple of seasons at linebacker. He's raw. Needs experience. But he's an impressive athlete with a long football career. Pretty much an amalgam of the last four or five prospects. He was originally a wide receiver for the Aggies, but two of his seasons ended with injuries. He got a shot in 2020 due to some Covid opt outs, and by last year was the every-game starter. At best he projects as a sideline-to-sideline player, a reliable tackler and someone who can demonstrate explosiveness for a staff that's willing to work, develop and utilize his natural abilities.
Compares to the Other Leading Brand: Drue Tranquill
A Third Georgia Bulldog Who Could Ping Their Sonar:
Channing Tindall, Georgia. 6-2, 230 lbs, 4.47
Tindall was not a full time starter for the Georgia defense, but just to illustrate how loaded they were, he still projects as a Top 100 selection. He was often paired with Lloyd on double A-gap blitzes, despite his lack of size. He's hard to project given where he fit into UGA's talent pool. But his ability to cover all 53 1/3 as well as his toughness are beyond question. And he plays bigger than his actual size. At the very least he can be a special teams contributor right away, with a promising upside. Especially for where he's expected to come off the board.
Compares to the Other Leading Brand: Denzel Perryman
The Perfect Patriot: Walker. Like I said at the beginning of this, it's all guesswork until we know what direction Belichick wants to evolve his defense in. Go smaller and faster, which certainly seemed like a good idea in those aforementioned Buffalo games? Or stay big and strong, which has hung six banners above the south endzone. Adapt or stick with what's always worked. I imagine it's been the biggest topic of conversation over the deli platters in the personnel meetings since mid-January. My uneducated guess is they're very much interested in getting younger and more athletic, but not ready to scrap their entire system by drafting a bunch of greyhounds. Walker still gives them the size, but adds a dimension of speed, explosiveness and capable zone coverage. And of course, his familiarity with the system makes him a likely starter from Week 1. 
Whom the Patriots Will Select: Walker. He'll not only be available with the 21st pick, given that the rest of the league is accelerating the move toward smaller, more agile defenders, I think the likes of Harris and Muma will go ahead of him. Meaning they can drop back some into the late 20s and still get him. If I'm wrong, and they have decided to go the way of most of the rest of the league, I still feel like Dean represents too much change, too fast. But I can absolutely see Harris as Dont'a Hightower: The Next Generation. But I don't think we're there yet. And as a pick in the middle rounds, I love the idea of Andersen. An all-purpose multitool for the coaching staff to find creative uses for. But the pick is Quay Walker. 
Earlier Previews: