Breaking Down Brad Underwood's French Onion Soup
I got hit with this bowl last night and truthfully I struggled getting my hands wrapped around it. Coach Underwood has a keen ability to maximize talent. But was this bowl of french onion good enough to get on the roster? Here's what I originally said: 
Coach 1st off I'm honored to review your soup. I'll give you my best effort: honestly I want more cheese. I always do. There's room to grow here. The coloring is nice tho. Clearly well seasoned. Broth is rich & flavorful. Not a 5-star but good coaching can develop this bowl 6.9
All of that is true. I am honored. I will always give my best effort. And there's never too much cheese (within reason fellas). But even so there's more room for feedback after watching some tape. I talked to a couple experts and here's the development plan for the Coach's next bowl: 
- Less Scallions: This isn't even a personal preference but more objective fact. Heavy scallion and not a very fair distribution. A little lumpy. Also, scallions being the same thing as green onion but two different names never sits right with me. I know we want versatility on the perimeter but going this much scallion is like having the 9th guy off your bench put up bad shots. Know your role scallion. 
- 30% More Cheese: Sounds like a lot but no different than putting Kofi in the weight room for an offseason. All we're asking for is more size and bulk. In the grand scheme of things, probably the easiest thing to control and fix. Upside here is you already have good touch & feel on the texture. That's well seasoned cheese that should adapt well to a bigger frame. You can't teach height any more than you can coach instincts. You're working with a good IQ here just need more girth. 
- Even Out Your Broil: Some moderate concern here...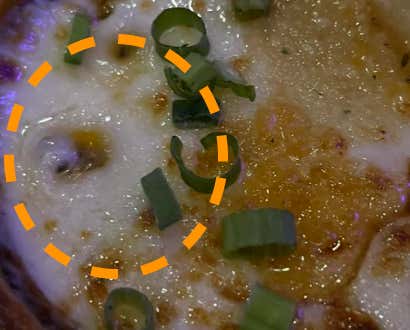 No balance. Like a guard that can't drive left. You need to be able to attack both sides and, again, I think this is easy to work on and develop. 
- No Spoon: The spoon is like a classic power forward. You don't necessarily need one these days but goddamn do things work better with a good soup spoon. At some point you take it for granted. Then your forced to tackle a big bowl without a perfectly round specialty spoon and instantly things are different. Nothing an extra scholarship on the recruiting trail can't handle, but I trust your decision Coach. I always will. 
- Good Bowl: This isn't all negative. Solid brown ceramic that can withstand up to 650 degrees for over an hour. Perfect foundation to grow and develop. 
- More Bread: Last and certainly not least. We're missing the shooting guard. We need to see some carbohydrates battling for space on the outer rim. I need croutons bulging and piercing an already weakened layer of cheese. This is French Onion 101 and something that can be easily fixed. But it's much bigger than the spoon and the balance of the broiled cheese. This far extends into fundamentals and that's where I know I have your attention Coach. It always comes back to the fundamentals. Next time out, make sure they give the bread more playing time. You will not be disappointed. 
More this week on Red Line Radio. Subscribe here.